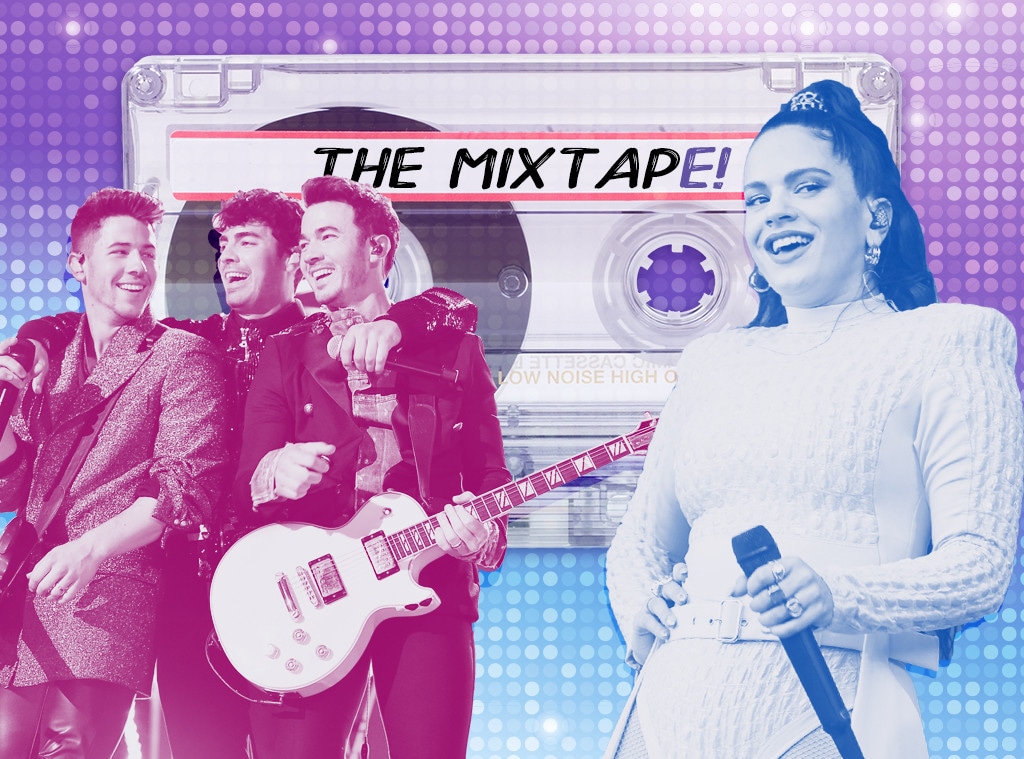 Getty Images
New music Fridays are a thrilling, yet daunting prospect for any music lover. 
It's essentially a weekly holiday where fan-favorite artists and fresh faces alike drop their latest offerings for all the world to hear, flooding streaming services and digital retailers with an onslaught of aural goodies. But who has the time to sit there and listen to everything before updating their playlists? There's just too much good stuff! (And, if we're being honest, usually a few stinkers, too.)
As it turns out, we do. Welcome to The MixtapE!
By now, there's a good chance you've already checked out John Legend and Kelly Clarkson's eyebrow-raising update of the creepy Christmas classic "Baby, It's Cold Outside," given Panic! at the Disco's new track from the Frozen 2 soundtrack a spin or two, and maybe even checked out the music video for Kanye West's "Follow God," but that's truly just the tip of the iceberg when it comes to new music this week. From a solid contender for new Christmas classic courtesy of the Jonas Brothers to Rosalía's return to weird, the return of a certain Spice Girl to the latest from Meghan Trainor, we've listened to (almost) all of it. What follows are our picks for the best of the best. You're welcome.
The Jonas Brothers — "Like It's Christmas"
Look, at November 8, we still think it's a touch too early to be listening to Christmas music. But we'll make an exception for this excellent original holiday release from the JoBros. Just try to listen as the boys croon about a special someone who makes every day feel like (one of) the happiest of the year and not clap along with the charming production. It might not be possible. The winsome number caps off a truly incredible year for Joe, Nick and Kevin, earning a permanent spot on our yuletide playlists from here on out.
Rosalía — "A Palé"
To try and describe the latest release from the Spanish superstar would be an exercise in futility, so we won't. All we'll say about the genre-bending bop is that you should just press play on the video below and let it wash over you. Get lost in the experience that is Rosalía. You won't be disappointed. We promise.
Doja Cat — "Say So"
We had a hard time picking just one track off of Doja's excellent second album, Hot Pink, out this week. In the end, we went with this track, a shimmering disco-kissed surprise that allows the MC's winning singing voice to stand in the spotlight for just a bit before she delivers a killer verse and totally makes us want to bounce around on skates at the roller rink of our dreams. But we could've just as easily chosen the slinky and seductive "Addiction" or "Better Than Me," the album's major flex moment. At a time when female MCs are (thankfully) on the rise, Doja's out here showing 'em all how it's done. One of our picks for artist of the year. Yeah, we said that.
Melanie C — "High Heels"
Sporty Spice is back and serving up a serious anthem on this track, released in conjunction with U.K. drag collective Sink the Pink. The track is a total feel-good floor-filler that's just brimming with shimmery excess once it reaches its euphoric chorus. Oh, and the video? A totally fierce moment full of lewks, honey. Get ready to vogue.
FKA twigs — "Sad Day"
FKA twigs' music isn't always the most penetrable, but this track off her highly-anticipated second studio album, Magdalene, is simply too gorgeous to ignore. With an assist from heavyweights Benny Blanco, Cashmere Cat and Skrillex, her ethereal and longing vocal is buoyed by a stunning, stuttering trip-hop production. It all adds up to an achingly beautiful track that should be able to convert even the most ardent of non-believers.
Morgan Evans — "Diamonds"
It's a big week in the Evans-Ballerini household. While we get to his wife in just a second, the Australian country singer is back with this, his first new release of 2019. On the very romantic track, Morgan relates his love for his lady to the titular gemstone because, you know, they're forever. Take note: this is how you do country-pop right. 
Tinashe feat. 6LACK — "Touch & Go"
We said it a few weeks ago when she returned with the excellent "Die a Little Bit" and we'll say it again: If this is what Tinashe can deliver when she's unfettered by label interference, now that she's parted ways with RCA and going down the independent artist route, we wish she'd have been able to break free ages ago. Teaming up with 6LACK, she slows things down a bit for this sublime slice of alt-R&B that hits all the right notes. Based on the strength of these first two singles, her upcoming project, Songs for You, is going to be major. We can't wait for more.
Kelsea Ballerini — "club"
And now for the Ballerini half of the Evans-Ballerini household. Two months after dropping "Homecoming Queen?," the stirring lead single from her forthcoming third album, Kelsea is back with this track, an anthem for everyone out there tired of blurry weekends spent drunk at the club. Who can't relate?
Meghan Trainor feat. Lennon Stella and Sasha Sloan — "Workin' On It"
Meghan's long-delayed third studio album, Treat Myself, finally has a release date--January 31, 2020--and to celebrate, she's enlisted two of pop's most exciting new voices for this refreshingly candid track that finds her admitting that she's putting in the work to see herself as the confident queen everyone else sees. With tight harmonies and a gently rousing production, the song feels both intimate and soaring at the same time. No easy feat. 
KAROL G feat. Nicki Minaj — "Tusa"
Come for the latest from the rising queen of reggaeton. Stay for the truly epic bilingual verse from the undisputed queen of modern rap.
Bonus Tracks:
Ozuna — "Hasta Que Salga el Sol": The lead single from his forthcoming third album, Nibiru, finds the Puerto Rican superstar at the top of his game.
IZA, Ciara and Major Lazer — "Evapora": Worlds collide as the Brazilian superstar teams up with the "Level Up" goddess and the EDM legends for this bilingual bop. Don't miss the major lewks and killer choreo in the excellent music video. A must watch.
Jordan Davis feat. Julia Michaels — "Cool Anymore": The relative country newcomer enlists the songwriting superstar for this winning duet devoted to finding that one person who can be as weird/silly/uncool as you want with.
SHY Martin — "Make Us Never Happen": The Swedish songwriter strikes out on her own with this dreamy little track about wishing you could go back in time and spare everyone a whole lot of heartbreak. Keep an eye on this one.
Allie X — "Regulars": One of pop music's most slept-on weirdos adds this track, an anthem for outsiders like her, to the long list of absolute gems in her discography. Do yourself a favor and get into her. You can thank us later.
Happy listening!