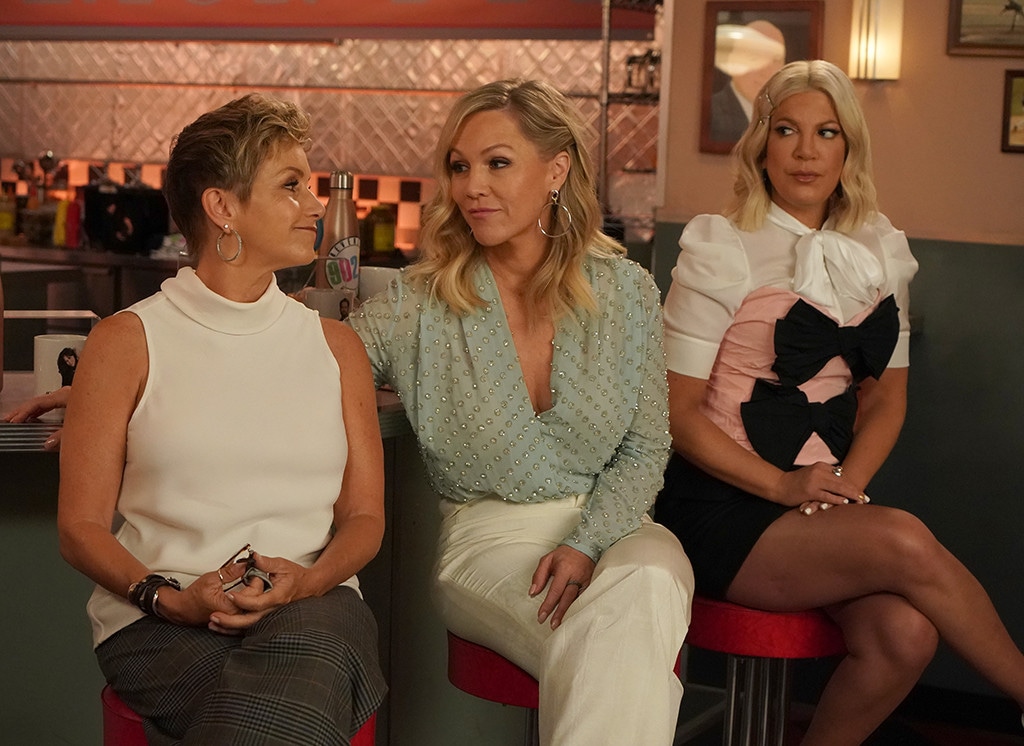 Fox
Guess we'll never get to see what that 90210 revival was going to look like after all. 
BH90210 will not be returning to Fox for a season two, the network confirmed on Thursday. 
"We are so proud to have reunited in a very special summer event one of the network's legacy series and casts with 90210 fans across the country," they said in a statement. "Profound thanks to and respect for Brian, Gabrielle, Ian, Jason, Jennie, Shannen and Tori, who, along with the entire crew and everyone at FOX and CBS Television Studios, poured their hearts and souls into this truly inventive and nostalgic revival."
The show, which starred Brian Austin Green, Gabrielle Carteris, Ian Ziering, Jason Priestley, Jennie Garth, Shannen Doherty, and Tori Spelling as heightened versions of themselves, was always billed as a limited event series, but that didn't mean its stars and executive producers didn't have grand ideas for a potential second season. 
"This season you'll just see us kind of getting back together and finding our friendships again, and starting to film the reboot, so next season would be like a full-on reboot, so it would be a show within a show," Tori Spelling explained to E! News back in August. 
The show featured the entire original cast of Beverly Hills, 90210 playing themselves but with fake spouses and lives in general, who were all getting back together to reboot the original series.
It was six episodes long, and ended with a finished pilot for the in-show reboot and a pick-up by fictional Fox, but that was just about the only good news. The show was moving production to Vancouver and would reshoot the pilot, while one of the seven leads would be fired to save on costs. Brian's secret son was not actually his secret son. Ian discovered that the writer he hooked up with was the daughter of Denise Richards, who he also hooked up with. Jennie's hot bodyguard boyfriend was a crazy fan. 
When the finale aired, we hoped for a season two that figured out a better, more consistent plot and ditched the fake marriages, but we can't say we're all that upset to not be getting a season two at all. 
Brian Austin Green paid tribute to the show on Instagram, with one post thanking La La Anthony for "being a great wife," and one with a pic of the Peach Pit that thanked the fans for a fun trip back. 
Now, while we're not all that bummed to not be getting more of this show, we wouldn't say no to event series reuniting the casts of other shows. The BH90210 finale did feature a plot point about a revival of The O.C., which we'd gladly watch in whatever meta form anyone would like to give it to us. 
BH90210 aired on Fox.