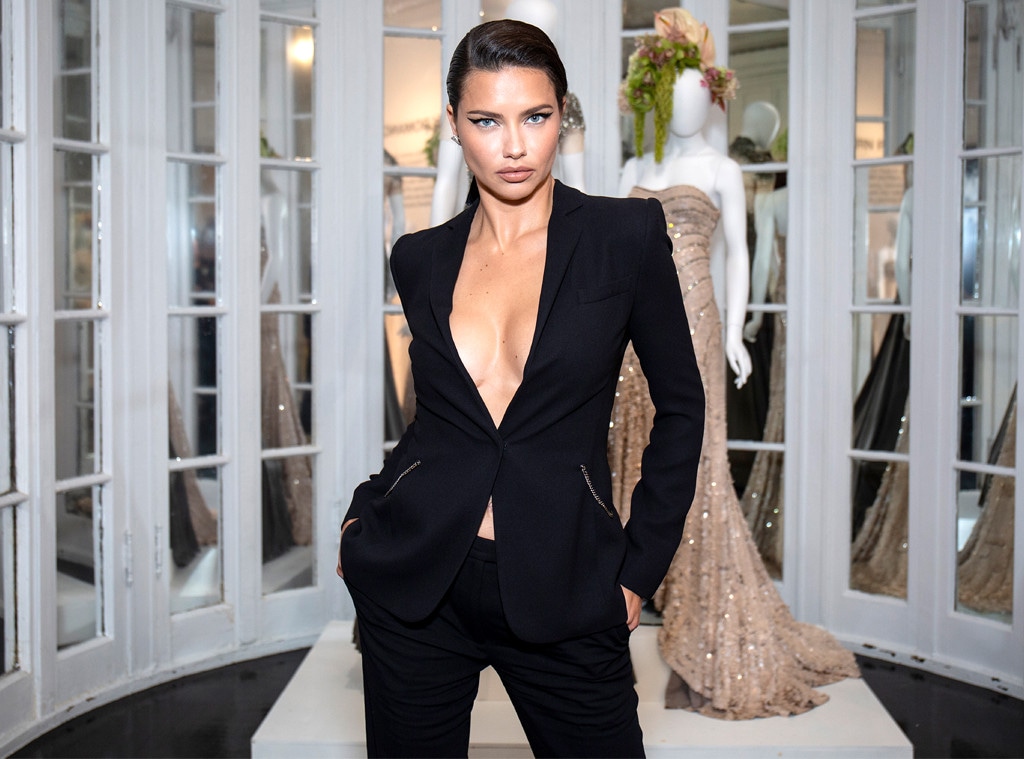 Santiago Felipe/Getty Image
Much like her runway walk, Adriana Lima's timing turned out to be impeccable.
In 2018 the Brazilian supermodel appeared in her 19th Victoria's Secret Fashion Show and, after 20 years as a Victoria's Secret Angel, she bid the annual lingerie fest goodbye, deciding that a nice round milestone would be the perfect time to end that phase of her career, a celebration of a pair of wings well-worn.
Lima had previously considered keeping at it till she was "40, at least," or until she'd walked in her 20th show, but she ultimately decided a year beforehand that 2018 would be her last one.
Her intent was not, however, to put an end to the show entirely. That part is a coincidence.
"Fashion is a business of change. We must evolve and change to grow," Les Wexler, chief executive of Victoria's Secret parent company L Brands, wrote in a memo to staffers obtained by CNBC in May. "With that in mind, we have decided to re-think the traditional Victoria's Secret Fashion Show. Going forward we don't believe network television is the right fit."
2018 saw the lowest rating in the show's history, the special having aired in prime time almost every year since 2001. And it had become increasingly apparent that something was no longer clicking for the brand that prided itself on selling a certain fantasy and had been reluctant to modernize its message.
But oh, what a time models like Lima had while the getting was good and the bras were bedazzled beyond belief, the bevy of beauties ritualistically ramping up their own flawlessness in preparation for the handful of hours they'd spend showing off the most fantastical undies Victoria's Secret could come up with.
"It is really intense, it's not really the amount of time you spend working out, it's the intensity: I jump rope, I do boxing, I lift weights, but I get bored doing that. If I am not moving I get bored very easily," Lima shared with London's Telegraph in 2011 about the routine she had adopted ahead of the show, which would take place three months later. By the time of the interview, she had been working out twice a day for three weeks.
When it got to showtime-minus-nine days, she would drink only protein shakes. And starting 12 hours before show, she stopped drinking any liquids whatsoever. But it was all worth it, Lima insisted.
"Actually, the Victoria's Secret show is the highlight of my life," she said. "Becoming an Angel, once I achieved that, it was a dream come true for me. And I know that after all this is done, when I sit down with my daughter one day, we are going to look back and it's going to be very special."
Nevertheless, the backlash about the seeming glamorization of extreme food deprivation came, and soon Lima was saying on ET Canada, "Those teenagers out there, don't go starving yourself or only drinking liquids. Don't do that, please."
And about that workout routine, she told E! News, "I know it's very intense but... I just have an athlete's mind and I appreciate doing this thing. It's not that I do crazy diets throughout the year. I just do it for this particular thing. After this show, I become normal again."
In 2012, Lima gave birth to her second child on Sept. 12, eight weeks before the show. She rested for three weeks, then started exercising four to six hours a day, every single day.
"She'd head home to be with the family and the babies and then, pow!" her longtime trainer Michael Olajide Jr. told People at the time. "She'd come back that night from 5 to 8 p.m. It was incredible to see that type of dedication and fortitude."
Olajide also reiterated that Lima had a normal appetite for all kinds of food and enjoyed eating. "She eats anything from chocolate mousse to steak and hamburgers," he said. "But when it's time to prepare for something, she has the discipline to prepare for it."
David Fisher/REX/Shutterstock
Who else thinks, as tearful as her Victoria's Secret goodbye was in 2018, she didn't miss that part in 2019?
Of course, it's not as if the Miami-based mother of two and Puma brand ambassador has eased up that much—her general routine still involves almost daily workouts to keep every inch of herself in gear. And though she eats "everything," she told Ocean Drive, she's "super healthy."
Just because she gave up that one aspect of lingerie life, she's still a model who has to be ready to wear anything at a moment's notice.
"I'm always ready. That's why I've been in the business for over 20 years," Lima told Insider in 2017.
And sure, that was then, but judging by all photos taken of her in the past year, it's now, too.
In addition to her usual boxing, lately Lima's been showing off moves crafted by trainer-to-many-models and Dogpound studio founder Kirk Meyers, samples of which she shares on social media amid the family photos, playful selfies, magazine covers and glamorous moments from the profession she moved from Brazil to New York to pursue when she was 17, having won Ford Models' Supermodel of Brazil contest when she was 15. 
"I try to use social media as an inspiration to women, or anyone," Lima told W in late August 2018. "In a positive way, I try to show that any challenges that may come your way, you've got this. I try to show how you can make your physical health better, or your mind. I try to show things that would be healthful for anyone that is looking for something. I'm just trying to be helpful."
Moreover, "Instagram is a part of my job, yes, but I use it as a positive influence, and how to become your better self—how to become stronger in every way. I use it in that way—not to get jobs, but as a way to help and share little moments. That's what social media is about; it's a tool that you have to share certain moments that could be useful to someone."
Lima's foremost and favorite job is being mom to daughters Valentina, 9, and Sienna, 7. Their father is former NBA player Marko Jaric, who she separated from in 2014 after five years of marriage; they ultimately divorced in 2016.
The exes have seemingly had an amiable co-parenting arrangement since the split, but they keep all details pertaining to their family dynamics under wraps. As Lima points out, Instagram may be part of her package deal, but not everything is for sharing.
"I am a private person, so there are things about my private life that I don't share much," she told W. "Nothing in my private life will be useful in your life. The way I work out could be useful to you. But how can my private life help you? I don't see how."
Besides, relationships with the likes of Matt Harvey or Julian Edelman may come and go, but she won't be changing her mind about cherishable moments with her daughters.
"I'm in love every day," a beaming Lima told told Ocean Drive in 2017. "I wake up and have two beautiful girls before me whose happiness is my happiness."
And while life is all about being a good role model for her girls and helping them grow into healthy young women, Lima has enough positive energy to go around.
In 2017, at 35, she told CNBC's Street Signs, "I'm here representing mature women with Victoria's Secret, so there is no pressure at all [to look like the younger models]. I believe that if I would go back to my younger times doing Victoria's Secret, I feel more beautiful right now."
In addition to exercise, faith helps keep Lima's spirits up, as does helping others. Among the causes she supports is St. Luke Foundation for Haiti, which provides expectant mothers with medical care and facilitates education in disadvantaged communities, and she gives back to orphaned children in her native Salvador, Brazil, through Caminhos da Luz (or Paths of Light).
Raised a devout Roman Catholic, she told Ocean Drive in 2017 that she originally wanted to be a nun, and she often goes to work with a Bible.
"The church is in me—I always connect," Lima said. "If you're connected with the divine and always have pure intentions with everything you're doing, you're protected by the angels." She added, "I'm very spiritual. I believe in nature, I believe in energy, I believe in spirits."
At the same time, the self-proclaimed "one-of-a-kind Gemini" said, "I make my destiny. Everything is in the power of your mind. If you think positive, you attract the things that you want in your life."
While she hadn't yet announced that the 2018 Victoria's Secret Fashion Show was going to be her last ("The moment I'm not there anymore, I'll probably have private shows in my house," she predicted), Lima told W that her goals for the year ahead included being on the cover of Italian Vogue, and she would be "focusing on health, nutrition, and workouts."
For some reason Vogue Italia, which has featured Lima in its pages, is biding its time, but she gazed out from three covers of Vogue España, the magazine deciding to go all out for August 2019; posed for the November 2019 cover of Vogue Arabia alongside comedian Samir Ghanem; as well as held court on the cover of Numéro Russia for its Women's Empowerment Issue.
"Flying from Miami to Egypt, Brazilian supermodel Adriana Lima was an absolute pleasure to work with, and a beacon of professionalism," Vogue Arabia's Manuel Arnaut wrote in his Editor's Letter, explaining his vision for the issue—injecting fun back into fashion.
In addition to her trip to Cairo for work, where she did make time to explore and see the pyramids, Lima's been all over the place this year, from the Vanity Fair Oscar party and Once Upon a Time...in Hollywood premiere in L.A. to her first-ever MTV Video Music Awards in NYC and her umpteenth New York Fashion Week, from the Cannes Film Festival in the south of France to the water park Tidal Cove in the south of Florida for a day of fun with her girls. Stops in London, Mykonos and Italy also lit up her Instagram (and more on those trips later).
PIERRE VILLARD/SIPA/Shutterstock
And while at home, or at least near a screen, Lima was invested just like millions of other people in finding out how Game of Thrones ended. She told W last year that she talked about everything but the plot of the HBO series with Gwendoline Christie when they both walked in the Miu Miu show during Paris Haute Couture Fashion Week and got to hang out for a few days.
"I don't want to know [spoilers]. I want to watch it," Lima declared. Vikings was another favorite show, she said, and she had just started watching Orange Is the New Black.
Though Lima has a tight-knit support system, she has acknowledged it was difficult to maintain close friendships with her fellow models because she's the only one who came up when she did who lives in Miami as opposed to L.A. or New York, but Karen Elson and Alek Wek happened to hold special places in her heart. But even if Miami was the center of the modeling world, her kids are the center of her world.
"My friends here in Miami are all in the same situation as me; we're all moms and going to bed at 8:30 p.m.," Lima explained. "I know Shakira is going to be in Miami tonight, but I'm not going. One of my friends—she's an MMA fighter, her name is Amanda Nuñes—called me this morning, like, 'Are you going to the Shakira concert?' I always try to go to concerts, but it never works out. I don't know why; either something with the kids or work. I know Jay-Z and Beyoncé are coming, and I was looking at the tickets. I always know who is coming, but I can never be there."
Oh, and someone sent her a massive bouquet of roses in August.
"...the number 225 made me feel very special," she wrote cryptically.
Lima broke up with Turkish writer Metin Hara in January after about a year and a half of dating, People reported at the time. Hara posted a photo of Lima lying in bed on June 12, 2018, with the caption, "It has been exactly one year that I've met you... You've made me the luckiest man on earth... Happy birthday my angel.
"My wise woman, my sanctuary... I am on my way home..."
His last photo of them together was posted Oct. 22, 2018, with the caption, "True courage for a man is to love her scars."
A Turkish site then reported in December that Lima had scrubbed her Instagram of any pics of Hara, and in a soon-deleted post to Instagram Story she wrote, "Ladies, you are not a rehabilitation center for badly raised men. It is not your job to fix him, change him, parent him or raise him. You want a partner not a project."
David M. Benett/Dave Benett/Getty Images
After Christmas, per Page Six, Lima's rep denied a report that she had split from Hara and taken up with German soccer player Loris Karius, while Lima wrote, "For the fake Turkish media claiming that I am flirting with some random people that I never met . . . Please stop creating fake news! ENOUGH !!!!"
To be honest, we like going to her Instagram to watch her work out. But anyway, onward and upward.
Lima was spied in July in Mykonos and Venice with Turkish businessman Emir Uyar, and they made their red carpet debut in September at a preview of the Damien Hirst: Mandalas exhibit at the White Cube Gallery in London.
Since then, Lima's been extra busy closer to home. Or at least in the continental U.S.
Drew Altizer Photography/Shutterstock
Just last week, Lima announced the launch of Club Lima, her new active wear line in collaboration with Puma, and over the weekend she joined the likes of Karlie Kloss, Julianne Moore and Pierce Brosnan, as well as numerous academic, tech and business luminaries, at the 2019 Breakthrough Prize Ceremony at NASA Ames Research Center in Silicon Valley.
"It was an honor to help celebrate some of math and science's leading women and men who dedicate their lives to bettering our world," she posted on Monday.
And then she started this past week off passing along some of that inspirational mojo her platform is intended for, noting that it was actually something she first wrote on Dec. 17, 2017, and this was her first time sharing it with the world.
It might sound a little easier to embrace one's imperfections when you look like Adriana Lima, but the advice is sound.
Asked about her post-Victoria's Secret plans in March, Lima told Fashion Daily, which was honoring her as a Fashion Icon, "I want to continue modeling!"
She continued, "I want to show the world that a powerful woman can be beautiful as a mature woman and as a mom. I use fashion as a tool to inspire women to take care of themselves. Age is not important. It's all about how you carry yourself."