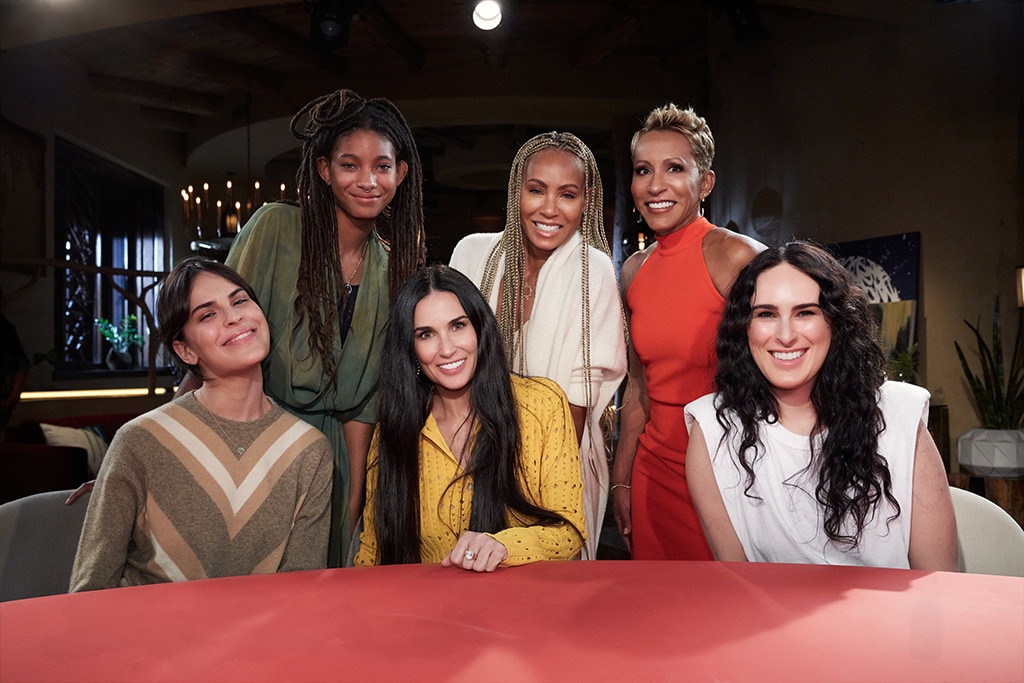 Red Table Talk / Facebook
Jada Pinkett Smith has discussed plenty of hot-button topics on her show Red Table Talk, but to her, none compare to Monday's episode.
In it, Jada, daughter Willow Smith and mom Adrienne Banfield Jones, sat down with Demi Moore and her daughters Rumer Willis and Tallulah Willis. Together, the group discussed the Ghost actress' new memoir Inside Out and her battle with addiction, which Jada admitted is a topic that hits close to home during an interview with TODAY. 
"This show, in particular, is very, very special," she told host Savannah Guthrie. "I actually think it's, like, one of the cornerstone episodes for Red Table Talk because I'm a child of an addict, so is Demi. I've struggled with co-dependency issues and my own addictions, so has Demi."
"And now, we're talking about that parent pain that travels from parent to child," Jada continued. "So now you have three generations, you know? Demi having survived her relationship with her mother and actually finding a reconciliation there. And starting that reconciliation process with her daughters. And my mother and I have been through that whole process, so it was a beautiful thing to be able to share in that parental-child healing moment together."
When asked why she thinks guests are so inclined to go deep on the hit Facebook Watch show, Jada said Red Table Talk fosters storytelling and allows people to share their truth.
"It's a conversation, it's not just a journalistic kind of relating," the Girls Trip star described. "It's like, 'I'm sharing my story as you're sharing your story.' We get into a conversation about mistakes we've made in our lives, lessons we've learned and just coming to the table for an aspect of healing as well. That's what it's about. The red table is really about a healing. It's a healing instrument."
During the emotional episode, Rumer and Tallulah opened up about their mom's relapse.
"It was like the sun went down," Tallulah said. "Like a monster came."
Rumer chimed in, "I remember, there's just the anxiety that would come up in my body when I could sense her eyes shutting a little bit more, the way she was speaking, or she would be a lot more affectionate with me if she wasn't sober… It was jarring."
Later, Jada took to Instagram to thank the family for their candor.
"I am so grateful to @demimoore and her daughters Tallulah and Rumer for coming to the Red Table to engage in conversations around parent to child trauma, addiction, healing and forgiveness," she wrote. "This episode (in my opinion) is a shining example of understanding and healing in its process. That ain't easy to do behind closed doors, let alone in front of cameras which is more reason why I'm so grateful for these three women and there courageous transparency."