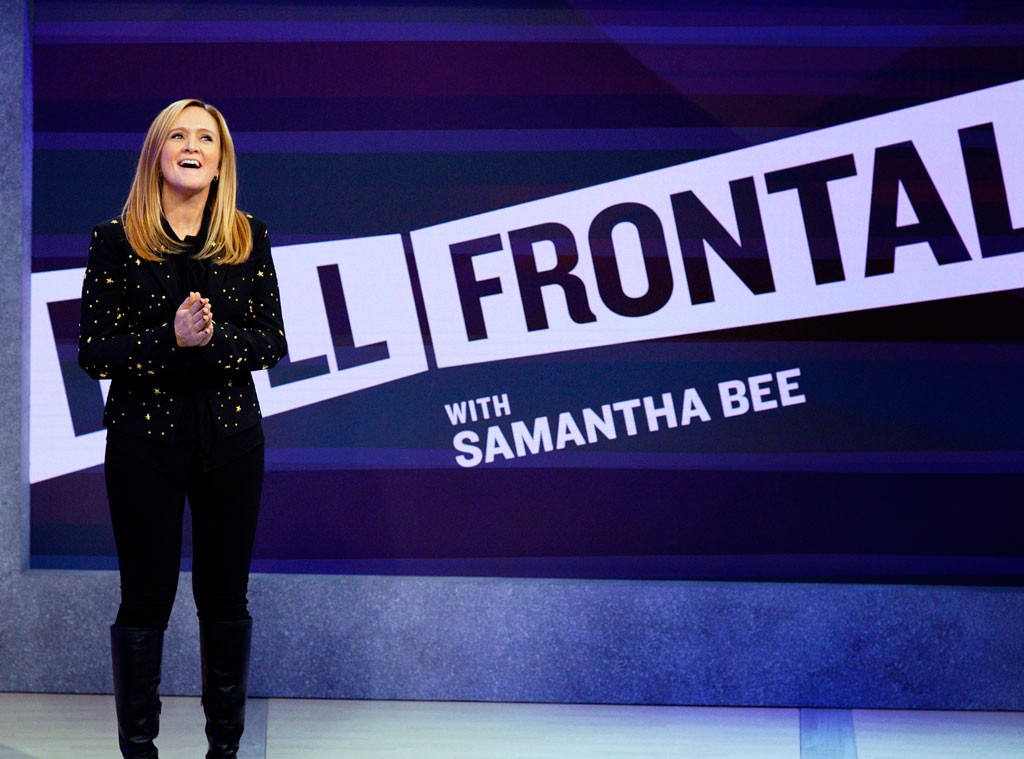 TBS
The plan was to come in with a bang. 
When Samantha Bee tearfully bid farewell to her 12 years as a correspondent on The Daily Show in 2015, she left with a production deal to write a new TBS sitcom, The Detour, with husband and fellow TDS star Jason Jones and the keys to her own show on the network. For at least a month and a half, anyway.  
Though TBS had committed to six episodes of her planned weekly satirical news program, Full Frontal with Samantha Bee, "they can cancel you after one episode," Bee shared on a 2018 episode of the Vox podcast Recode Decode. "I thought, 'What I'll do is I'll just kick the barn doors in with the first episode of the show and these six precious episodes. And these will be our calling card for future shows.' When we get canceled because it's too outrageous, we'll take it somewhere else and do something with it."
Four seasons in, she's still swinging. The first woman to helm an evening satirical news show, she addressed the absurdity of that right off the bat, hosting a faux press conference about her plan to break up the so-called boy's club.
She followed up that opening salvo by dissecting the New Hampshire debate between then-presidential candidates Bernie Sanders and Hillary Clinton ("Everybody is agreeing so tersely. I just had a flashback to the month before my parents finally admitted they were getting a divorce,"), joking about how three of the Republican candidates failed to make it to the podiums at their debate "and that was just the first domino in a cascade of fail," and recounting Jeb Bush's cringey "please clap" gaffe. Ah, the early months of 2016. 
Nearly four years later, with the exception of newcomer Lilly Singh, Bee remains the sole female voice in late night—a mantle she's not all that thrilled to carry. 
"It is not exciting to me to be the last woman standing in this space. It's not what I want," she told Rolling Stone in April. "It's a huge loss that Sarah [Silverman]'s show [I Love You, America] is off the air, that Michelle's show [The Break With Michelle Wolf] is off the air, that Robin's show [The Rundown With Robin Thede] is off the air. It's bulls--t. I thought we had learned a lesson, that other voices could emerge and tell a different tale of what's happening. But that's not bearing out."
Bee, however, is panning out just fine, her show earning some 17 Emmy nominations, a nomination for The Nighttime Talk Show of 2019 at the E! People's Choice Awards and legions of devoted fans who tune in each Wednesday night to hear her well-informed take on the issues they should know and be outraged about. Her monologues come heavily researched with a heaping of wry wit and a healthy dose of profanity (a style she terms "evidence-based comedy") and provide millions of viewers with an oh-so-necessary weekly primordial scream into their pillow.
In tackling serious issues such as abortion rights, school shootings, the ongoing crisis in Puerto Rico and the overcrowded foster care system and dressing them up with a comedic edge, she's developed a persona that Lena Dunham describes as "I'm here to explain this to you f--king idiots, and if you don't wrap your brain around it, I'm going to explain it again in a different way."
Frazer Harrison/Getty Images
She's anything if not resourceful. Raised in Toronto, largely by her grandmother Doris Macon (a no-nonsense secretarial school graduate she describes as "super ahead of her time"), she discovered acting as a student at the University of Ottawa. Touring as the titular character in a stage production of Sailor Moon introduced her to Jones, a fellow cast member, but it was the formation of the all-female, Toronto-based sketch comedy troupe Atomic Fireballs that set the groundwork for her future. 
"It was a great time," she recalled to The Cut of the group, that brought her face-to-face with fellow comedian and actress Allana Harkin, now a Full Frontal producer and correspondent. "There's not as much career movement possible in Canada, so we mostly just did sketch because we loved writing and performing together. It's a different experience when you're just doing it out of love versus when you have goals in the horizon." 
The group performed in bars and small theaters, she shared, stapling posters advertising their shows to hydro poles and wooden fences. But those humble beginnings set Bee up for her flourishing career. "A lot of the things that we put in place during those years really led to where I am now," she said. "I still have the sketch mentality, where everybody takes a Rubbermaid tub from the back of the car that's full of wigs and gets it into the bar so we can do the show. That will probably never leave."
Twelves years under Jon Stewart's tutelage gave her the confidence, or as Dunham put it in her 2017 interview of Bee for The Hollywood Reporter, "a certain kind of DGAF attitude," to match that can-do spirit.
"It absolutely did, because I just know that there's another world out there for me that's equally satisfying. There's something else that I could do that would be fine," she said. Eager to truly lean into her point of view, "It was just freedom for us," she continued. "[TBS] actually really trusted us; no one really ever trusted us before. Not to that extent, that's for sure. So it was just not having too many f--ks left to give is where it came from."
So she set out to make a show with produced field pieces and impassioned speeches, that refused to let off the gas when it came to highlighting topics that others hadn't pursued quite as aggressively. Basically, she made the type of show that she herself would want to watch. 
"Well, I and the showrunner, Jo [Miller], we are both women of a certain age," Bee, marking her 50th birthday today, told Dunham. "And the only thing that we truly knew that we wanted to do was really go for it. We just knew that it was a very rare opportunity. And we thought, 'Even if we only have six episodes, let's make them the most kick-ass six episodes of television that we could possibly make. Let's make the show that we would want to see, and only cater to our own interests and kick the door in with it.'"
Frazer Harrison/Getty Images
Wanting the feel "to be really visceral," they didn't focus too much on the look of the show, other than her refusal to sit behind a desk, choosing to deliver her soliloquies in front of a large screen, a bold blazer replacing the standard suit and tie.
"It really flowed naturally from a very instinctive place, and it continues to do that," she told Dunham. "We were nervous at first, but we were like, 'Oh, f--k it, we're too old to worry. If it gets canceled, we'll say 'c--t' on television, and we'll go be farmers."
Well, half of that came to pass.
But instead of sowing fields or feeding pigs, Bee spends her days culling through news sources both national and local. Then, alongside her staff, working out a way to deliver the pertinent information of a story that's equal parts tragic and exasperating with the spoonful of humor that will help it go down a little easier. 
"We just have to process it and make comedy out of it," she told The Washington Post. Her team of writers (roughly half women and half men) "tosses around ideas about really dire stuff." 
They dive into the newsier bits on Monday, she told The Cut, "When we all meet to discuss about what stories we think will have enough meat on the bone for us to talk about when we tape the show on Wednesday. We do that knowing full well that the news could entirely shift and we could have to throw it all away."
By Tuesday, she continued, "everything really gets refined. Wednesday is a long process of getting the show in place. We make changes, rehearse, do rewrites, adjust graphics. Then we try to tape the show around 6 p.m. The other executive producers then edit the show and deliver it to the network around 9 p.m."
Spending her weekdays mired deep in tragedy has its challenges, she admits. "Sure, these stories keep us awake at night, and we're trying to do our best to share these stories as much as possible," she told Vanity Fair in August. But at the end of the day, she returns back to the New York City apartment she shares with Jones and their three kids and, aside from the constant background noise of NPR, manages to keep her home life separate. 
"We're not in the trenches duking it out," she allowed. "We're just doing our best with the platform that we have." 
It's a platform she takes seriously, never whiffing on an opportunity. "I'm well suited to this job," she told Vanity Fair, "because I'm not going to go on to a huge stand-up career after this. I'm not too worried about my 'brand.' This is the work that I like to do. It's not a stepping-stone; it's not a launchpad for some bigger job that I'm waiting for in the future.… It's really the culmination of my life's work, actually, more than anything. And so I really get to enjoy it."