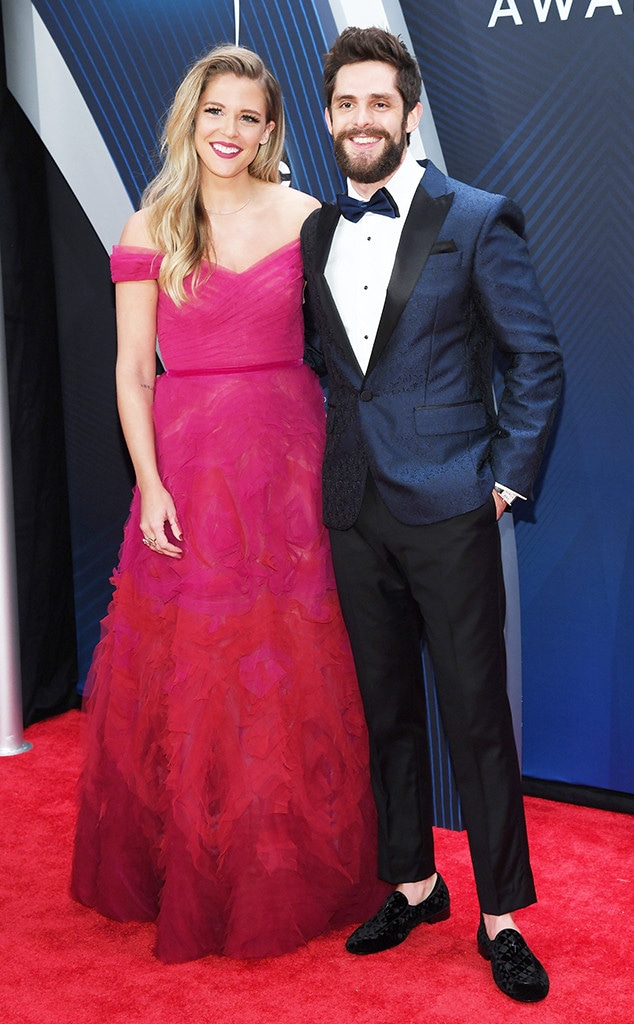 Jason Kempin/Getty Images
Love is still in the air for power couple Thomas Rhett and Lauren Akins.
The 29-year-old country singer and his pregnant wife celebrated seven years of marriage on Saturday with heartwarming Instagram tributes. "I can't believe the Lord has blessed me with 7 amazing years of marriage with @laur_akins," Rhett shared on Instagram, alongside a photo of him and his wife fishing. "It's tough to put into words how crazy the ride has been. We have changed and grown In so many ways and I literally find new ways to love you every single day. There is no one in the world like you babe."
He continued, "You are the most amazing mother to our kids and you treat me way too good. I hope this picture is a glimpse into us getting old together. I love you honey."
It didn't take long for Live in Love author to post her own heartwarming message about her husband.
"happy wedding anniversary 7 years ago tonight honey," she began her Instagram caption, where she also included cute intimate photos of her husband and their two kids: Willa Gray, 3, and Ada James, 2. "You are better than my best dream and so is our life with our precious babies."
Watch:
Thomas Rhett Talks Kids Starring in His Music Video
She added, "I'm so thankful God gave me you:) can't wait for the next 70 babe... I love you Thomas Rhett."
This year has also been one to remember for the couple, who are expecting their third child, another baby girl! Back in July, the two announced the exciting news on social media. "I feel so blessed to say that our third child is on the way and it's a girl," the country singer shared. "I love you so much @laur_akins. WG and AJ, y'all are gonna be the best big sisters! Bring on the crazy."
Lauren added, "We decided we didn't have enough princess dresses around the house so we're adding another Akins baby girl to the family early next year despite Thomas Rhett's initial shock."
With seven years of marriage under their belt, this pair is certainly relationship goals!