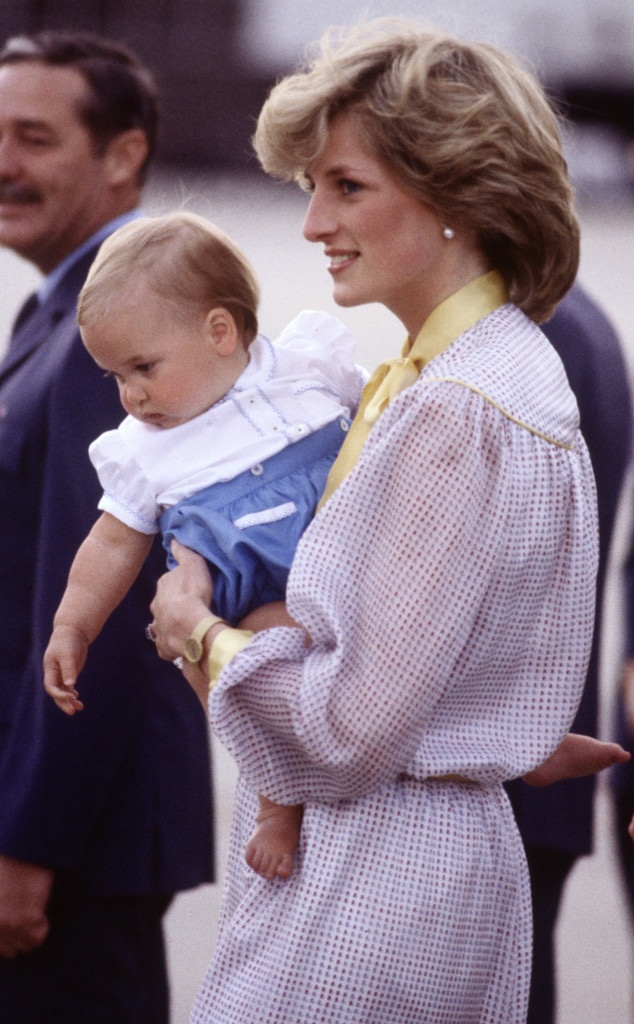 David Levenson/Getty Images
Princess Diana wasn't going to let history repeat itself.
Her husband, Prince Charles, had regularly been left in the care of his grandparents and assorted royal staff for weeks and sometimes months at a time when his mother and father went on official trips abroad. Diana would have none of it, and Charles—who wanted to be a more hands-on dad than his own—agreed.
When it was time for the Prince and Princess of Wales to embark on a 45-day tour of Australia and New Zealand—which would be Diana's first international trip, too—in March of 1983, they brought a 9-month-old Prince William with them, breaking with royal precedent and, incidentally, establishing a new normal.
Decades later, when grown-up William and Kate Middleton went on their own official trip to those Commonwealth countries, it went almost without saying—though much was said, and it was delightful—that Prince George would be along for the ride. Subsequently, when it started being reported months ago that Prince Harry and Meghan Markle would most likely take baby Archie Harrison to South Africa with them this fall—it was as close to a given as it gets.
While headlines have been cranked out at a rapid clip since the Duke and Duchess of Sussex arrived in Cape Town last Monday, as expected, Archie appearances were what the people were excited for—and they finally got one on Wednesday, when Harry and Meghan brought their 4 1/2-month-old son (who is basically his father's double at this age) to meet Archbishop Desmond Tutu.
Of course the royals of all generations make these trips with a sizable entourage, including a nanny, because most appearances and meet-and-greets in front of crowds of thousands aren't exactly suitable for babies and everyone from baby William to wee Archie needs to be looked after when mum and dad are busy shaking endless hands, soaking up the local culture and dining with dignitaries.
More than 100,000 gathered in Brisbane to get a glimpse of 21-year-old Diana—a fact that was a double-edged sword for Charles, who loved that so many people seemed to adore her and was proud of how she effortlessly connected with just about anyone, but who also was faintly annoyed that no one seemed to care if he was there at all (Diana reportedly didn't like the disproportionate amount of attention paid to her, either). Moreover, he was concerned about strain the hectic trip was having on his young wife, who had suffered postpartum depression after William was born and was still battling bulemia.
To be sure, Diana—who reportedly wanted to go home after a week—was happy to have William nearby, as opposed to almost 10,000 miles away in England. Though the little lad stayed primarily at a "sheep station" (what they call a large ranch-like property in Australia or New Zealand) with his nanny, Diana and Charles got back to see him as much as possible.
"We were extremely happy there," Charles wrote to some friends, per royal biographer Sally Bedell Smith. "The great joy was that we were entirely alone together."
Pool/Samir Hussein/WireImage
Similarly, Prince George spent the family's week in New Zealand (where they touched down first) based in Wellington with his nanny, Maria Teresa Turrion Borrallo, while Kate and William also toured Auckland, Christchurch and other cities. In Australia, the family was based at Admiralty House, the official Sydney residence of the Governor-General of Australia.
Throughout their 18-day trip, George made only a few appearances, albeit memorable ones, such as on Easter Sunday when he met the bilby named after him at the Taronga Zoo in Sydney, a resident of a bilby habitat dedicated to the future king in commemoration of his birth.
The Sussexes', and therefore Archie's, home base in South Africa is believed to be the High Commissioner's house in Cape Town. Theirs is only a 10-day trip, though, and Meghan doesn't leave Archie for long. 
Since she concluded her first official appearance since giving birth, two weeks ago in London, by sharing it was time to get back to the baby "for feed time," it stands to reason the duchess is still breastfeeding. (In contrast, Diana only breastfed William for three weeks, though she continued with Harry for three months.)
Diana hasn't been far from Harry's mind in Africa, which held a special place in her heart and which the prince has for a long time considered a second home. Harry and William joined their father in Cape Town in November 1997, just over two months after Diana died, and Charles spoke warmly about his late ex-wife's humanitarian visits in Africa.
"Over the last few days I have been made very aware of the special importance to Africans of Diana's work to combat such things as AIDS, poverty and the use of landmines," the Prince of Wales said in an address (after the boys had left to return to school) to a group that included South African President Nelson Mandela and Earl Charles Spencer, Diana's brother, who was living there at the time.
"Her efforts, I know, in these areas have brought a real difference to the lives of very many people on this continent and, indeed, elsewhere...I would like to take this opportunity to convey my sons' and my own gratitude to all those South Africans who took the time and trouble to express their condolences."
On Friday, Harry—who honeymooned with Meghan in eastern Africa and more or less picked the continent for this momentous family trip for all of the above reasons—channeled his mother on a walk through a minefield where deactivating teams remained at work in Dirico, Angola, as part of The Halo Trust, 22 years after she made her own walk through an active minefield in Huambo, Angola, which is now a bustling street that Harry then visited afterward.
"It's been quite emotional retracing my mother's steps along this street 22 years on and to see the transformation that has taken place, from an unsafe and desolate place into a vibrant community of local businesses and colleges," the prince said.
Remembering his first trip the continent in 1997, Harry told Town & Country in 2017, "My dad told my brother and me to pack our bags—we were going to Africa to get away from it all. My brother and I were brought up outdoors. We appreciate the countryside; we appreciate nature and everything about it. But it became more than that...
"This is where I feel more like myself than anywhere else in the world. I wish I could spend more time in Africa," he continued. "I have this intense sense of complete relaxation and normality here."
Upon their return from their lengthy stay abroad, Diana and Charles decompressed for nine days on Windermere Island, and then it was time to leave again; they missed Prince William's first birthday on June 21, 1983, because they were in the middle of a 17-day tour of Canada. 
"I smiled myself stupid all day," Diana wrote to a relative, per Bedell Smith, "as the press were quite determined to see a 'sad mama.'"
Fox Photos/Hulton Archive/Getty Images
(Ironically, Charles' mother, then still the future queen, was with him when he turned 1 in November, 1949, despite missing so much of his infancy to be with Prince Philip wherever he was stationed with the Royal Navy. Starting in October 1949, that was Malta. After Charles' first birthday, she went to Malta, returned to London to have Princess Anne in August 1950, and went back to Malta after Charles turned 2.) 
William and Kate did leave George in capable hands back home when they made a relatively quick trip to New York in December, 2014, where they caught a Nets-Cavaliers game in Brooklyn, where they met Jay-Z and Beyoncé and, naturally, King James (aka LeBron James). The next day William took a commercial US Airways shuttle to Washington, D.C., for an Oval Office meeting with President Obama.
Two years later, Obama went to Kensington Palace for an audience with a bathrobe-wearing Prince George.
Will and Kate packed the whole brood—at the time only George and Princess Charlotte—up for their own tour of Canada in 2016, exactly three years ago, but of course the kids stayed with their nanny when their mom and dad made appearances that might bore your average (or royal) child.
When the Duke and Duchess of Cambridge spent an evening in the historic Gold Rush-era town of Whitehorse, located on the Yukon River and a stellar place to see the Northern Lights, it was immediately labeled a date night because it was just the two of them.
Now a family of five, they haven't gone on an official tour abroad all together since Prince Louis was born in April 2018, but in addition to jaunts to Scotland they have brought all three kids to the isle of Mustique, one of their favorite vacation spots. 
David Hartley/Shutterstock
In October of 1991, Charles and Diana brought 9-year-old William and 7-year-old Harry to Ontario, Canada—their first official international tour as a family of four—where their destinations included Toronto and Niagara Falls, and organizers had a heck of a time figuring out the already-warring royals' largely separate itineraries (as well as fit in fun stuff, such as a tour of a destroyer ship, for the boys).
In a sign of coverage to come, the press noted a day when Diana recycled a look, the CBC attributing her seen-before suit to the new "austere image" she was going for and acknowledging that royal watchers were looking for signs of distress in the couple's marriage.
"That means two sets of media buses, two sets of coordinators, two sets of motorcades, two sets of security—it's two tours in one," one of their men on the ground in Toronto explained to the CBC.
Private troubles aside, a photograph taken of Diana on that trip, charging up the gangplank of the ship Britannia to hug her boys, became one of her all-time favorite pictures.
JSH TOUR/REX/Shutterstock
Already leading increasingly separate lives at home, it was the last trip to Canada for Charles and Diana together. She went on a solo official visit to Pakistan that fall and they went to India in February, 1992, where Diana infamously posed alone in front of the Taj Mahal. She tried to pull out of a promised trip with Charles to South Korea that November, but the queen requested that she go, as scheduled. Their separation was formally announced in December.
Canada circa 1991 was a far cry from Australia/New Zealand in 1983, when William was a baby and Charles and Di were as close as they'd ever be.
Charles had written in his letter that, in their quiet moments when they got to steal away and be alone with their son, they relished watching him crawling, "knocking everything off the tables and causing unbelievable destruction" He and Diana "laughed and laughed with sheer, hysterical pleasure."