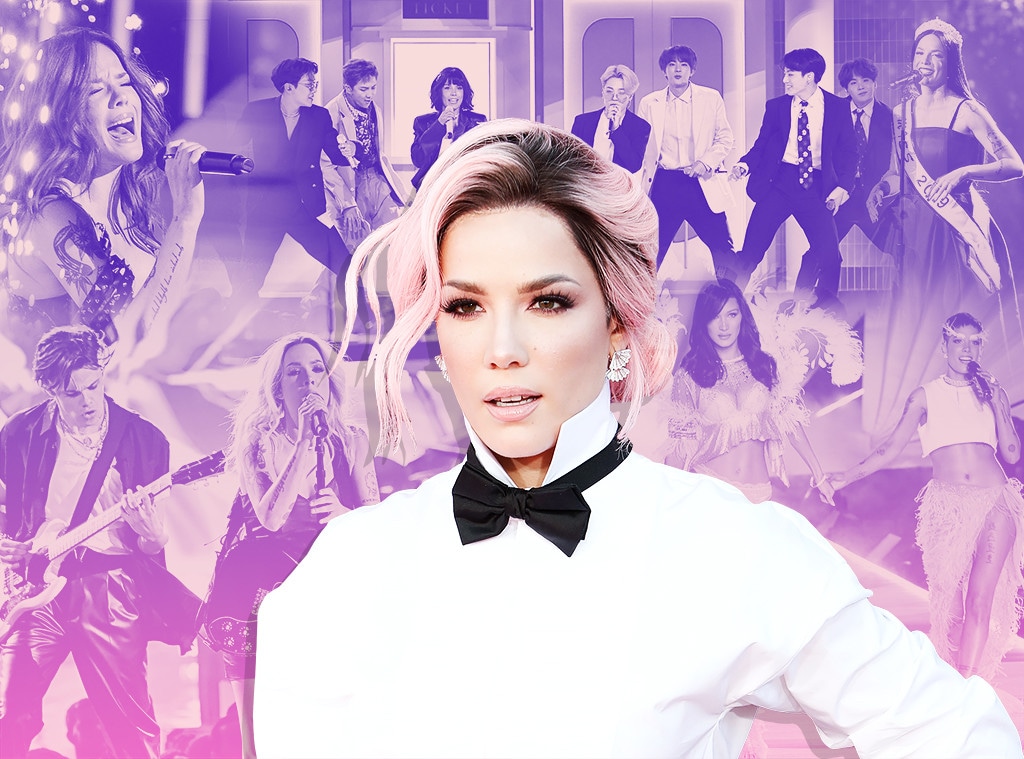 Alex Alonz/E! Illustration
Halsey's accomplished quite a bit in her 25 years on this planet.
Have her first two albums debut at No. 2 and No. 1, respectfully? Check. Sell out Madison Square Garden? Yep. Host Saturday Night Live? Done that. Appear as herself in A Star is Born? Who can forget that scene? Collaborate with powerhouses like Justin Bieber, The Chainsmokers and BTS? Done, done and done.
Along the way, the singer, who celebrates the release of her third studio album Manic on Friday, Jan. 17, has also proven herself to be an unashamedly outspoken feminist who takes no s--t and suffers no fools. Like that time in 2015 when she opted for a buzz cut so that her hair could no longer be used to define her. "This whole year I was my hair in every article," she tweeted that December. "The girl with blue hair. The girl with the pixie cut. And now it's. all. gone! Feels good."
As enthralled as we are with her music—"You should be sad" is the scorched-earth breakup bop we've been waiting for—we're even more obsessed with her inspiring and eye-opening story. So, in honor of her new album, let's take a look at 25 of the most fascinating facts about Halsey.
1. Her real name is Ashley Nicolette Frangipane.
2. Born in Edison, NJ, she's the daughter of Nicole, who works security for a hospital, and Chris, who manages a car dealership. Both her parents dropped out of college when Nicole discovered she was pregnant.
3. Along with her younger brothers Sevian and Dante, she is biracial, as her mother is of Italian, Hungarian and Irish descent, while her father is African-American with some Irish ancestry.
4. When she was young, her family moved around a lot. Like six different schools by her teen years a lot.
5. At the age of four, her maternal grandmother taught her how to play "Memory" on the piano. "Being an old Italian woman from New Jersey," she told Rolling Stone in 2016, "my grandma had the sheet music to Cats." She also learned how to play the viola, violin and cello before moving on to the acoustic guitar at 14.
6. At 17, a suicide attempt—she tried to overdose on painkillers, regretted it immediately and told her parents—brought about a 17-day stay in a psychiatric hospital, where she was diagnosed with bipolar disorder, something her mother has also struggled with. Afterwards, she began using recreational drugs.
7. That same year, she began dating six years her senior, writing her own music, and discovering herself. "When I was 17," she told Nylon in 2014, "I was seeing a guy who was 24 and he lived on Halsey Street in Brooklyn. That's where I first starting writing music and where I started to feel like I was a part of something bigger than my town in middle of nowhere New Jersey. Halsey is kind of like a manifestation of all the exaggerated parts of me [Ashley], so it's like an alter ego." Not only did Halsey come from that street name, but it also happened to be an anagram of her legal name.
8. In high school, someone broke into her locker during gym class, stole a topless photo she'd taken for her boyfriend and began passing it around the school. "Teachers saw it; everyone saw it. And suddenly, I was not the weird girl, I was the slut," she told RS. "I could have recoiled and deflected my sexuality, but instead I was like, 'I'm going to own it now.'"
9. After being forced to turn down an acceptance to the Rhode Island School of Design because she couldn't afford it, she enrolled in community college, but, finding it a waste of time, she eventually dropped out. Her parents kicked her out shortly afterwards.
10. Essentially homeless, she jumped around the Lower East Side basement dwellings belonging to the crowd of "degenerate stoners" she'd met through an ex-boyfriend. I remember one time I had $9 in my bank account," she told RS of that time in her life, "and bought a four-pack of Red Bull and used it to stay up overnight over the course of two or three days, because it was less dangerous to not sleep than it was to sleep somewhere random and maybe get raped or kidnapped." When things got a little too hairy, she would go stay with her grandmother.
11. Before she became Halsey, she gained minor Tumblr notoriety under the username se7enteenblack thanks to a parody of Taylor Swift's "I Knew You Were Trouble" with lyrics inspired by the singer's relationship with Harry Styles dubbed "The Haylor Song."
12. In 2014, while at a party, she met a "music guy" who invited her into the studio—"and by 'studio' I mean someone's basement that had a microphone and recording equipment," she told RS—to collaborate because he liked her voice. This was when she wrote "Ghost," a song about a junkie ex. A few weeks later, on February 3, she uploaded it to SoundCloud at 10 p.m. By 3 a.m. the next morning, she'd been contacted by five labels. Later that morning, the song was charting. But don't call her a social media phenomenon. "I wasn't a social-media kid," she told the magazine. "I wasn't a Viner, a YouTuber, a blogger, anything. I was just someone that people found minutely more interesting than the average person."
13. After signing with Astralwerks, she released her first EP, Room 93, in October 2014, opened for Imagine Dragons on the North American leg of their tour in June 2015, and released her debut album, Badlands, on August 28, 2015. It debuted at No. 2 on the Billboard 200.
14. That fall, she embarked on her Badlands Tour. The first North American leg saw her perform at the 3,000 seat Webster Hall in NYC. When she returned to the Big Apple for a second round the following August, she sold out Madison Square Garden, all 12,776 seats.
15. Appearing on Justin Bieber's "The Feeling" in 2015 and The Chainsmokers' "Closer" in 2016 helped elevate her profile, but she won't let either song take credit for her career. "I'm really glad I did the Bieber record, but I sold out Madison Square Garden before I did it. And I'm really glad I did 'Closer,' but Badlands went platinum before I did it," she said on the Zach Sang Show in 2017. "So I worked really hard on my own. To have that handed to someone else, I won't tolerate that."
Erik Pendzich/Shutterstock
16. After telling RS that she suffered a miscarriage in a hotel room before Badlands even was released and still went through with the Vevo LIFT show she was scheduled to perform in that night, relying on an adult diaper and two Perocet to get through the gig, she told Paper in 2017 that she wished she'd never opened up about it. "The reason I wish I didn't [reveal that] is because people were really violent about it. A lot of people were like, 'Oh, you're lying. You had an abortion.' I did a show in Toronto and a couple people came to the concert and held up a bunch of bloody baby dolls in the crowd," she said. "Those are the moments where I'm like, 'This is one thing maybe I wish I kept to myself.' But I didn't and it's out there. And I have to own it now and hopefully use it to help other people feel like they're not in a position where they're alone, and feel like their life is gonna go on."
17. Her second album, Hopeless Fountain Kingdom, was released on June 2, 2017 and debuted at No.1, making her the first woman with a number one album in the U.S. that year.
18. Though she is openly bisexual on top of being a biracial woman with bipolar disorder, do not think about calling her "tri-bi," as she's previously been described. "I f--king hate it," she once told Rolling Stone, "the idea that something like that would be trivialized down to a fucking hashtag. I mean, there's a ton of biphobia — people refuse to accept bisexuality as an actual sexuality. And I'm biracial, but also white-passing, which is a unique perspective. So these kids say, like, 'Oh, f--king tri-bi Halsey! She'll never miss an opportunity to talk about it!' I want to sit them down like a mom and go, 'Six months ago you were begging for an artist that would talk about this s--t! But then I do, and you say, 'Oh, not her. Someone else.'"
19. In 2011, she was known to attend Occupy Wall Street rallies in New York City's Union Square to protest economic inequality, something her dad likes to remind her of now that she's become part of the one percent. "I came home and was talking about Bernie Sanders. I was talking about the one percent. And my dad was like 'How funny is it that you're part of a community now that is the very community you were protesting when you were a teenager? People who are in a higher income tax bracket,'" she told the Zach Sang Show before adding that the bigger balance in her bank account would never change her outlook. "I don't think there's any amount of money that I could ever make that would make me think it's okay to deprive people of human rights."
John Photography/Shutterstock
20. There's a very specific reason she prefers to dress in scantily-clad outfits—and it has nothing to do with being sexy. "Everyone always thinks there's some weird agenda in that but it's really just because I have a lot of tattoos and when my tattoos are covered up I just don't feel like myself," she told the Zach Sang Show. "I wear clothing that shows off my tattoos." She currently has 29 confirmed tattoos.
21. In August 2019, she revealed that she'd finally kicked her smoking habit for good. "I successfully quit nicotine a few weeks ago after smoking for TEN years," she tweeted. "I gained a lot of weight and probably lost some friends forever bc I was being a NUT (lol) but I'm so happy I did it and I feel v goooood. just wanted to share."
22. After revealing in 2016 that she suffers from endometriosis, she underwent an undisclosed surgery in 2017 to lessen the pain caused by the disorder and announced on The Doctors in 2018 that she planned to freeze her eggs.
23. After dating Norwegian producer Lido, who worked on Badlands and partially inspired Hopeless Fountain Kingdom, rapper G-Eazy, whom she told E! News in May 2018 had "bamboozled [her] a little bit" into dating, and English musician Yungblud, whom she met at a secret Los Angeles bar in November 2018, she began dating American Horror Story actor Evan Peters in September 2019.
24. A staunch feminist, she attended the 2017 Women's March and tweeted afterward that she'd donate one dollar to Planned Parenthood for every retweet she received. She wound up donating $100,000.
25. Though her music is classified as pop on the charts, she called herself "the anti-popstar" in a January 2019 tweet. "Part of being an artist is that I can subscribe to whatever brand of myself I wish," she wrote. "Anti-popstar is more about a mentality I think. It has little to do with genre and more about denying the notion that female pop artists should succumb to the social expectations of the genre!"
Manic is available now.
(Originally published on September 29, 2019 at 6 a.m. PT.)