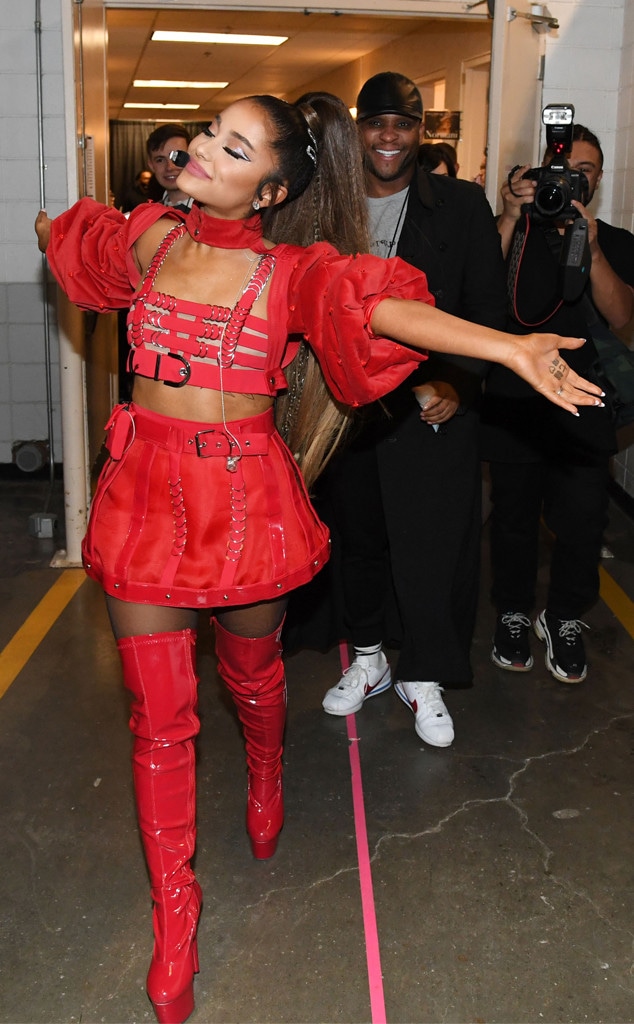 Kevin Mazur/Getty Images for Ariana Grande
Ariana Grande has no tears left to cry—and no words left to speak. 
That's because she can't find the right ones for what she called the "most special experience of" her life. In an Instagram post shared on Wednesday, the Grammy winner revealed she will be making an appearance on Kidding next season. The Showtime comedy-drama stars Jim Carrey, who Grande has been a lifetime fan of. 
"There aren't words," she wrote on Instagram, captioning a black and white photo of Carrey hugging her. "I've been staring at my screen and no words do this moment justice. thankful for the most special experience of my life. nothing is crazier than getting to work with and spend time with someone whom you've idolized and adored since before you could speak. actually, what's even crazier is discovering that person to be more special and warm and generous in person than you ever could've imagined." 
Grande continued, "I get to make a tiny appearance on the hilarious and deeply moving show Kidding next season. this was a DREAM of an experience. thank you thank you thank you Jim and thank you Dave for having me. i have so much more to say but words actually can't .... cover it."
If that wasn't enough of a highlight for the superstar songstress, Grande also got a major compliment from the show's creator, Dave Holstein. "You crushed it Ari. It's going to be such a special episode of @shokidding !!!" he wrote in a comment on the post. "You're the best."
The show's Instagram account also issued her a warm welcome, writing, "Hello, friend. Welcome to Pickle Barrel Falls, @arianagrande."
Meanwhile, fellow songstress Lizzo rivaled Grande's excitement, commenting, "Wait.... this is..... incredible.... omg.... like my literal dream...... god bless this union."
Guess we'll just have to stay tuned for the new season!