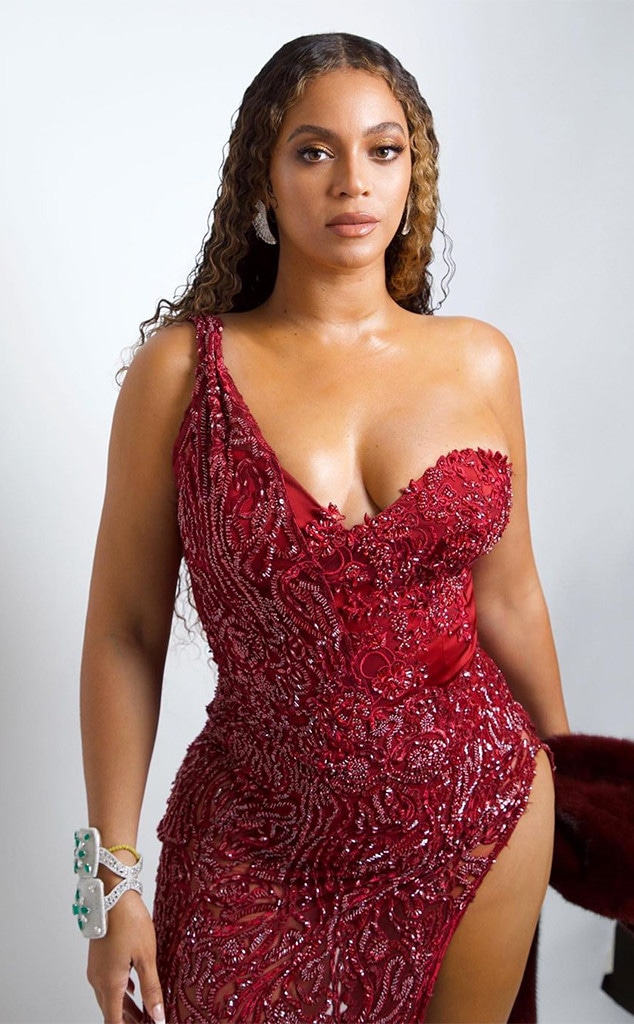 Instagram / Beyoncé
Beyoncé was red hot on a night out with Jay-Z on Saturday.
The two celebrated with family members at their niece Teanna's 21st birthday party, which had a Great Gatsby theme and took place in New York City.
Beyoncé sported a sexy custom one-shoulder beaded merlot Walter Collection gown with a high slit and sweetheart neckline, paired with Jimmy Choo Viola sandals and a white jade cuff with Colombian emeralds by Lorraine Schwartz —the same piece of jewelry she wore while revealing her pregnancy with the couple's first child, daughter Blue Ivy Carter, at the 2011 MTV VMAs.
Jay-Z wore a white and black tux and carried a white cane to the birthday bash.
Beyoncé posted several photos of her and her husband posing in their outfits on her Instagram page. At the party, guests also donned "roaring '20s" fashion styles.
"Beyonce and Jay-Z had a great night out at his niece Teanna's 21st birthday party in New York on Saturday night," an eyewitness told E! News. "They arrived on a party bus with lots of Jay-Z's family. All of his nieces and nephews and cousins were there ready to party and celebrate. Beyonce looked very comfortable and close with Jay's family. She knew everyone and they were all hugging and talking. Jay had a cane to go with his costume, but he was still helping Beyonce get out and get inside."
"They had a seated dinner and then it turned into a huge dance party," the eyewitness continued. "The entire family was on the dance floor and never sat down. Everyone danced together in a circle. Beyonce and Jay were right there in the middle of it all dancing with family and friends cheering them on. They had a great night celebrating Teanna and showering her with love."
Watch:
Beyonce Shows Major Leg During Sexy Night Out With Jay-Z
The insider said guests danced to Beyoncé and Jay Z songs such as her tracks "Before I Let Go," "My Power," and "Already." The latter two are featured on her album The Lion King: The Gift. The singer provides the voice of Nala in Disney's new CGI reboot of The Lion King.
Beyoncé has been seen at recent events promoting the film, including a London premiere, where she and Jay-Z met the Duke and Duchess of Sussex, Prince Harry and Meghan Markle.
In 2014, Beyoncé and Jay-Z threw Teanna a Sweet 16 party at a K1 Speed indoor kart race track. Their eldest daughter Blue Ivy Carter, then 2 years old, accompanied them.