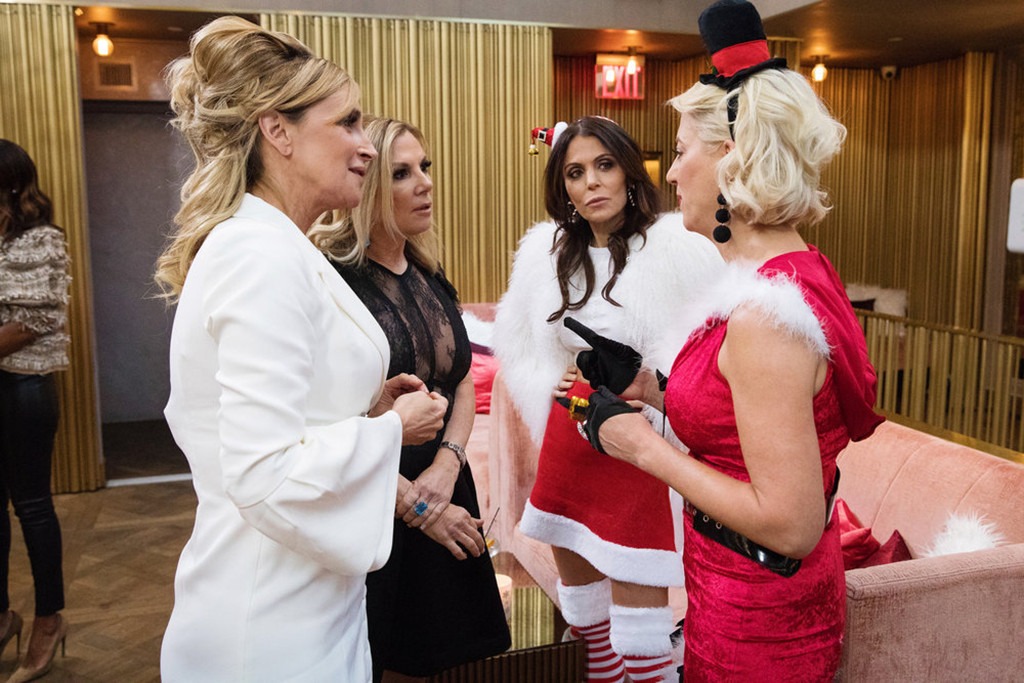 Bravo
Merry Christmas in June!
The season 11 Real Housewives of New York finale went full holiday tonight, with multiple parties and Luann's long-awaited Christmas cabaret show, which she guilted the other women into attending. 
Everyone aside from Bethenny and Ramona did attend, which actually meant they said hello to Lu for 10 minutes before she kicked them out of her dressing room, because "that's showbiz, ladies." Apparently, if we ask everyone in this business in town, they'll tell us the same thing. 
Ramona wasn't there because she had a surprise party to plan and, as she said last week, she didn't want to, and Bethenny had just nearly died after accidentally eating fish, to which she is very allergic. 
As she had tweeted at the time, she was five minutes from death, and it was only because her boyfriend was there and able to give her Benadryl and call 911 that she survived. 
"OK, so she's not going out tonight?" Luann asked after Sonja reported Bethenny was "five minutes from death" and would not be attending the cabaret show. 
Luann then kicked them all out of the dressing room like she couldn't believe they were even in there, then got on stage to sing a deep-voiced rendition of "Jingle Bells" that had been adjusted to include references to Jovani. 
Meanwhile, Tinsley led Dorinda and Sonja to their surprise party, which Barbara had completely ruined for Sonja, but Sonja pretended. 
Back in the audience, Luann's children endured her jokes about multiple rehab stints, while back at the party, Dorinda simply refused to believe that Tinsley and Scott are fully split up because of all the money Tinsley's been spending. This turned into a bit of a shouting match, with Tinsley's voice growing shriekier and shriekier while Luann closed with her classic, "Money Can't Buy You Class." 
Later, Bethenny had recovered enough to throw her S'mores and Whores party, which is a brilliant idea we'd steal if we were also delightfully insane. 
First, Bethenny, in a full kind of human candy cane getup, sat in the back of her car and told her driver, Santa Claus, about how when she nearly died, she felt her late ex Dennis Shields "pulling" her to him, and with that she's decided to leave him behind, and let him be wherever he is while she moves on with her life. And so she moved on to her S'mores and Whores party. 
All of the women dressed up in varying degrees of holiday attire (on a scale of Mrs. Bethenny Claus to Luann "Dressed Like a S'more" de Lesseps, how much Christmas spirit do you have?), ate s'mores, and enjoyed quite a show of strippers. One of the strippers even nearly killed Bethenny a second time! 
There was even a nutcracker pinata filled with sex toys, and like we said, this is a great party idea. We may never be able to get the scene with the oyster sucking out of our brains for the rest of time, but great party. 
In the end, the very best part of it all was the apparently Very Catholic Ramona's absolute outrage at the very idea of prayer candles featuring St. Luann. That's sacrilegious! 
"I use 'em to pray to God!" Ramona yelled, her eyes wide. "She's gonna be like, not looked at right from God. That's not good." 
"What is she, Joan of Arc?" 
Listen, we get what Ramona is saying, and we hate to support Luann's "diva" behavior, but is it bad that that candle would look perfect on our desk? Right next to our framed print of Sonja watching TV in a tiara from season eight? 
Anyway, the reunion begins in two weeks on July 11, and we're certainly feelin' very Jovani about it, whatever that actually means. 
The Real Housewives of New York City airs on Bravo.
E! and Bravo are both part of the NBC Universal family.