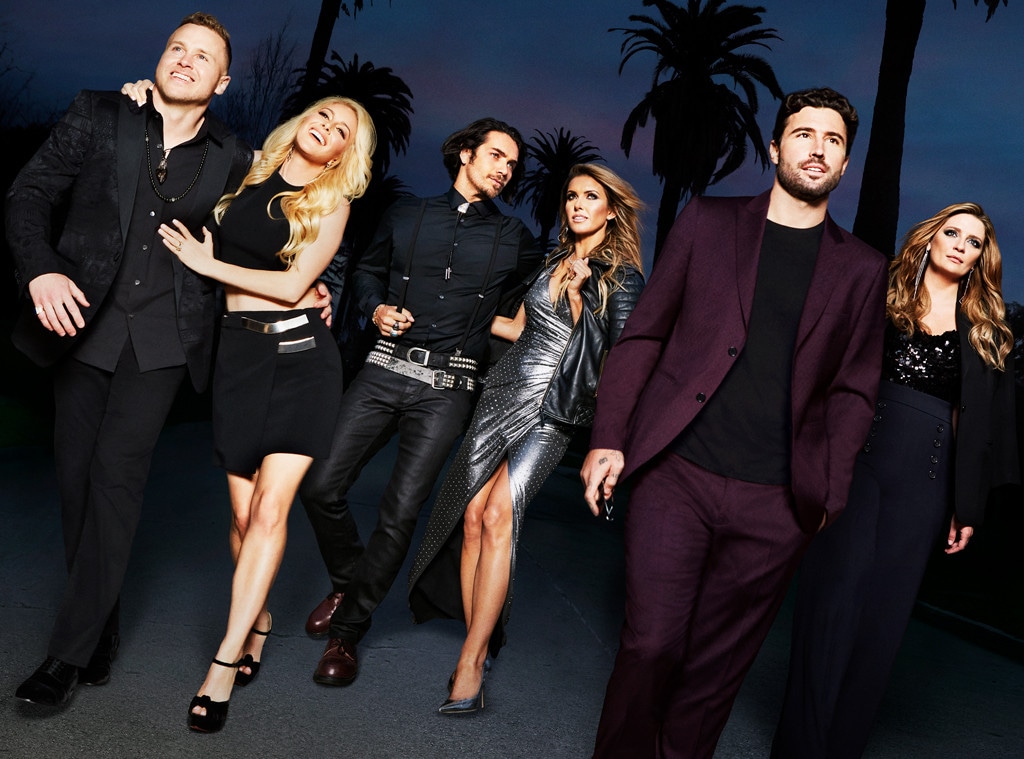 MTV
With its original ending, The Hills sent shockwaves through its vast fandom and reality TV as we know it. Now, The Hills is back for New Beginnings. Is it scripted? Is it reality? Does it matter?
In the final scene of the original The Hills, broadcast in 2010, Kristin Cavallari set off to move to Europe. Brody Jenner watched her leave for the airport, but then the Hollywood backdrop was pulled away, Kristin never left, she got out, hugged Brody and went on her way. The scene was filmed on a backlot. The ending has been debated for years. Was the whole reality series scripted from the start? Was the last scene commentary on life in Hollywood? Variety asked MTV's head of development that question.
"I wasn't here [at MTV], so I'm not going to talk about that decision—the team at the time thought long and hard about what that meant—but I think the effect of it is that you can interpret it in different ways. I think it's a bit of both things that you said. For us, when we went back to the cast, the cast felt very strongly that they wanted to show who they are now," Lily Neumeyer said.
On The Hills: New Beginnings after show, Brody was asked if all the drama between the current cast, which includes himself, Audrina Patridge, Spencer Pratt, Heidi Montag, Stephanie Pratt, Whitney Port, Brandon Lee and Mischa Barton, was real.
"It's real, for sure. Definitely the drama and the relationship stuff is all legit," Brody told hosts Michael Strahan and Sarah Haines.
He made sure to say all the "relationship stuff" is legit.
Mischa Barton, a newcomer to the series best known for her role on The O.C., said she was hesitant to join the show and put her life on reality TV, and she stressed that yes, it's real.
"The whole point and shoot, like, it's really not scripted at all," Mischa said on the after show. "People always ask that. It's just a wild feeling, just to let go and trust in the group, trust in the whole thing." A preview for the second episode of the season aired during the after show and featured Mischa confronting blogger Perez Hilton over his past work. While it may have been an encouraged interaction, it seemed like Mischa wasn't speaking from a script.
While Mischa and Brandon are newcomers, The Hills: New Beginnings features many of the same faces from the original six-season series. And it's these very same cast members who previously opened up about how faked certain things in the original show were. Whitney, who starred in the first show and is back for the new series, said in an interview she didn't actually go to Paris in place of The Hills' first series star and fellow Teen Vogue intern Lauren Conrad. She filmed a scene leaving during the original series run, but never went anywhere.
"That was so ridiculous," Whitney told Vogue. "It wasn't an ideal situation, but I thought, okay, this is good for me because I really was pursuing a career in fashion. I thought it showed that I was down and determined to do this. It was very Anne Hathaway as Andy Sachs [from The Devil Wears Prada]. I got dressed up in an airport look and went for it."
When asked about it, Kristin thanked Whitney for opening up about the situation.
"I can tell you most of my stuff wasn't real," Kristin said on Watch What Happens Live with Andy Cohen. "I'm going to take that road and see that maybe it's true. I'm just happy that more people are finally coming out saying stuff isn't real because for the longest time it was only me. So, thank you, Whitney."
Audrina told E! News that much of the drama was real, at the start.
"As it went on, it was very manipulated and guided and you're kinda put in these scenarios where you would show up and you didn't know what you were in for until you were there, and you wanted to run out but they lock the door on you," Audrina said. "I actually had to leave early for another event, we were there for about three hours and they were like, 'You can't leave until you and Kristin get into a fight.' So I'm like, 'Oh my God, Kristin!' Kristin's like, 'Let's do it.' I'm like, 'OK, c'mon.' It was about Justin [Bobby] and we did it and we got to leave. So, little things like that."
But does it matter if the show is still manipulating storylines to increase conflict now? Part of what makes TV so entertaining is it's a distraction for the viewer. If you're getting engrossed in The Hills storylines, if you're obsessing with friends over the rekindled relationship between Audrina and Justin "Bobby" Brescia, does it matter if they only went on a date because they're filming? The show is doing its job, and so are you as a viewer.
The Hills is providing viewers a service, whether it's through a manipulated scene or a totally organic interaction, it's entertainment. Just sit back, watch—or don't watch The Hills—and feel the rain on your skin, because no one else can feel it for you, only you can let it in…
The Hills: New Beginnings airs Mondays, 10 p.m. on MTV.