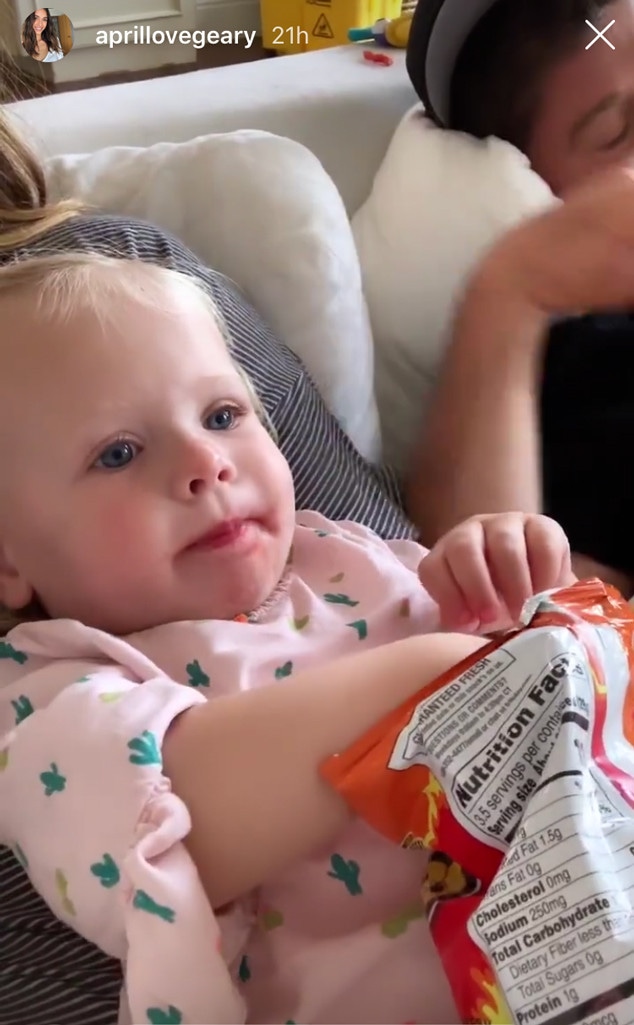 Instagram
April Love Geary is responding to critics after being shamed for her parenting skills.
The model, who shares two kids with fiancé Robin Thicke, has been receiving critical comments on social media after posting videos of 16-month-old daughter, Mia Love Thicke, eating Flamin' Hot Cheetos. In one of the videos, posted on Monday, Mia can be seen sitting with her mom and dad as she eats from the Flamin' Hot Cheetos bag.
In response to the post, one Instagram user commented, "Those Cheetos are beyond toxic, she's just a child! Go read a parenting book."
After reading this comment, April clapped back, "You're being toxic for my children."
In addition to receiving comments on the Instagram post, one social media user also appeared to slide into April's DMs.
Responding to a warning message about the health risks with Flamin' Hot Cheetos, April wrote, "We're here for a good time, not a long time."
So, we think it's safe to say April is so over the critical comments about her parenting!
April and Robin are also parents to 4-month-old daughter Lola Alain Thicke. The celeb couple announced Lola's arrival in February, two months after getting engaged.
The "Blurred Lines" singer also shares son Julian, 9, with ex Paula Patton.