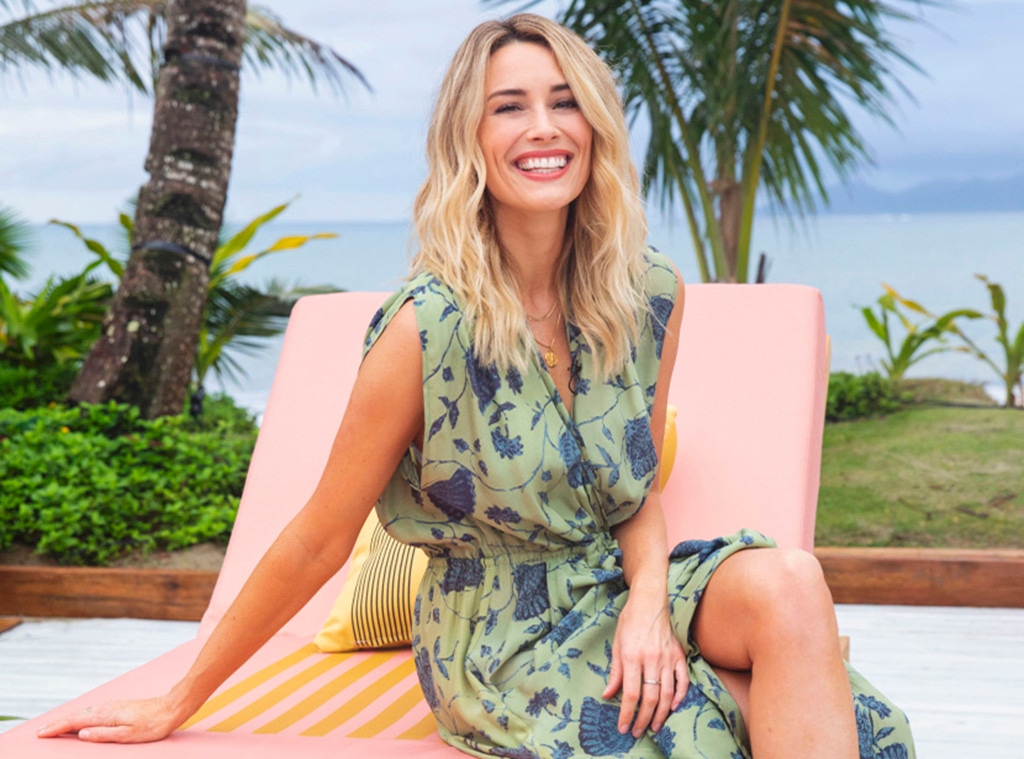 CBS
Get ready for more reality dating than you might even be able to handle. 
CBS is about to debut its version of the hit British dating show Love Island, which will air semi-live five (five!) nights a week starting today, and whether you're already a fan of the UK version or not, you may be wondering exactly what kind of shenanigans these hot people will be getting up to as they search for love with a side of fame, and why exactly you should plan to devote five nights a week to those shenanigans. 
We'll obviously have to wait until it actually airs to find out exactly what we're in for and exactly how it differs from the extremely popular international versions, but thanks to a few interviews with executive producer David Eilenberg, we know just a few things, including the fact that he sees this show as "the World Cup of reality TV" and comparable to Game of Thrones in terms of must-watch. 
What Is Love Island?
For anyone who hasn't yet become addicted to the British version (available on Hulu, do it now), Love Island is a Big Brother-esque show about beautiful people all living in a house together and competing in challenges while doing their best to stay in the house, but with a few important differences. Unlike Big Brother, to stay in the house (which is in Fiji), you have to be in a couple, and you have to be in a likable-enough couple that viewers won't vote you out for being boring. Plus, you have to be in a strong enough couple that your partner won't leave you for one of the many hot newcomers who are occasionally brought into the house, or you have to be savvy enough to dump your partner for a better one who may walk through the door, all with the goal of being one of the last couples standing at the end of the summer...and popular enough for viewers to vote for you to win the prize money. 
It starts with one core group of men and women, who couple up just based on looks. If you can't couple up, you get eliminated, and men and women take turns choosing their partner. Couples go on dates, compete in challenges together, and even sleep in the same bed. When someone gets eliminated, new people arrive, and it continues like that all summer long.
If you gotta compare it to The Bachelor, Eilenberg says think of The Bachelor as a "romantic-dramatic soap" and Love Island as an "ensemble romantic comedy."
It's Live!
Most of the show won't actually air live, but it's pretty darn close. What's happening in the house this week will air this week, and it's on five nights a week, meaning we'll be able to keep up with most of the action as it's happening, similar to the way Big Brother works, with the added benefit/complication that Fiji, where the house is located, is 16 to 19 hours ahead of the U.S. 
That also allows viewers to participate in the show in a way by voting through an app on what might happen in the house and who should win in the end. Eilenberg told THR that it's a "communal experience," and that's what's going to make it appeal to American audiences.
"At its best, the sense that you want to create is that the show is on five nights a week—but Love Island is happening 24/7. And it can only take place if you have a motivated core audience that drives dialogue." 
While it's a lot of work for the quick turnaround that produces an episode in a day—as opposed to the months it takes to get a Bachelor episode from filming to airing—Eilenberg says, "it's worth it to get that sense that the show is happening in real life as you're watching it." 
The Sex Appeal
The British version is very, very sexy. Most of the women walk around in thong bikinis all day long, and challenges sometimes involve recreating favorite sexual positions and a whole lot of kissing. The thongs and the sexual position games will probably not be appearing on CBS, but the general vibe of the show won't be changing. 
"CBS very much supports the show that's been a hit elsewhere," Eilenberg told EW. "We want to make sure the show is the show. It's an aspirational, sexy, fun summer show. And the U.K. show has become less provocative and more broad appeal over time."
"We have to conform to broadcast standards, so what happens with language and—to some extent—what we see visually will be a little different because of the platform we're on," he continued. 
Eilenberg told THR that "the show is the show," and there won't be major format differences, but at the same time, no one can really predict what will happen, since it's all live. 
"There will certainly be differences," he said in the THR interview. "Some of those differences won't just have to do with the type of platform it's on, but simply the cultural differences between American Islanders and U.K. Islanders. We don't know what those are yet until we actually put our Islanders into the villa but we're very excited to find out."
Twists, Challenges, and More
There will absolutely be sexy challenges, which in the UK means lots of kissing and lots of sex talk. 
"There's going to be a mix [of games] just as there is on the U.K. show," Eilenberg said in the EW interview. "There are games that are meant to bond, games that are meant to spark attraction, and games that are just hilarious…The U.S. Islanders have seen the U.K. show, for the most part. They know what they're walking into and are excited to do it."
Another major aspect of the show is that again, unlike The Bachelor or Survivor, it's mostly live, and its twists are planned much more in the moment to respond to whatever is going on on the house. 
"In many reality shows we've grown up with, [a producer plans a series of events] and those beats are a ritual to be adhered to, and you hope for your story to happen within that," Eilenberg said "This is different. The story is what's happening, and the format beats are an arsenal of tools that can be deployed at any time. That lends an unpredictably to the narrative that keeps people coming back and makes them feel like they have to watch the show every night instead of just getting a recap."
The Cast
The show will start with an initial cast of 11 islanders before more and more men and women will arrive, and the cast was put together with both an eye for diversity and for content. 
"We have cast, most of all, on sincerity of intent," Eilenberg told THR. "No matter what other attributes somebody has, they have to have some degree of really wanting love, a connection, an adventure and something that can be transformational for their lives. Once you see that the person is in it for the reasons that drive the show, then you're interested in the diversity of characters, their backgrounds and viewpoints. It makes it that much more interesting when you have a really wide range of people coming in from all over."
The U.S. Love Island will still not easily allow for LGBTQ couples, due to the format of separating islanders by gender, but Eilenberg says the show could evolve. 
"We're open to seeing how the show can evolve over time, and I think when you see the U.S. show that there's been real thought put into the diversity of our casting," he told EW. 
The initial cast can be seen here. 
The House
The Islanders will spend the majority of their time in a beautiful mansion, which only really has one giant bedroom they all share. You can see the house in the video above, including the Hideaway, which is where some couples will get to spend a romantic night away from the rest of the cast. 
The Host and Narrator
Actress and social media star Arielle Vandenberg, who became popular on the now defunct Vine, will host the show as the U.S. version of the U.K.'s Caroline Flack. 
The U.K. version is narrated by Scottish comedian Iain Sterling, who also writes all his own commentary, and his U.S. counterpart is Matthew Hoffman, a relatively unknown TV personality, host, and interviewer whose voice we're all about to know very, very well. 
Now, we've just got to wait until the show actually airs to find out the answers to our other questions, like will the U.S. islanders have as much incredible slang as the U.K.? Will anyone ever get "mugged off?" Will they all yell "I got a text!" when they get a text from producers giving them instructions? Will anyone be able to cook during the dates which require cooking, or will we get a repeat of Tommy the Boxer's heart-shaped bread with cheese, ketchup, and mayo? How many heads will be turned, and will they be turned a full 560 degrees? 
We cannot wait to find out!
Love Island premieres tonight at 8 p.m., and if you want a taste of the UK version, four full seasons are currently available on Hulu, and new episodes of the current season are added every Saturday. 
This story was originally published on June 18.