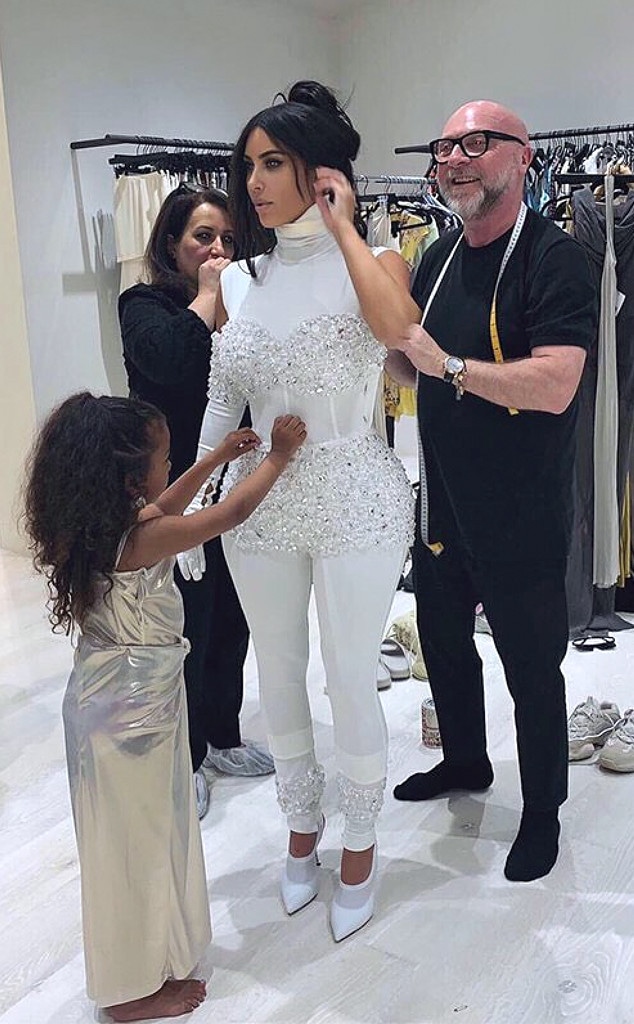 Kim Kardashian/Instagram
North West is immersing herself into the world of high fashion one day at a time.
After all, fashion and impeccable style is already flowing through the 5-year-old's blood. Her dad Kanye West runs Yeezy while mom Kim Kardashian makes fashion statements in every kind of outfit, whether it be athleisure or haute couture.
North's recent dabbling in the world of fashion relates to the latter.
On Saturday, Kim posted photos from one of her recent fashion fittings for a stunning white Dolce & Gabbana outfit that she wore on Wednesday night in Las Vegas. Kanye surprised Kim "with a date" to see Céline Dion's show at the Colosseum at Caesar's Palace.
The KKW Beauty's recent uploads show her getting ready for the outing in her spacious closet as well as herself fully dressed and striking a pose on her couch. In one picture, North stands in front of her mom looking high fashion herself in a floor-length silver dress.
"Thank you Domenico! I hope North was a good assistant," Kim captioned the series of photos.
North has shown on multiple occasions that she really loves her mom's closet and all of her clothes. On April 24, for instance, she dressed herself in a hot pink snakeskin pattern dress. She found truly the perfect pair of shoes to match, but the only problem was that they were a few sizes too big—and her mom's. 
Kim told North she couldn't wear her boots, which she was less than pleased about.
"Sooooo Miss North dressed herself and thought she was ready for the day until I explained she couldn't wear my boots," Kim tweeted that day alongside a progression of photos of North's reaction to the news.
She did something similar in January when she tried on her mom's neon wedges with flames coming out of the heel. It doesn't look like she got to keep them, but once her feet grow a few more sizes, it's clear Kim is going to have some competition for her own clothes!
Take a look at the photos below for more examples from Kim's fashionable fittings.
Fashion world: watch out! North is on the rise.