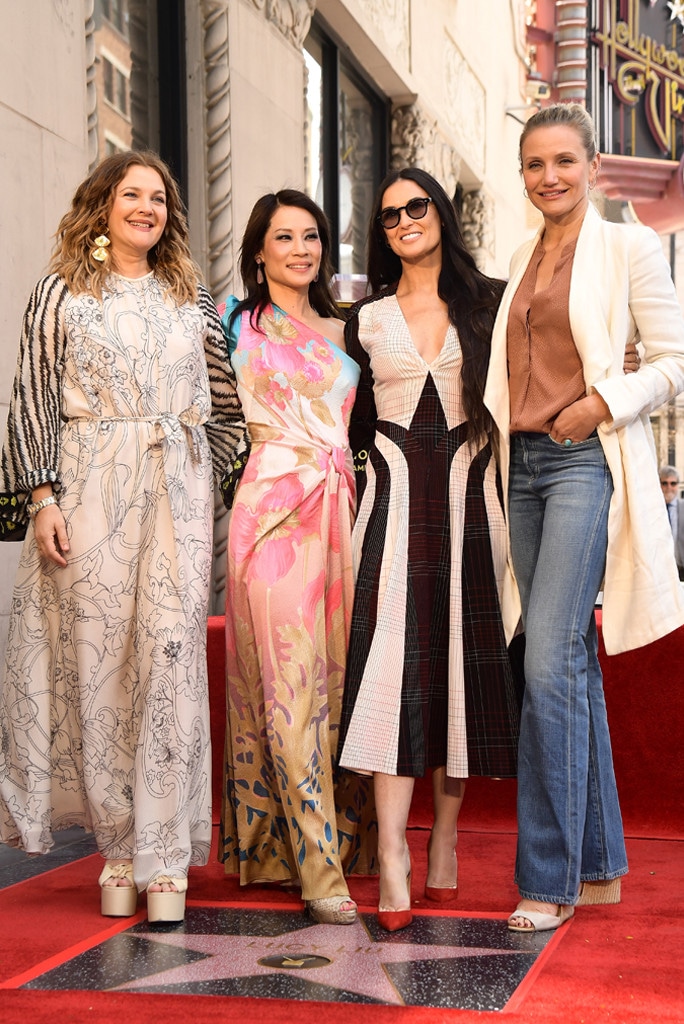 Matt Winkelmeyer/Getty Images
Charlie's Angels were out in full throttle to support Lucy Liu.
During her Hollywood Walk of Fame ceremony today, Liu was surrounded by her fierce co-stars, Cameron Diaz and Drew Barrymore, from the 2000 action adventure. Demi Moore, who starred alongside the trio in the 2003 sequel, was, naturally, also on hand to celebrate the multi-hyphenate.
"Lucy and I first met while making Charlie Angles—I didn't know we were going to have a reunion today," Moore gushed in a speech. "I could see she was in fact as I had heard a badass with brains. Then the better I got to know her I realized she wasn't just about a badass with brains, she was a badass with brains, a beautiful heart with a deep loving soul and a damn good sense of humor."
Like Moore, the honoree was excited to see such influential faces in the crowd. "My dear Angels," Liu, 50, said, "It's a 20 year reunion. Twenty years ago, we were an elite crime fighting team and now look at us!" (Spoiler: None of them have aged!)
Offscreen, she continues to kick butt—and break glass ceilings. A mission she takes pride in especially for her son Rockwell, 3. "Today there is so much more representation on screen," she added. "Now, he can see himself in this world and he won't know there is a limit. I never set out to be groundbreaking. I didn't have the goal of being a first. I just wanted to what I loved."
Watch:
Kristen Stewart Talks "Charlie's Angels" Reboot
The Angels will soon return to the big screen, albeit with a new, equally epic, cast. The film's reboot—directed by Elizabeth Banks and starring Kristen Stewart, Ella Balinska and Naomi Scott—will land in theaters this November. 
"I'm so stoked," Stewart previously told E! News. "Liz Banks is kind of the perfect person in my eyes to do this, and makes the whole idea of redoing something that is already really good, worthwhile."