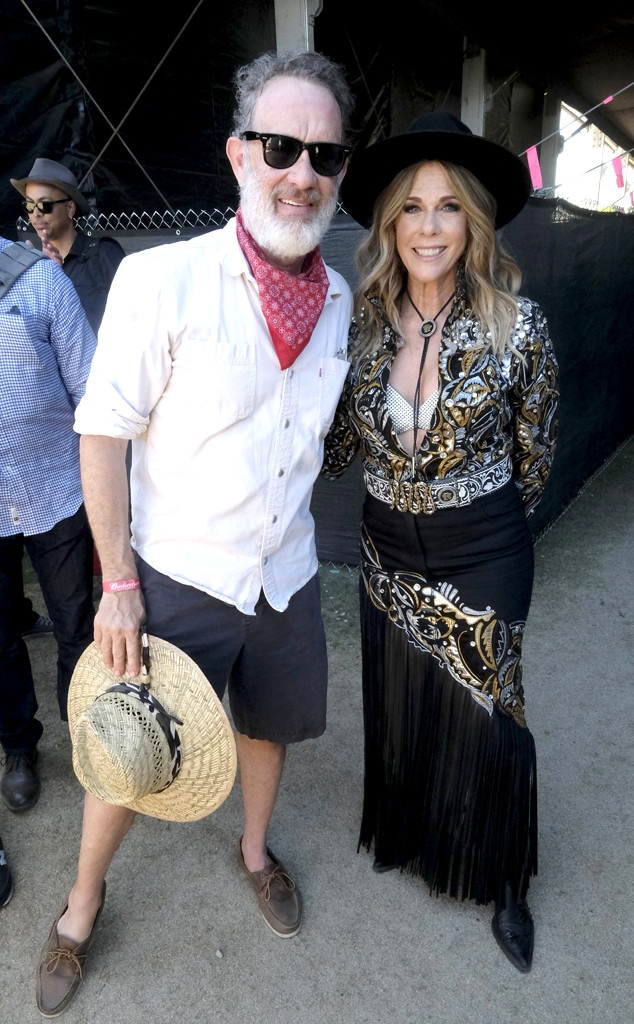 Frazer Harrison/Getty Images for Stagecoach
Rita Wilson's Stagecoach festival stage debut was a full family affair on Saturday.
The 62-year-old actress and country singer was cheered on by husband Tom Hanks, 62, and their sons Chet Hanks, 28, and Truman Hanks, 23, as she performed at the annual country music event for the first time.
Hanks, who also has two other children from a previous relationship, has long been his wife's biggest cheerleader. He sung her praises while speaking at her Walk of Fame star ceremony in Hollywood last month.
Wilson posted on her Instagram page a photo of her and her family standing with Drew Arthur, Chet's band mate from alt-pop group FTRZ, and legendary southern rock band Lynyrd Skynyrd.
"When you "open" for #lynardskynyrd at @stagecoach What is my life?!?!?! #stagecoach #lynardskynard," Wilson wrote.
Chet posted on his Instagram Story a video of Wilson performing her song "Big City Small Town Girl," writing, "@ritawilson momma killing it."
Scott Dudelson/Getty Images for Stagecoach
He also posted a video of Truman cheering on their mom riding on the shoulders of family friend and famed music manager Scooter Braun.
Chet was pretty pumped about meeting and watching Skynyrd as well.
He shared the same group pic as well as selfie videos of him singing along with their hits "Tuesday's Gone" and "Simple Man."