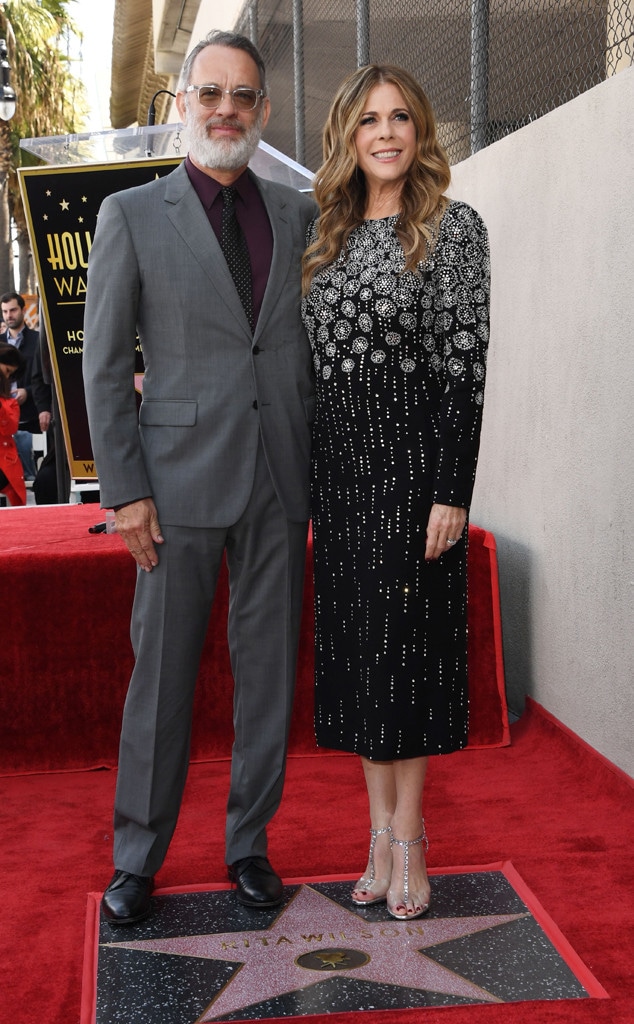 MARK RALSTON/AFP/Getty Images
Tom Hanks could not look prouder of his wife Rita Wilson as she was awarded a star on the Hollywood Walk of Fame on Friday.
The Oscar-winning actor sat in a front row at the ceremony along with the actress and singer-songwriter, his daughter Elizabeth Hanks, 36, and his and Wilson's sons Truman Hanks, 23, and Chet Hanks, 28, who held his young daughter Michaiah in his lap. Tom's son Colin Hanks, 41, was not spotted.
Tom, who received his own Hollywood star in 1992, clapped loudly as Rita was welcomed to the podium, then joined her to give a speech.
Tom praised his wife over her acting career, noting how she started out with roles on shows like The Brady Bunch and went on to appear in movies and also suggest the two co-produce the films My Big Fat Greek Wedding and Mamma Mia!, both of which were big box office hits.
"The lesson here is that Rita Wilson knows what she is doing," Tom said. "Her instincts are wicked sharp."
He then praised her over her music career. Rita released her fourth album, the country record Halfway to Home, on Friday.
Watch:
Tom Hanks Is Rita Wilson's Biggest Cheerleader at HWOF
"A few years ago Rita Wilson took her lifelong love and passion for signing into a recording studio right over there and she sang with an unbridled ability and an unbridled joy and then she released her first record, but then she said she had more music in her heart and in her head, songs that needed to be written and recorded and performed," he said. "She made two more records of her original material, created with other fine songwriters and musicians and since then performed all over the country.
Watch:
Julia Roberts Honors Rita Wilson at Hollywood Walk of Fame
"So we all know how warranted it is that Rita Wilson be immortalized here in a star on the Hollywood Walk of Fame. Congratulations, Rita Wilson," he said, giving his wife a hug.
Julia Roberts, who starred with Tom and Rita in Larry Crowne and with Rita in Runaway Bride, also gave a speech. Calling Rita "a one-woman superpower," she praised her talent.
"I've been lucky enough to know her long enough to learn things that we have in common," she said. "Devotion to our mothers, endless joy of our families, super hot husbands. Yeah, super hot, Tom, I said it, now everybody knows."
Watch:
Rita Wilson Celebrates Walk of Fame Star With a New Single
Don't forget to press play on the videos above to witness all the action at the ceremony!