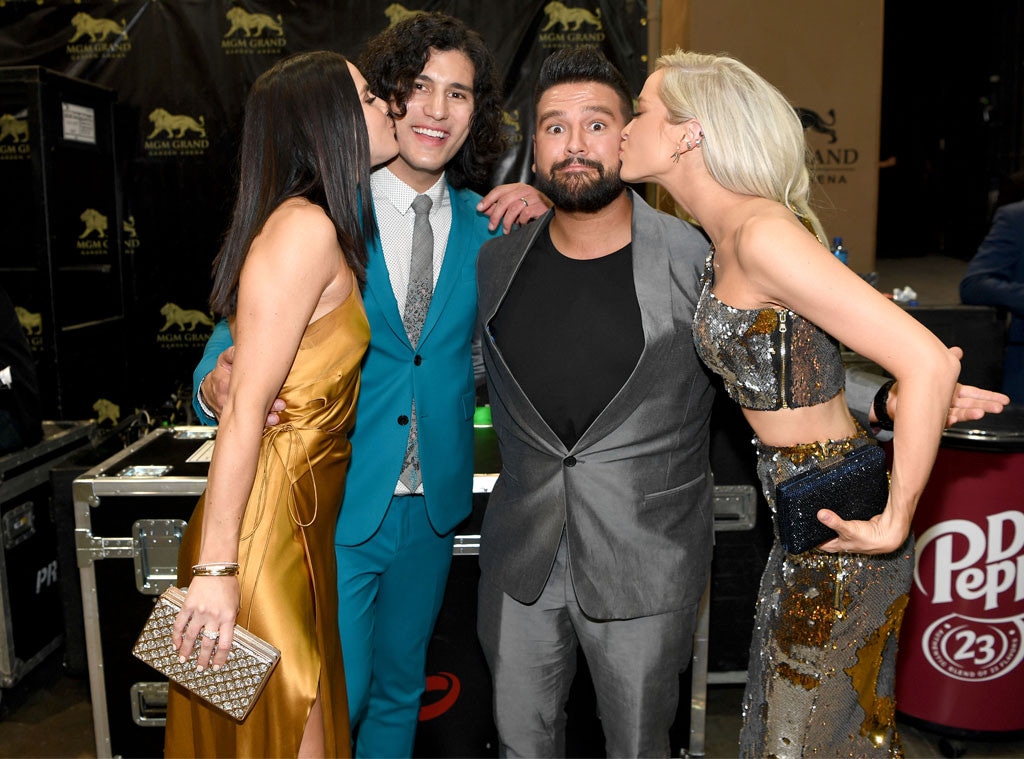 Denise Truscello/ACMA2019/Getty Images for ACM
Sometimes it takes more than a country minute for the world to take notice of the next big thing.
Dan Smyers and Shay Mooney, the artists otherwise known as Dan + Shay, have been toiling away on the country scene for almost a decade, but now... Now, they're pretty much everywhere, and they have the six Billboard Music Award nominations—a reward for those who are out-selling and out-streaming the competition—to show for it.
So far in what has been a stellar 2019, the pals from Pennsylvania (Dan) and Arkansas (Shay) have picked up their first Grammy, for Best Country Duo/Group Performance on "Tequila," and their first-ever Academy of Country Music Awards, for Vocal Duo, Single and Song of the Year for "Tequila."
"We're just fans of country music," Smyers told reporters backstage at the ACM Awards, where they also performed "Keeping Score" with Kelly Clarkson, per The Boot. "We moved to Nashville in 2010 because we wanted to write country music. We never imagined this would happen. This is so surreal. It has been such a cool moment, and we are just honestly so thankful. We are still trying to process it all."
They only have two more days till they join Tori Kelly onstage at the Billboard Music Awards, but we have a feeling they've become pretty efficient at processing, considering all the new milestones they've been reaching lately in rapid succession.
"After the second [award]," Mooney added, "I was just like, 'This is absolutely crazy.' You work so hard every single day back in Nashville, and we both families, we live our lives, and we experience things, and we write about them, and you spend years sometimes putting together a record."
The duo have become known for packing emotion into their songs, such as their intensely personal 2016 tune "From the Ground Up," which was inspired by their respective grandparents' enduring marriages. It was their third single to go platinum,
"Right off the bat, we mention our grandparents, who were actually both married for over 65 years," Smyers told Rolling Stone. "This song began with a discussion as I was just returning from my grandpa's funeral in Ohio. We shared stories about the true love of our grandparents, and the song basically wrote itself."
Emma McIntyre/Getty Images for The Recording Academy
He continued, "To make a great relationship work, you need to work at it. There will be ups and downs, and one thing that is slightly lost on our generation is the commitment to stick with it. Our grandparents were married for over 65 years, and they made it work no matter what came their way. The second verse discusses this in the lyric, 'The clouds are gonna roll, the earth's gonna shake, but I'll be your shelter through the wind and the rain.'"
Smyers noted that social media—which he and Mooney have always used to connect with their fans—is actually more important than it feels sometimes because it's basically the new way of holding onto memories.
"This is our generation's way of documenting those special moments, just like our grandparents did in their photo albums," he said. "It will be something nice to look back on in 65 years."
Understandably, your heart is thudding in your chest right now, but in case you were wondering, Smyers and Mooney were each hit by the thunderbolt years ago.
Social media, in fact, helped bring Mooney and his wife, former Miss Arkansas Hannah Billingsley, together in the first place.
"We chatted every once in a while for a few years, and then in March of 2015, I asked him if he was ever going to play in Arkansas," Billingsley told Brides last spring. "Not only was he going to be in Arkansas just four days later, but he was playing in the town where I lived!"
When they finally met, Mooney asked if she wanted to be his date to the ACM Awards—that very night. She did. 
A year and a half later, he proposed in the same town—and on their way to the stone chapel where he popped the question, "From the Ground Up" played on the radio.
Smyers proposed on the beach in Hawaii in November 2016 and married longtime girlfriend Abby Law (now Smyers) in May 2017, swapping vows at sunset in Nashville. Their wedding party included Mooney and their three dogs, Chief, Joy and Ghost. Needless to say, the couple are animal lovers (and vegetarians) and are involved with dog rescue and fostering through Tennessee's Proverbs 12:10 Animal Rescue.
"We've included a fundraiser for Proverbs in our registry," Law told People before the nuptials. "We've built a life together over the past few years and didn't really need a lot of stuff, so we included it if someone wants to donate."
As for the human element, "It'll be nice to make it official," the bride to be said. "Everybody's story is different, everybody's timeline is different but by the time we got engaged, we were so familiar with each other that there wasn't anything foreign or scary."
Mooney and Billingsley, meanwhile, welcomed son Asher James in January 2017. And they had no qualms about not keeping their baby's name a secret.
While she was still pregnant, Billingsley shared on Instagram, "Asher - A name meaning fortunate; blessed; happy one.. @shaymooney and I are all of those things and more. God has truly honored us with the privilege of being the parents of this sweet boy. We love you and can't wait to meet you, Asher James Mooney."
"It has been a huge change and the best change," Mooney told People when Asher was 2 months old. "You love each other a ton and then you have a kid and you never realize how much you could love something. It strengthens your love for each other, but it also just opens up this entire other deeper world of love that you never knew you could have."
Michael Loccisano/Getty Images
Having a baby siphoned some time away from wedding planning at first, but they got around to it, tying the knot that October at the groom's family home in Arkansas. Smyers and Dan + Shay guitarist Justin Richards were groomsmen, and Asher was outfitted in a baby-size tuxedo, according to People.
"Our grandparents' marriages are such beautiful examples of lasting love," Billingsley told Brides. "Shay has written songs about this kind of love. I had prayed for this kind of love. And, on that day, we were married by a man who is a testament to this kind of love."
Every guest took home a jar of homemade jam from the mother of the bride, affixed with a label reading "Spread the Love." Their rustic wedding cake was simple vanilla with vanilla and strawberry buttercream, while Mooeny's favorite, maple donut bars, substituted for a groom's cake. And of course Mooney performed a song he'd written for the occasion, after which the newlyweds had their first dance to Brad Paisley's "Then."
It had been love at first sight for him when they met—and Billingsley was still taking his breath away three years later. In fact, yet another Dan + Shay heart-squeezer, "Speechless," was inspired by how they both felt when they saw their brides start to walk down the aisle.
Matt Winkelmeyer/ACMA2019/Getty Images for ACM
"I remember being up there on our wedding day—May 13, just a little over a year ago—and she walked up and I was at a loss for words," Smyers shared with People in May 2018.
He continued, "Shay had just gotten married also, so we both had that feeling fresh on our minds and we wrote about it. Shay and I were both in each other's weddings as groomsmen, and there were some fun moments in there of us tying each other's ties."
Oh, come on, you guys. Stop. Cuteness overload.
Smyers revealed that he and Law had a low-key first-anniversary celebration at home in Nashville. "When you travel for a living," he said, "the days you appreciate the most are the days you can just enjoy each other at home."
"Speechless" has, naturally, become a go-to wedding song, which, Mooney told Billboard, has been "a huge honor for us."
Meanwhile, that song was just a piece of the big ooey-gooey pie. Dan + Shay's self-titled third studio album, which reached No. 1 on the U.S. Country chart, is packed with songs inspired by the No. 1 ladies in their lives.
"Our wives are so good at grounding us and keeping us appreciating the moment," Smyers told People last year. "At the end of the day when someone hears this, this is what we want them to perceive Dan + Shay as and what we want to be remembered as."
And as a couple of romantics, they're trying to balance the heartwarming with the heartbreak. "Tequila," which you would be forgiven for mistaking for a party track due to its title (and its first line, "I can still shut down a party"), is actually wistful love song.
"We write a lot of sad songs," Smyers acknowledged to Billboard in December, "but I was reading a statistic the other day that 98 percent of pop radio and pop songs have been sad and depressing. I guess it's cyclical with the state of the world, but it would be cool to see some positivity come back. It does go in waves. It's cool to have 'Speechless' out on the radio right now and being able to feel that positivity at shows—not to knock 'Tequila,' which is the nostalgic heartbreak song. You gotta have those. But maybe add some more positivity to music."
So these two sweethearts, in addition to being a couple of stellar husbands, also just happen to be gracious, count-your-blessings, let's-do-our-part kind of guys. 
Their memory-packed last 12 months have included, in addition to the Grammy and ACM Awards, their first CMT Music Award (and also first award, period), Duo Video of the Year for "Tequila"; scoring their first-ever slot on the main stage at CMA Fest (eight years after Smyers started off buying scalped tickets in the parking lot just to get inside); and headlining the Concert for Unity held in December to benefit Pittsburgh's Tree of Life Synagogue, where 11 worshipers were killed in a mass shooting in October.
Smyers grew up in the Pittsburgh suburb of Wexford and their fans raised over $60,000. "They were the ones who bought the tickets and T-shirts, and every penny from the tickets and the T-shirt sales went directly to Tree of Life," he told Billboard. "That was something that made us proud."
Kevin Mazur/Getty Images for The Recording Academy
"This year has definitely been a game changer in the Dan + Shay camp," Mooney told Billboard in December. "It's changed the trajectory of our career completely."
Added Smyers, "There were people telling us before we put out 'Tequila' that it wouldn't work: 'Country radio won't play a ballad. No one drinks tequila.' Our gut feeling was that this song was going to be big for us, and it was the right next step for Dan + Shay. So we ended up trusting our gut on it, and it paid off for us in a big way."
As the wins piled up (minus their whiff at the 2018 CMA Awards, which, they admitted, was a little disappointing), their acoustic performance of "Tequila" at the Grammys in February—with Smyers on guitar and Mooney on piano—was their big, meet-the-whole-music-world debut.
"Before we performed I was thinking, 'I'm going to try and hold that note at the end until I pass out,'" Mooney told reporters afterward. "And I think I may be passed out right now. I don't know if this is all real. But that was just a really cool moment. I'm still on cloud nine. It's amazing."
"What an honor, all the incredible artists performing onstage," Smyers said. "We feel not worthy. This is such a prestigious show. We watched it every single year growing up and to just be here for the first time is a dream come true, let alone winning our very first award and getting to perform on the show is absolutely incredible."
And of course—of course—Grammys night was a double-date night for the duo.
John Shearer/Getty Images for The Recording Academy
"Still in disbelief over last night.. a Grammy win!..." Billingsley, who enjoyed his-and-hers face masks with Mooney before showtime, shared on Instagram the next day. "so so so much heart & work went into this from SO many. God is good, and we are thankful!!"
And when Dan + Shay had a three-win night at the ACM Awards, Abby Smyers wrote, "Still trying to process last night (and not cry anymore) but the amount of joy and pride I feel today is almost impossible to put into words (I'll try to find them later). This has been a time in our life that we will never, ever forget. Thank you to everyone for sharing in this moment with us and rooting for the guys in such a big way. Our country music family is so special."
It's a good thing there are four of them—they may need the extra hands to carry all the hardware home from the BMAs.