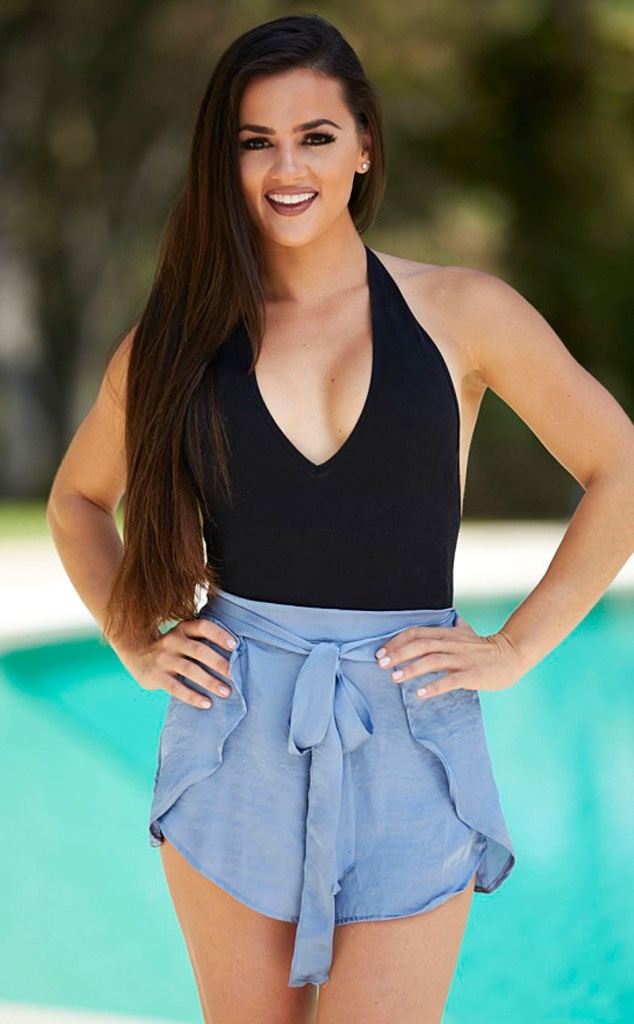 MTV
Natalie Negrotti is happily taken. 
The Challenge and Big Brother star surprised fans on Thursday when she revealed via social media the identity of the person she's been dating for a year and a half. The lucky lady? Well, her name is Stephanie and according to Natalie, they can't wait to spend the rest of their lives together. 
"I've tried keeping her out of the spotlight for a year and a half for the most part to protect her, respect her, and take things slow. BUT we are ready to share our love with the world," Natalie wrote on Instagram alongside a snapshot of the pair kissing. Negrotti revealed exclusively to E! News they matched on a dating app in November 2017 and had their first date on Jan. 1, 2018. 
"Since Steph had no idea who I was, it was perfect," she told E! News. "Every time I matched with someone who immediately said, 'Oh my God, are you Natalie from Big Brother or The Challenge?' I would immediately unmatch them."
She continued on her social media post, "Stephanie is one of the kindest humans I've ever met. She is patient with me, understanding, kind, loving, caring, smart, beautiful, sweet, passionate, peaceful, goal oriented, PATIENT, patient and did I say patient? Lol she is everything I've ever wanted and dreamt of but didn't know existed." 
The reality star reiterated her happiness to E! News. "I am extremely happy! Steph just gets me and loves me unconditionally. She respects my job and supports me through everything I do. She doesn't get jealous and is super easy going. I think because she's so peaceful and calm it brought a lot of peace and happiness into my life. It's crazy because we barely fight," Negrotti said.
"She pushes me to be the best I can be. She's creative and goal-oriented and is so smart. I love how her brain works...Steph is cool and calm. She's a behind-the-scenes introvert. I am a tiny, loud, extroverted, hyper, outgoing Latina. We balance each other out!"
Fans of the MTV personality will remember when she came out as pansexual almost a year ago. At the time, Natalie had accused her The Challenge: Final Reckoning co-star Kayleigh Morris of publicly outing her. 
"After I was accidentally outed by someone, people found out who Steph was and they were trying to hack into all of her accounts, including her iCloud, emails and social media. It was 24 hours before I left to film my third TV show, The Challenge: Final Reckoning," Negrotti recalled to E! News. "I was on the phone with Apple and getting extra security on her stuff while preparing for battle. We decided to keep our relationship private to protect her and to figure out our relationship and become strong before actually going public. Important things in life take time. I don't want to just jump the gun."
As she concluded her post, "This is truly what love is and I'm so lucky to have found it."
Natalie was showered with love on the post from plenty of her castmates, including Cara Maria, who commented, "LOVE YOU SO MUCH!!! You are so perfect for each other. Steph i trust you to take good care of my princess. When's the wedding? Can we throw glitter as you come down the aisle?" 
Fellow Big Brother alumna Rachel Reilly added, "You're inspirational!" 
Congratulations to the happy couple!
—Reporting by Jamie Blynn