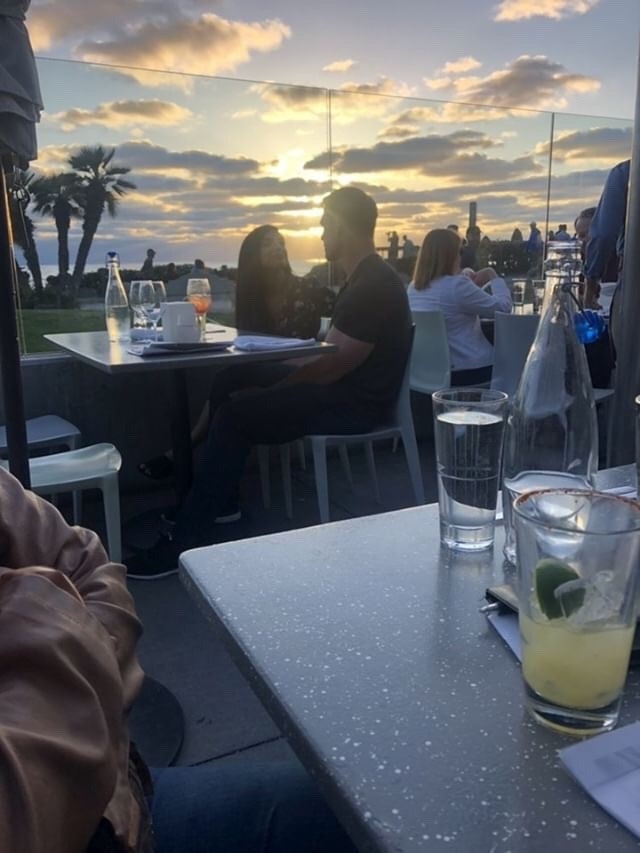 Instagram/@krystaallb
John Cena and Shay Shariatzadeh appear to be going strong.
The WWE star and his rumored new girlfriend were recently spotted on a date at Tower23 Hotel's restaurant in San Diego, Calif. An eyewitness tells E! News that John and Shay were petty "casual" on the date but would "touch each other's legs" affectionately at times. In a photo posted on social media by @krystaallb, John and Shay can be seen chatting as they sit side-by-side and enjoy the scenic view of the restaurant.
The eyewitness also shares with E! News that 42-year-old actor ordered a chili mango margarita on the date, which can also be seen in the social media snap.
This sighting of John and Shay comes about a month after photos emerged of the duo getting cozy on a date night in Vancouver. After the pictures surfaced, John's ex, Nikki Bella, opened up about seeing the photos of her ex moving on.
"When I saw the headline...my stomach went into knots," Nikki shared on The Bellas Podcast in early April. "But then when I opened it up and saw the photo it was weird, I...you know when you get a text or you see a photo or you see your significant other flirt with someone or something, you know how you get those knots in your stomach that hurts? You either want to poop your pants immediately...or you just have the craziest tummy ache, right? So neither of that happened to me when I saw the photos."
The Total Bellas star went on to admit that seeing John smiling in the paparazzi pictures made her feel "happy for him."
"I'm very happy for him," Nikki said. "As long as John is happy, I'm happy, but let me tell you, she breaks his heart, wow...I will Rack Attack her in a heartbeat. Still protective of that man."
Nikki, who has since moved on with Dancing With the Stars pro Artem Chigvintsev, shared that all she wants is for her and John to both "be happy."
"John is an amazing man," the 35-year-old star said. "And, you know what? Our timing wasn't right. And, who knows, can timing be right for us in the future? Maybe, maybe not. Are we meant for other people? Maybe."