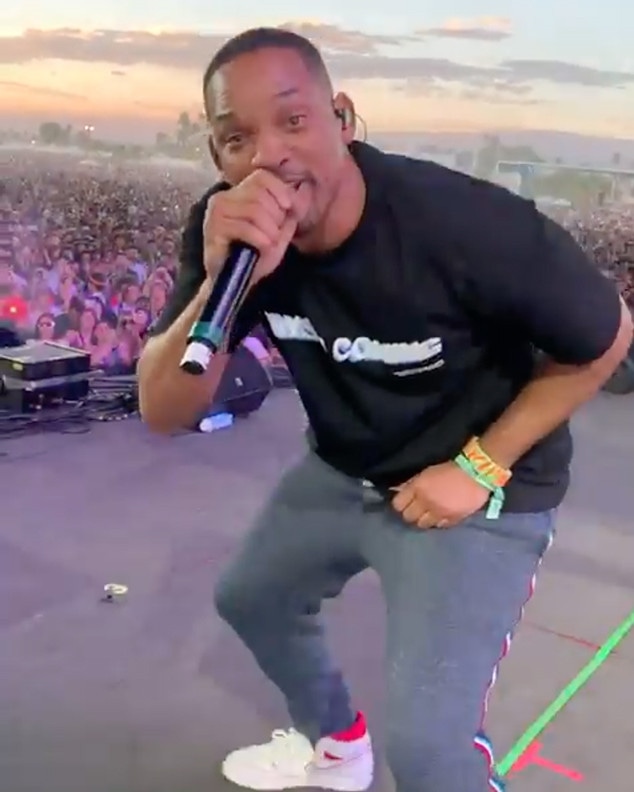 Instagram / Will Smith
Everybody was getting jiggy with it on Friday at the start of the second weekend of Coachella because performer Jaden Smith introduced a special surprise guest: His dad, Will Smith!
The actor and rapper made his debut at the annual music and arts festival, joining his and wife Jada Pinkett Smith's 20-year-old son onstage to perform the younger star's track "Icon." Will sported a black T-shirt advertising Jaden's new EP, Erys Is Coming.
"Done Did 'dat! #coachella," Will wrote on Instagram on Friday, alongside a video.
"I Love You Coachella," Jaden wrote on his page, alongside another clip.
Will and Jada's 18-year-old daughter Willow Smith backed her brother throughout Friday's set and also performed an aerial high-wire act. She had done the same during his Coachella performance last weekend.
Proud wife and mom Jada watched the family perform.
"Incredibles...." Will's rap partner and friend DJ Jazzy Jeff commented on Instagram.
"Awwww...he let you be in the show! ❤️" commented Will's ex-wife Sheree Zampino, mother of their son Trey Smith, 26.
"Yesss !!" wrote family friend Jordyn Woods.
The Instagram star, who rose to fame as Kylie Jenner's BFF and was recently shunned by the Kardashian-Jenner family over an intimate encounter with Khloe Kardashian's now-ex Tristan Thompson, had made a surprise appearance herself during Jaden's set at Coachella last week, cheering and dancing onstage.
During both of his Coachella sets, Jaden performed while standing on a rare Tesla Model X car, which was raised in the air.
"Today was a great day. Thank you Coachella," Jada wrote on Instagram.