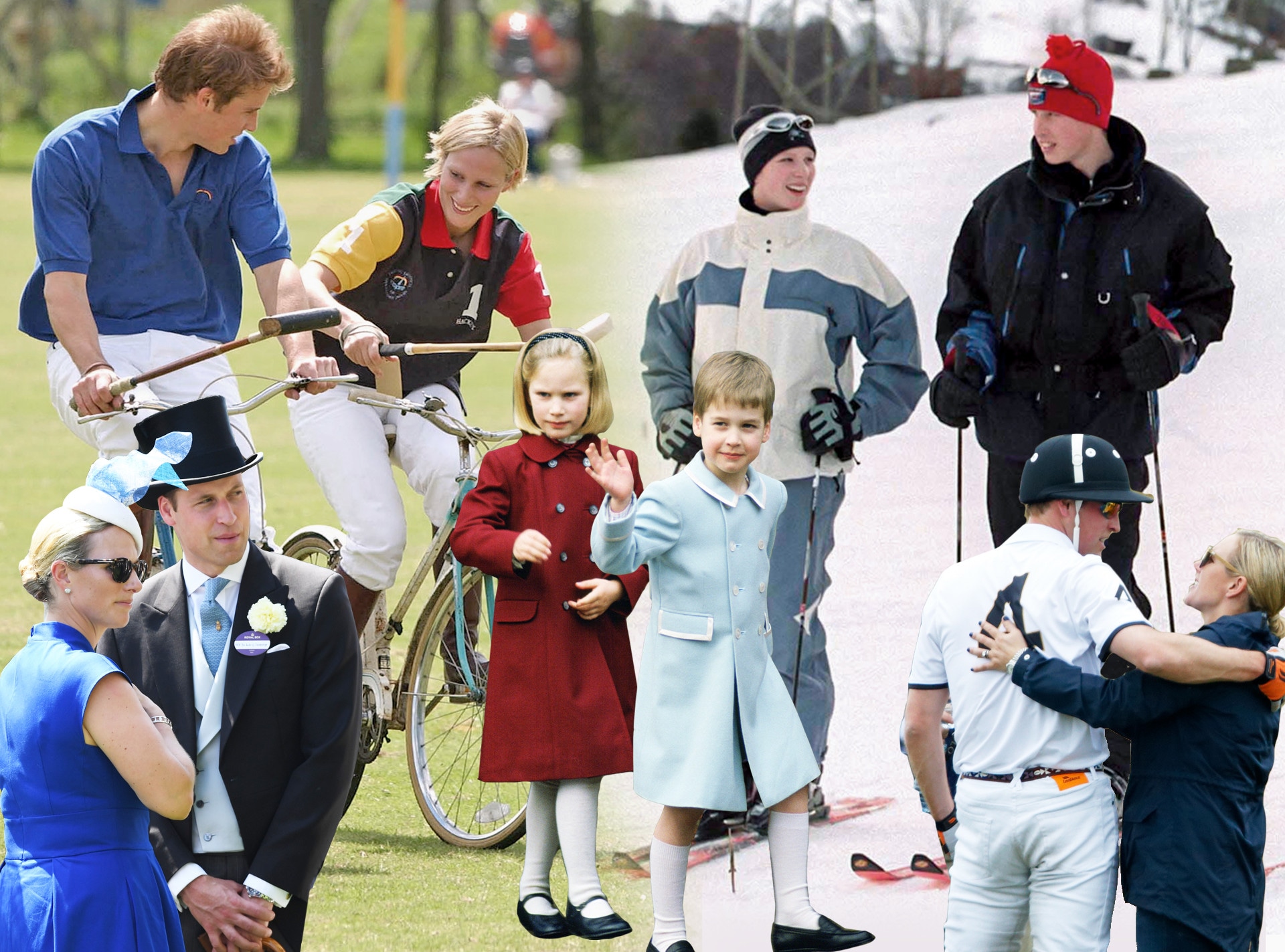 Getty Images/E! Illustration
A year-and-a-half into his schooling at Thomas's Battersea in London, Prince George is a big man on campus. 
Which, huge surprise there, but according to Vanity Fair, it's not his majestic title or position as third in line to the British throne that has so impressed his coterie of classmates at the nearly $8000-a-term institution. Or the fact that his drop-off is seen to by either his dad, Prince William, or mom, Kate Middleton. Rather, the pint-sized prince is just entirely charming. 
A fellow parent tells the magazine that the 5-year-old Lion King-loving royal "is really happy at school" and has earned the nickname of "P.G." from his classmates. (This despite reports he would officially go by George Cambridge, a nod to William and Kate's formal titles.) "He's very popular," continued the parent, "and has lots of friends, and there's very little fuss made about who he is." 
Though he's never hurting for playdate options (because who wouldn't want a peek at his four-floor Kensington Palace digs?) or birthday party invites, there's one school mate in particular he's grown close with: 5-year-old Maud Windsor, the eldest child of Sophie Winkleman and Lord Freddie Windsor, whose father Prince Michael of Kent counts Queen Elizabeth II as a first cousin. 
Because in The Firm, no matter where you fall in the line of succession (Maud is a rather distant 49th), family ties run deep. And for any who may have forgotten how tight knit the blue bloods are, or let that fact get shrouded in all of the chatter about the Cambridge's supposed feud with Prince Harry and Meghan Markle, that point was driven home with one highly adorable snap last weekend. 
Out in Norfolk to watch William's equestrian cousin Zara Tindall compete in the Burnham Market international horse trials Apr. 12, Kate toted 4-year-old Princess Charlotte atop her shoulders post-match as former Olympian Zara strolled along beside. Lagging ever-so-slightly behind, William carried Zara's 5-year-old Mia Tindall while her husband Mike Tindall gave George a boost. 
Though photos of this particular fab four and their offspring are rare, such outings are not. Born just 13 months apart, Zara, 37, and William, 36, have long shared a close bond, if not a similar future. The daughter of Princess Anne and her first husband, Mark Phillips, Zara is the Queen's second eldest grandchild, only bested by older brother Peter Philipps, 41.  
But with a comfortable distance between her and the throne (she currently comes in at 17, but will be bumped down with Baby Sussex's arrival) she's been afforded an existence light on the scrutiny but still every bit as cushy as her younger cousins. 
Despite the lack of a title (wanting her kids to have the most normal lives possible, Anne turned down her mom's offer to dub them prince and princess, a decision Zara has said she feels "lucky" for), she's still among the select group that can refer to England's matriarch as "Granny". And, as such, a scan through photographs of royal events over the years would find her frequently within arm's length of William: there's pictures of the toddlers getting close to watch the flyover at Trooping the Colour in 1984, joking around outside Christmas Day service as kids in 1988, enjoying a skiing getaway in Switzerland as teens in 1998 and seeking refuge under a shared golf umbrella at a 2004 charity outing. 
As a young, twentysomething, Zara also took a liking to William's eventual bride. In fact, snaps of the two chatting it up during a 2007 memorial concert for Princess Diana were the first signs that William and Kate's brief split was already a thing of the past. 
But when it came to her own love life, William and Harry did her one better, actually bringing her face-to-face with her eventual husband. 
In Sydney, Australia for her gap year during the 2003 Rugby World Cup, University of Exeter grad Zara was sitting with Harry at the Manly Wharf Hotel when he spied Bath Rugby center Mike, the 6-foot-1 center of England's national team, whose sizable build had earned him the nickname of "The Fridge" and notice from the princes, both enthusiasts of the sport. 
Newly single, following the end of a five-year romance with jockey Richard Johnson, Zara was charmed and "It kind of went from there," she later told 60 Minutes. 
Once both were back home in England, "We became mates, really," he later told the Mail on Sunday remembering her extending an invite to the North Cotswold Ball. "Eventually it was one of those things where you realize you're spending all your time with someone, and it went to the next level." 
Bradley Kanaris/Getty Images
Already something of a celebrity himself thanks to his athlete status, Mike wasn't daunted by the outsized task of courting a royal. "I'd been in the England team for a fair while, and Harry and William always used to come into the changing room, so Mum knew I'd met them before," he told the Mail on Sunday. "I think she was still a little bit shocked [about him dating a member of the royal family], but they were both fine with it. My grandma was a bit more nervous, because for her generation the Royal Family is massive. She was worried whether it was the right thing for me." 
For Mike, though, his connection to the former model and BBC Sports Personality of the Year had little to do with their respective statuses—the athlete insisting he would love her were she an employee at supermarket chain Tesco. They shared the same fun-loving personality and aversion to pretense, a point Mike drove home with his 2010 proposal. 
"I was upstairs, plucking up the nerve to do it, while Zara was downstairs watching television. It was all about shock value—I wanted to catch her when it was quiet and she wasn't expecting anything," he told the Mail on Sunday of popping the all-important question at the Cheltenham townhouse they shared with dogs Misty, Storm (after Halle Berry in X-Men) and Sway (Angelina Jolie's character in Gone in 60 Seconds). "I walked in there and got down on one knee, with the ring. She was on the sofa, so that made it easier. I said, 'Will you marry me?'" 
He'd been planning the moment for awhile, he told the paper, "but then my brother got engaged, and so did a certain Duke of Cambridge. I thought I'd better get on with it." 
Not that they intended their Scottish vows to be anything akin to William and Kate's wedding, Mike laughing when the reporter likened him to a male Kate, the next commoner marrying into the royal brood. "Ha! A little," he admitted. "Not quite to that scale, thank God." 
Though that's not to say he was completely intimidated by the prospect, just grateful that Zara's role afforded her the chance to pursue a career and a life outside of royal duties.
"They're good, fun people, all of them. They're just a normal family," he told Readers Digest in 2011 while shooting down the Daily Mail's take that life in the royal orbit was an oddity. "I'm on the edge of that world. You might call it bizarre, but you see the extreme side of it at something like William's wedding. If you spend time with them in a social setting, they're the nicest people around," he insisted. "You meet Prince Harry or Prince William in their own environment, where they feel secure, and they're normal people; they'll sit and talk to you normally, about everything that goes on. They have this persona outside, but inside you see they're a normal family."
They certainly appeared like any other revelers on July 30, 2011, turning up to Zara and Mike's wedding at Edinburgh's Canongate Kirk church just three months after they'd all partied down at Buckingham Palace to celebrate William and Kate. 
Zara Phillips and Mike Tindall/ via Getty Images
Though the ceremony wasn't carried live on television and photos of the event were scarce, William was amongst those on the dance floor (perhaps fueled by the shot-dispensing vodka fountain) and reportedly partook in karaoke, grabbing the microphone to belt out Bon Jovi's "Livin' on a Prayer". 
And with the cousins enjoying increasingly parallel lives it was little surprise when they began growing their families at the same time, Zara and Mike welcoming Mia—also known as the adorable blonde who pulled focus in the Queen's 90th birthday portraits by holding tight to her great-grandma's purse—in January 2014 just six months after Kate and William had George. (While Zara was named one of George's seven godparents, she hasn't confirmed that William is among Mia's godfathers, though his presence at her baptism would suggest he holds that honor.) 
So, naturally, a play date was logged onto the calendar tout de suite. 
"I don't think Mia will remember that day," Mike admitted to The Mirror at the Celebrity Golf Classic in Newport, Wales that May. "She was only two-months-old." But it was certainly memorable for all of the adults present. 
Geoff Robinson Photography/REX/Shutterstock
"It was carnage," he joked, noting then-8-month-old George "was eating at the time. He'd got to that stage where more food goes on the table than in his mouth." As for his tiny princess, "Mia was just chilling and sleeping. She sleeps a lot—she's quite relaxed." 
Both navigating the gauntlet of new parenthood, he and William hadn't quite had the chance to exchange notes, he continued, "but I'm sure when we have a proper catch-up we might do." 
Now, some five years and many, many get togethers later, they're each old pros. 
As Mike gave England's future monarch a ride atop his beefy frame at the Apr. 12 horse trials, not far from where the Cambridges are spending the Easter holiday at their country estate, Anmer Hall, he confidently held tight to George's legs as the tyke wriggled about playing with a toy sword. 
And that was far from the most adorable moment. At one point, George and Mia appeared to compare heights—"It could have been they were measuring up against each other. But they were all just messing around and playing and joking while their parents chatted," an onlooker told People—before he joined his younger sister to take a turn on the slides and bumper cars set up nearby. 
While nearly 1-year-old Prince Louis sat the event out, Zara and Mike's youngest, 10-month-old Lena Tindall was on hand and the older kids continuously took a break from their action to peek inside her stroller before dashing down the hill en masse. 
Aside from the fact that everyone was there to watch an Olympic silver medalist compete—and, of course, that two future kings were present—"They were just like any other family, enjoying a day out and having a lovely time," a witness told the Daily Mail. "There were no tantrums thrown by the kids and they all seemed very down-to-earth. A few people noticed them, but generally everyone just carried on as normal." 
Just another average day in the life of a royal.