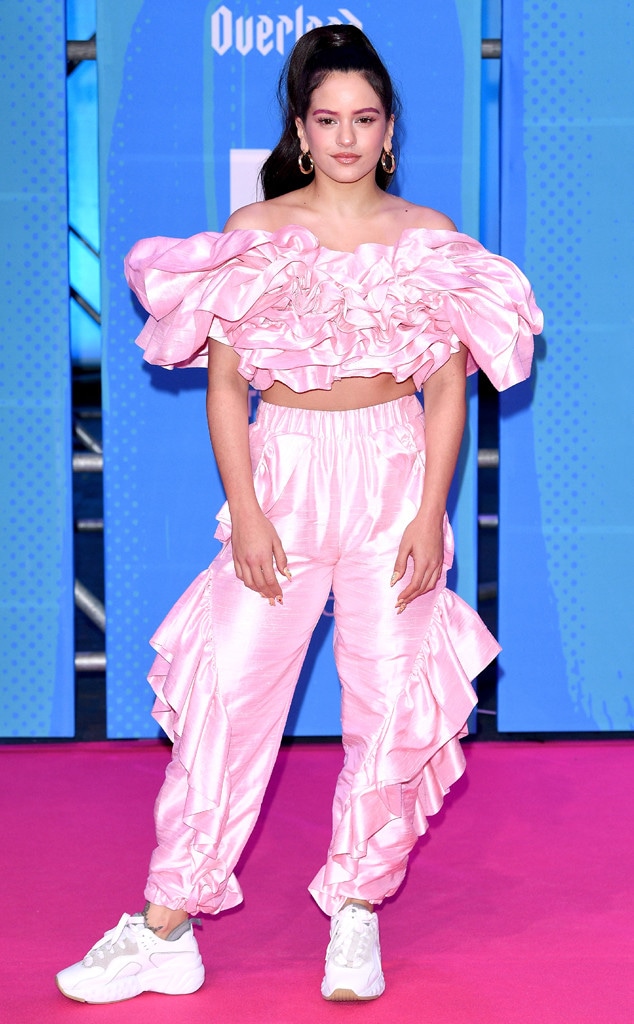 Daniele Venturelli/WireImage
It's la nueva religión (the new religion)!
The 2019 Coachella Valley Music and Arts Festival is already in full swing, and for the Latinx community, this year marks a special one. Take one look at the lineup for both weekends, and you'll see that Latin artists are prominent more than ever. 
From Bad Bunny to J Balvin to Rosalía, these chart-topping artists are hitting the stage during the famous festival. Furthermore, Los Tucanes de Tijuana, Mon Laferte and Tomasa del Real are also slated to perform in Indio, Calif.
As San Benito says, it's the "Latino gang, gang!"
With that, the number of Latin acts performing at Coachella continues to grow every year.
In fact, 2019 marks the most Latin musicians the festival has ever added to its lineup.
To put things into perspective, Remezcla reports that in 2017 the beloved event only booked 11 Latin artists, and now there are 17.
In addition to the performers mentioned above, fans can expect to see these Latin acts during the festival: Las Robertas, Ocho Ojos, Javiera Mena, 070 Shake, Boy Pablo, Cola Boyy, Hurray for the Riff Raff, Rico Nasty, Sabrina Claudio, The Red Pears and Lil Pump (who is performing as part of Gucci Gang).
On Friday, the first night of Coachella, Selena Gomez, Cardi B and Ozuna made surprise appearances onstage to perform their hit song "Taki Taki" with DJ Snake. Making an even bigger splash for Latinx artists.
Alexander Tamargo/Getty Images
With Latin music taking over the charts in the U.S. (it's actually more popular than country music in America, according to BuzzAngle's data), it's safe to say this lineup has been long-awaited by fans.
Many on Twitter have even expressed their frustration with the lack of representation, often criticizing the festival for not adding "worldwide" artists like Maluma or J Balvin onto the lineup (although, it seems Coachella has finally heard fans' cries).
"Coachella really needs to start adding Latin artist to their line up, especially since Latin music has been a trend worldwide for about 3 years now," one Twitter user wrote last year. "When is @coachella ever going to book a Latin artist like @JBALVIN or @maluma guarantee you that show would get poppin," one person vented in 2017.
Omar Vega/LatinContent/Getty Images
When El Conejo Malo,  the "Con Altura" singer and the 33-year-old reggaeton artist were announced for the 2019 Coachella lineup, fans went wild over the news. Further proving that this is what festival-goers want to see at the two-weekend event.
"With Bad Bunny, J Balvin, and ROSALÍA all on the lineup, Coachella really SNAPPED with the Spanish-speaking acts this year," a fan tweeted.
If anything, many were freaking out over the fact that the Mexican norteño band was performing at the fest.
"Los tucanes de Tijuana are gonna be at Coachella this yearrrr, littt," one fan posted. "I never expected that Los Tucanes de Tijuana would be playing at Coachella. Los Tucanes, the Revolution. LOL," another said.
In short, Latin artists (and their music!) will take center stage during at this year's Coachella festival. And it's clear, from all of the excitement on social media, that this is what the people want.