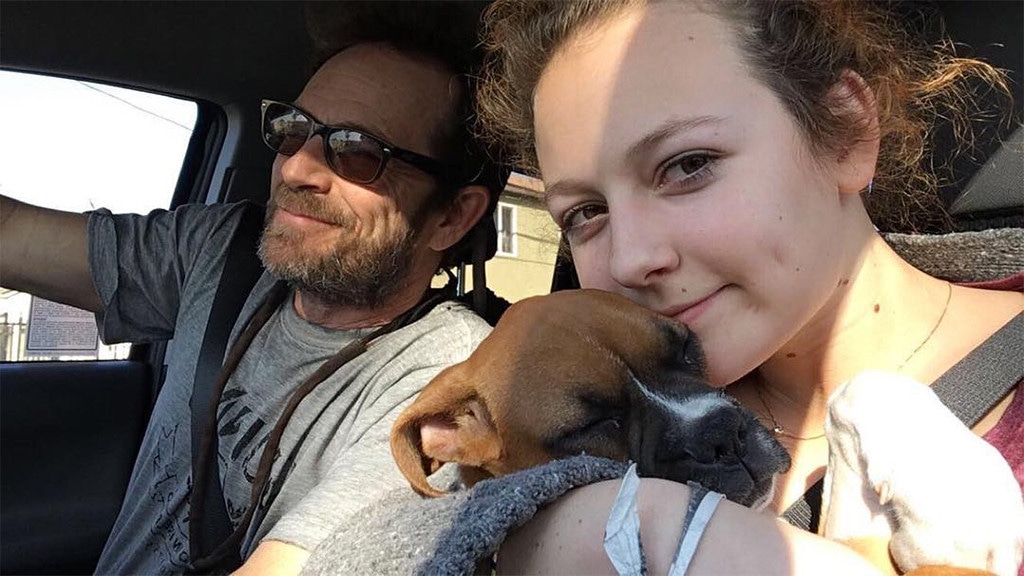 Instagram / Sophie Perry
Luke Perry's children Sophie Perry and Jack Perry are returning to their jobs one month after the Riverdale star's tragic death on March 4. He passed away just a few days after suffering a massive stroke on Feb. 27.
On Sunday, Sophie shared on social media that she returned to Malawi, where she has recently been volunteering. She was there right before Perry passed away, but she ultimately "made it back in time" to be with her family. 
Sophie paid special tribute to her late father in her sartorial choices of the day. She posted a selfie that only showed part of her face, but the most apparent part was her hat, which said Andrews Construction on it. Perry played Fred Andrews on Riverdale and he owned the eponymous construction company. 
"First few days back in Malawi have been very emotional but it feels right to come back," she revealed in the caption. "To finish what I started, to do the most with whatever time we have left."
Sophie continued, "I recently learned that may not be as much time as we think. It was quick and scary to leave home again so soon, but there's a job to be done, and someone to make proud."
Fellow Riverdale dads including Mark Consuelos and Skeet Ulrich commented on Sophie's photo. Ulrich, who plays FP Jones, wrote, "Sooooo proud of you!!!!"
Sophie's brother also announced that he was getting back to his routine.
Jack, a wrestler who goes by the name Jungle Boy, posted a video on Instagram on Saturday that showed him making his grand entrance back into the wrestling ring. "I'm not sure I'll ever be ready, but I'm back," he captioned it. "Thanks for all the love and support."
It also happens to be the same weekend as the big wrestling event of the year, WrestleMania 35, which he alluded to in his hashtags. According to Jack's geotag, his match was at White Eagle Hall in Jersey City, New Jersey.
Both Sophie and Jack have spoken out about their father's death and their mourning process. Jack was scheduled to participate in a wrestling show on March 13, but he pulled out of it on March 5. On March 6, Luke shared an old father-son photo and wrote about the loss.
"He was a lot of things to a lot of people. To me, he was always Dad. He loved and supported me in everything, and inspired me to be the best that I could possibly be," he wrote. "I've learned so much from you, and my heart is broken thinking about everything you won't be here for.  I'll miss you every day that I walk this earth.  I'll do whatever I can to carry on your legacy and make you proud."
Sophie has written about her father on social media a few times and has even had to clap back at trolls who criticize her appearance and mourning process. Just under two weeks after the Beverly Hills, 90210 star died, Sophie took to social media and called out the fact that "some people just can't be nice."
"I'm here to say that I did not ask for this attention, I did not ask to be thrown into some virtual spotlight, and while I don't mean to offend anybody, I'm also not going to cater to any one else's needs and beliefs," she penned. "YES I am hurt and sad and crying and beside myself with what happened to my dad. It's the worst thing to ever happen in my life."
Sophie finished the post, "So to those of you shaming me for my language and my wardrobe and most disgustingly, my grieving process, do us both the favor and just unfollow. It's a waste of both of your time."
On March 24, she said she missed him "a little extra today" and wrote that alongside a selfie of the two of them with a dog in her arms.