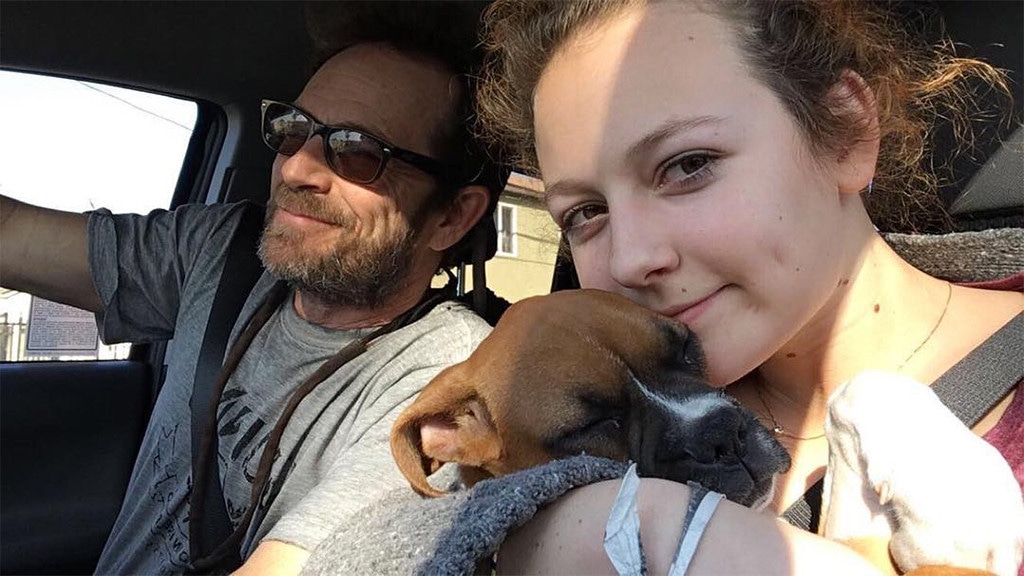 Instagram / Sophie Perry
Luke Perry's daughter Sophie Perry took to Instagram on Saturday to share a moving post and a never-before-seen photo of her late dad.
The Riverdale star and Beverly Hills, 90210 alum died two weeks ago, days after he suffered a massive stroke. He was 52. He was survived by Sophie, 18, son Jack Perry, 21, their mother and his ex-wife Rachel "Minnie" Sharp, his fiancé Wendy Madison Bauer, and other family members.
"Miss him a little extra today," Sophie wrote on Instagram, alongside a selfie of her snuggling her boxer while sitting next to her dad in a car.
Shannen Doherty, who played Luke's character's love interest on Beverly Hills, 90210, liked her post. The actress had also paid tribute to the actor online after both his stroke and his death.
Sophie had flown back from Malawi, Africa, where she was on a volunteer trip, to be by her father's side and with her family after he was hospitalized.
Watch:
Luke Perry's "90210" & "Riverdale" Costars React to His Sudden Death
"You all know my dad is a super star, but I just want to share for a moment that I got really f--king lucky in the parental department because this is my mom. Minnie. Who also happens to be my best friend," she wrote earlier this month, on International Woman's Day. "Wow, how cliché, I know. And she is the rock for everybody grieving in this family right now. She's the toughest and sweetest and most amazing woman I or anyone else has ever met. How did I get so lucky to have two icons for parents?"
"I love you mom and I could not get through this absolute s--t situation without you," Sophie continued. "None of us could. Oh. And I was just informed it was national women's day, how fitting for a post on my kick ass mama. #happynationalwomensday."
After Luke's death, Sophie thanked fans for their support, writing on Instagram, "I'm not really sure what to say or do in this situation, it's something you aren't ever given a lesson on how to handle, especially when it's all happening in the public eye. So bare with me and know that I am grateful for all the love (sic)."
While most of the comments to Sophie have been supportive, several trolls have in recent weeks criticized both her physical appearance and her grieving process.
"I'm here to say that I did not ask for this attention," Sophie wrote on Instagram on March 11. "I did not ask to be thrown into some virtual spotlight, and while I don't mean to offend anybody, I'm also not going to cater to any one else's needs and beliefs. I'm 18. I swear like a sailor and sometimes I dress like a hooker. And I support causes and you may not. And most importantly. I am going to laugh and smile and live my normal life."