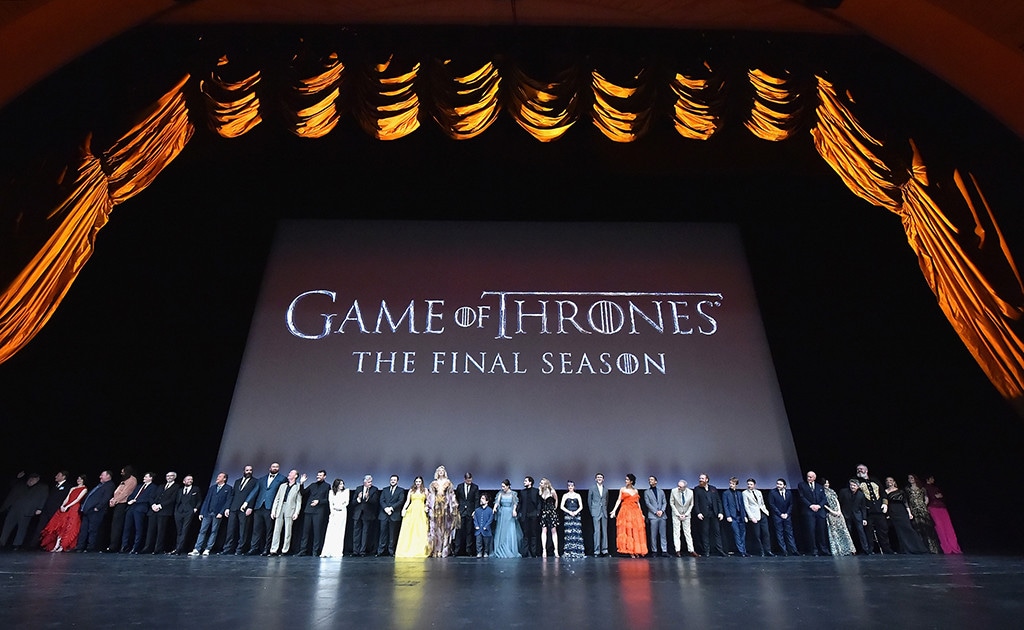 Jeff Kravitz/FilmMagic for HBO
The cast of Game of Thrones, like, everyone who has ever been part of the cast, assembled in New York City for the eighth and final season premiere.
From Ned Stark to Joffrey Baratheon, from Ygritte to The Mountain, from Khal Drogo to Margaery Tyrell, they all came out to celebrate the beginning of the end of the acclaimed HBO drama.
Above, see the cast—including former members like Jason Momoa, Rose Leslie, Jack Gleason and Kristian Nairn—assembled on stage for a bow before the first episode screened at New York's Radio City Musical Hall.
However, one key cast member was missing: Lena Headey. Yep, Cersei Lannister did not attend the final season premiere because of illness. She posted she was "gutted" to be missing the big gathering. "I f--king hate being sick and the timing of this is a shit bag. But...[Season eight] is the tits and so are all my cast mates and crew mates and creators...so RIDE FORTH INTO THE NIGHT AND CREATE MAYHEM...Love you beauties," she wrote on Instagram.
Below, see the starts palling around at the party following the screening.
The final season of Game of Thrones premieres Sunday, April 14 at 9 p.m. on HBO. The six episodes of the season all vary in length, the premiere is a 54-minute episode, episode two, airing Sunday, April 21, is 58 minutes long, episode three follows on Sunday, April 28 clocking in at the longest, an hour and 22 minutes. Episode four on Sunday May 5, is back down to an hour and 18 minutes, but episode five on Sunday, May 12 is an hour and 20 minutes. The final episode, airing Sunday, May 19, will also be an hour and 20 minutes long.
Following the season, HBO will air a two-hour documentary called Game of Thrones: The Last Watch. Filmmaker Jeanie Finlay was embedded on the set for a year while the final season was produced. The movie is described as "much more than a 'making of' documentary, this is a funny, heartbreaking story, told with wit and intimacy, about the bittersweet pleasures of what it means to create a world—and then have to say goodbye to it."