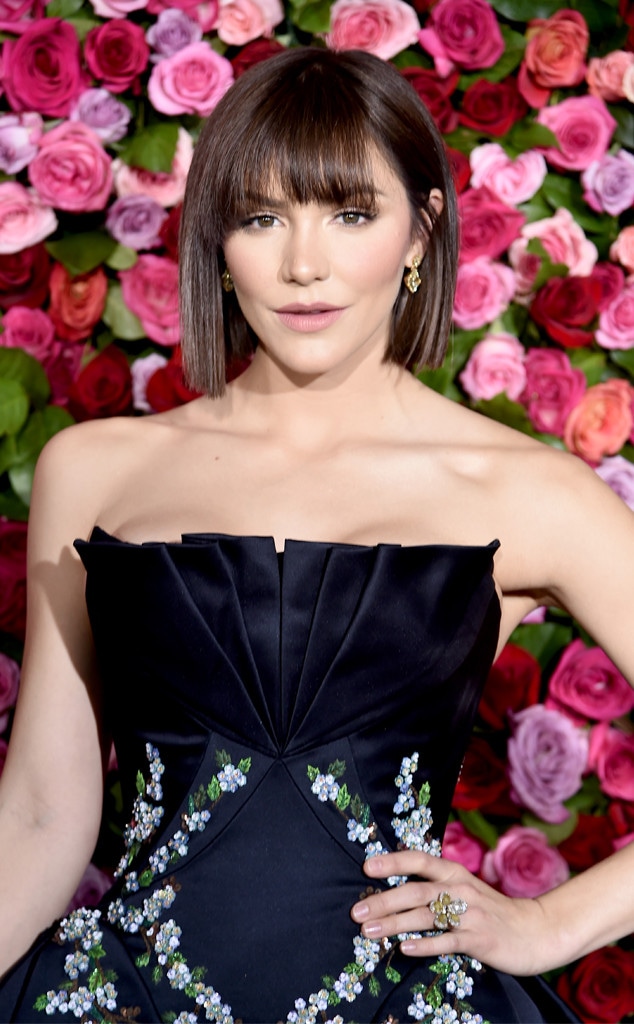 Steven Ferdman/Patrick McMullan via Getty Images
Fade in on a girl with one helluva social media strategy.
We're not sure if it's the expert, winking references to our beloved gone-but-hardly-forgotten Smash, or the cheeky tweaking of those American Idol voters who chose Taylor Hicks over her, or the way she delightfully revels in the unique situation that has her about to become stepmom to two women older than her, but somewhere along the way, Katharine McPhee has become one of the most consistently hilarious people on Twitter, retroactively validating us for being Team Karen for all these years. (No shade to Megan Hilty, who is delightful in her own right, but, well, Smash fans get it. Or some of them, at least.)
Truly, if you aren't following the actress—who's currently across the pond, starring in Waitress The Musical on London's West End through the end of May while simultaneously planning her wedding with famed music producer David Foster—yet on social media, we're here to make you seriously reconsider that poor life decision. Let her be your star! (That's the last Smash reference, we promise. From us, at least.)
"As a true millennial, I've always loved using social but my career has been really exciting the last year or so since getting Waitress- and I was starting to see all these new Broadway fans engaging with me- and they're quite different from the ones that used to follow me," McPhee told E! News over email. "I learn new lingo and funny things all the time! I sit in my dressing room between shows and read all my mentions and crack up at all the jokes. Twitter can be a dark place but you don't know how much fun I've had shifting the energy and trying to make something dark into positive."
For the actress, who told us she has no real strategy when it comes to her social media except to not that it "that seriously," diving headfirst into the Twittersphere has allowed her to celebrate beloved projects that predate the platform's popularity. "My career has had different heights but Twitter and Insta exploded right after Smash so to be able to really look back at some things I've done before social was even a thing and make funny things from that has been my favorite and my fans react so well," she said. "Honestly, the minute I decided to give in and tap into meme and twitter culture, it all changed."
McPhee told us she doesn't always strive to go viral. "That's annoying," she added, "but I always do want to make people smile." And as for all the incredible custom videos you'll see below? "Obviously I have a resourceful team that will cut a video that goes with a meme," she said. "You think I have time for that? 
In honor of McPhee's 35th birthday on Monday, March 25, we present the 35 best tweets that'll have you reaching for that "Follow" button in no time.
1. When she delightfully shaded her own work:
2. When she poked some fun at herself:
3. When she put critics of her engagement to Foster in their place:
4. When she reminded everyone of their civic duty and shaded the Soul Patrol in one fell swoop:
5. When she dropped the perfect Mean Girls reference for the caption on this shot with future stepdaughter Sara Foster:
6. When she got real about Twitter addiction:
7. When she paid homage to another true legend:
8. When she got real about her career aspirations:
9. When she got real about the fandom:
10. When she got real about the fandom, part two:
11. When she reunited with Hilty and got everyone's hopes up:
12. When she was grateful for the love for her canceled TV shows, but…
13. When she did the opposite of letting fans down gently:
14. When she knew her audience:
15. When she admitted she had a problem:
16. When she poked some fun at the iconic way she was credited in Smash:
17. When she poked some fun at the time she announced nominees for the 2018 Tony Awards:
18. When she got real about her inspiration:
19. When her love for The House Bunny was too real:
20. When she put a nasty tweeter in their place:
21. When she got real about the VMAs:
22. When she kindly pointed out that the lonely hearts just might've gotten what they deserved:
23. When she delivered a Star is Born meme of her very own:
24. When she made her views on a certain fall candy crystal clear:
25. When she had a little fun with just how in sync she and Foster are:
26. When she reminisced about what was surely this red carpet reporter's worst nightmare:
27. When she merged the worlds of Smash and Super Smash Bros. in the best way possible:
28. When she let her dog Wilma have her time in the spotlight:
29. When she reacted to layoffs at a certain media outlet like Arya Stark with her list:
30. When she got real about wedding planning:
31. When she let the world peek into her past with Meghan Markle:
32. When she put Perez Hilton in his place:
33. When she got real about the Super Bowl:
34. When she reminded everyone that good tweets take time:
35. And when she got absolutely savage about her career, with an assist from Key & Peele:
What are you waiting for? Go follow her now!
Happy birthday, Kat!