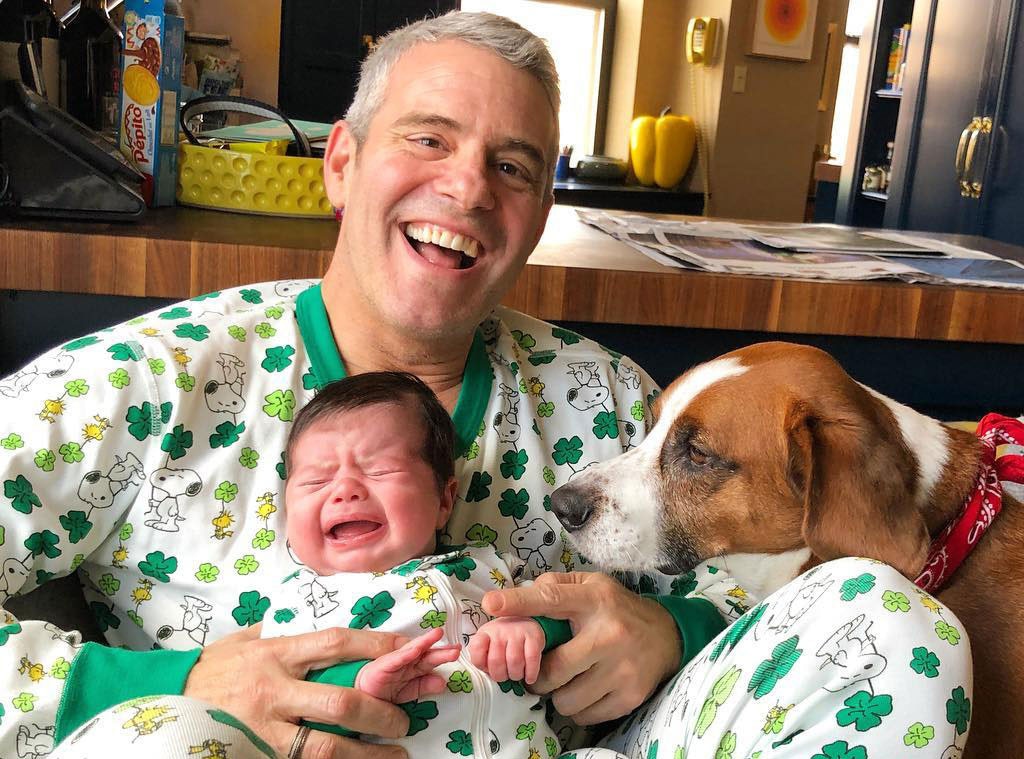 Instagram
It seems like we've found out Benjamin Allen Cohen's least favorite holiday thus far.
Andy Cohen, his son Benjamin and their dog Wacha all posed together for a St. Patrick's Day photo on Sunday. The two humans wore matching Snoopy onesie pajamas while Wacha stared contemplatively at the newborn. However, it's only Cohen that's putting the "happy" in his caption "Happy St. Patrick's Day!" Benjamin, on the other hand, was caught mid-cry in the picture.
Perhaps the holiday will grow on him as he gets older!
The little boy has been the total star of the Watch What Happens Live host's social media pages as of late—and who can blame him? On Friday, the father-son duo and Wacha went for a stroll in New York and Benjamin kept warm while wrapped up in his bear onesie.
On Wednesday, Cohen shared a photo of the three of them walking and explained in his caption that he's still getting used to being a new dad. "We're all basically just trying to figure out our rhythm here. It's gonna happen," he said.
Sweet baby Benjamin has already had his fair share of star-studded visitors come by and meet him. Cohen's Real Housewives-centric baby shower was enough of an indication that the Bravolebrities and more will have a strong presence in his life.
So far, Kelly Ripa and Jimmy Fallon have had their chance to hold the baby and Kyle Richards joins the family for walks. Plus, there's "Uncle" Anderson Cooper who even got his own "exclusive"  on meeting Benjamin. Cohen revealed on New Years' Eve alongside Cooper that he was having a boy, so the CNN news anchor is at the center of all the scoop.
Cohen welcomed Benjamin on Feb. 4 via surrogate and shared that day that he was named after Cohen's grandfather.
"Family means everything to me and having one of my own is something I've wanted in my heart for my entire life," Cohen said on his show on Dec. 20. "And while it has taken me longer than most to get there, I cannot wait for what I envision will be my most rewarding chapter yet."
Take a look at the photos below for some of their sweetest father-son moments.
Happy (?) St. Patrick's Day!