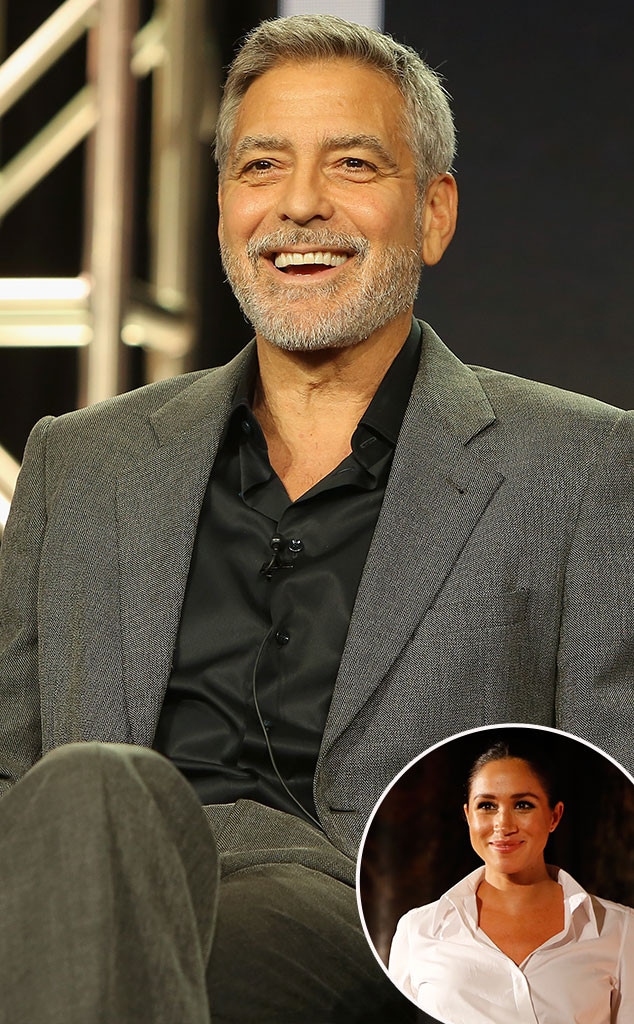 Rachel Murray/Getty Images for Hulu, Tolga Akmen -WPA Pool/Getty Images
George Clooney continues to have Meghan Markle's back!
Close to a month after coming to the Duchess of Sussex's defense in an interview, the Oscar winner has reiterated his support for the mom-to-be.
While appearing on Good Morning Britain, George expressed his belief that the media treatment on Meghan has been a bit unjust.
"I think it's a little unfair at times when—I've seen it when the press can turn on you for sort of ridiculous reasons and for almost nothing, and it seemed to me to be a little unjust since she hadn't done anything except just happen to live her life," he explained. "She's a really kind and smart and intelligent young woman."
As for her relationship with Prince Harry, George described the pair as "a really wonderful, loving couple."
"Most of it you can just shrug off and not pay attention to, but sometimes it's unkind," George added.
Back in February, Who published an interview with George where he expressed concern over the attention surrounding Meghan.
"I do want to say, they're just chasing Meghan Markle everywhere. She's been pursued and vilified," he said. "She's a woman who is seven months pregnant and she is being pursued and vilified and chased in the same way that [Princess] Diana was, and it's history repeating itself."
Earlier this week, George and his wife Amal Clooney were able to hang out with another famous royal family member. The couple attended Prince Charles' star-studded dinner at Buckingham Palace. Other notable guests included Benedict Cumberbatch, Chiwetel Ejiofor, Luke Evans and Josh Hartnett.
George's latest interview also included discussion about the new James Bond. As it turns out, the A-list actor has a name in mind.
"I've said this before, I'm gonna say it 1,000 times—Idris Elba should be Bond. Period," George shared. "He's elegant, he's handsome. I'm shocked that people haven't offered it to him right now. He's the guy to do it."