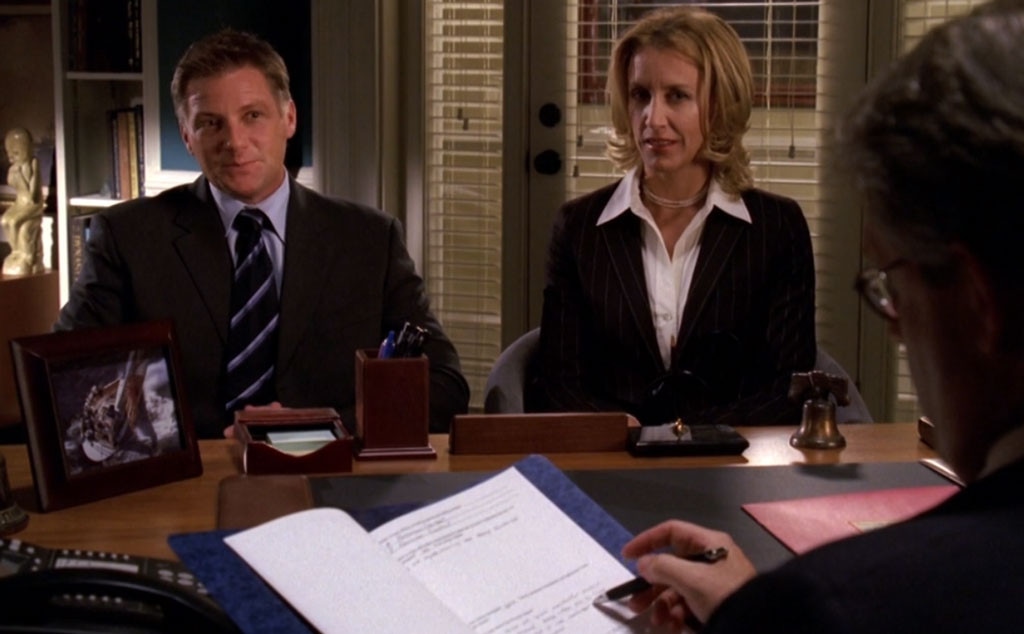 ABC/Hulu
Before facing their own legal troubles, Felicity Huffman and Lori Loughlin's iconic TV characters were involved similar school scams.
The Desperate Housewives alum and the Fuller House star are among over 40 individuals who have been charged in connection with an alleged college entrance exam scheme. On Tuesday, March 12, E! News obtained court documents which show that both Huffman and Loughlin have been charged with conspiracy to commit mail fraud and honest services mail fraud. According to the FBI affidavit, the scheme involved getting students admitted into elite colleges.
The same day that the news broke, E! News confirmed that 13 defendants were taken into custody in the Los Angeles area, including defendant Huffman.
The FBI affidavit states that Huffman and her "spouse," William H. Macy, made a purported charitable contribution of $15,000 to participate in the scheme on behalf of her eldest daughter. She "later made arrangements to pursue the scheme a second time, for her younger daughter, before deciding not to do so," the document reads.
Huffman and Macy are parents to Sofia Grace Macy, 18, and Georgia Grace Macy, 16.
On Tuesday afternoon, Huffman faced a judge and granted a signature bond of $250,000 and has been ordered to appear in federal court in Boston on March 29.
Amid Huffman's legal troubles, an old storyline from Desperate Housewives has resurfaced, which involved Huffman's character Lynette Scavo and husband Tom Scavo (Doug Savant) trying to get their twin sons into an elite private school. During the episode, the couple meets with the Barcliff Academy headmaster, who tells them, "Your children's educational background is a bit more common than we would prefer."
Lynette later informs Tom that they're "in competition" with one other family and that a "generous donation will ensure the kids beat 'em out."
"How generous?" Tom asks.
"$15,000," Lynette replies, the same amount Huffman and Macy allegedly paid in the college scheme.
Lynette and Tom end up selling his boat in order to get the funds for the "endowment."
Meanwhile, Loughlin surrendered to the FBI on Wednesday and was taken into custody. She was later released on $1 million bond. She will be allowed to retain her passport for travel on a current project in British Columbia, her next court appearance will be in Boston Federal court on March 29. Loughlin's husband Mossimo Giannulli was arrested Tuesday morning without incident.
It's noted in the FBI affidavit, "The Guannullis agreed to a pay bribes totaling $500,000 in exchange for having their two daughters designated as recruits to the USC crew team—despite the fact that they did not participate in crew—thereby facilitating their admission to USC."
Loughlin and Giannulli have two daughters, Isabella Rose, 20, and YouTube star Olivia Jade, 19.
As more details continue to emerge about the scandal, an old episode of Full House has also sparked a frenzy on social media. On season six of the hit series, there's an episode entitled, "Be True to Your Pre-School."
During the episode, Loughlin's character Aunt Becky and Uncle Jesse (John Stamos) try to get their twin sons into "one of the best pre-schools in the Bay Area," Bouton Hall. After being told by their friends not to let their kids "fall behind," Becky and Jesse feel pressure to check out the school.
While looking at the application, a nervous Jesse is encouraged by Joey (Dave Coulier) to give Nicky and Alex "a little edge" by lying.
"I'm their father, if I don't lie for them, who will?" Jesse asks before writing on the application that the twins are "unbelievably-lingual."
The couple later learns that the school is "interested" in their boys, and Jesse confesses to Becky that he "may have embellished a little bit" on the application.
During the in-person interview with the school, Becky says she "has to be honest" and admits Jesse "lied" on the application. But the school says it shows they "only want what's best" for their boys. While Becky and Jesse later decide that Bouton Hall might not be right for their kids, they get a letter telling them Nicky and Alex got in. 
"Does this change anything?" Becky asks.
"Not a thing," Jesse tells her.
You can check out a clip from the episode above!