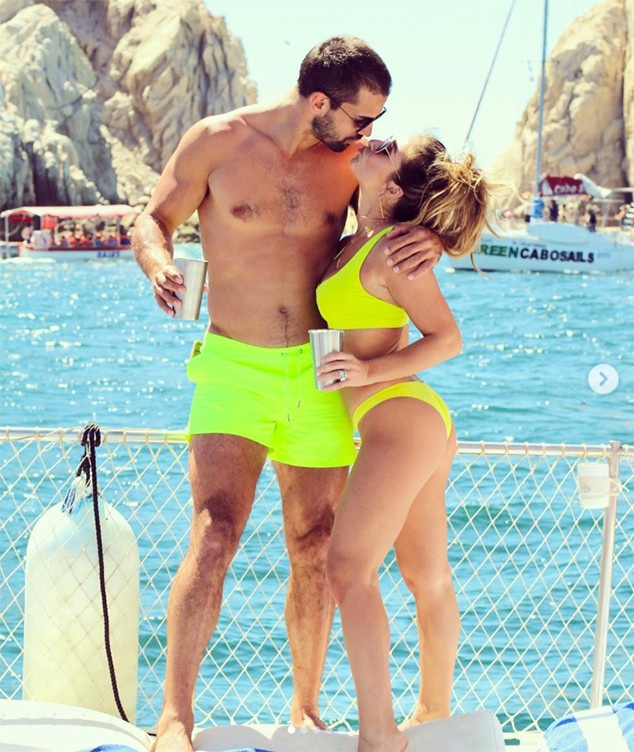 Instagram
Jessie James Decker is chiming in on some rumors that her post-baby body isn't quite all natural.
On Saturday, someone on Instagram commented on a photo of Jessie and her husband Eric Decker sharing a kiss while on vacation in Cabo San Lucas, Mexico. They're even wearing matching yellow swimsuits, and it's what isn't covered up that inspired some comments.
"She had a lot of surgery done it don't look cute," the user wrote.
That comment then sparked some interest from some fellow 'grammers. "What did she have done?!?" someone else wrote.
In a screenshot captured by the account CommentsByCelebs, the country singer replied in, "yeah I'm wondering the same thing" and included a laughing emoji.
The country singer then took to her Instagram Story to elaborate on her response and clarify verbally that she never got surgery and why she doesn't have stretch marks.
Jessie said that although she's "fortunate" she didn't get stretch marks from her pregnancy, she did get "extremely, extremely elastic skin." She pinched her skin and pulled at it to prove her point.
"I can stretch my skin more than anyone I know," she explained. "So it doesn't look like that when I get photographed, but I'm here to tell you it happens. It's just a part of having big babies."
She continued, "My point of showing that is just to let you know that yes a lot of time I get photographed in swim you can't tell that skin is that loose but it is there and ya know sometimes it shows up through clothes and stuff but you know I've had three babies, three C-sections sometimes it just happens."
Jessie added that she didn't necessarily want to have a C-section and it wasn't part of the plan. "I had this vision of taking and pushing and pulling him out on my chest," she added. "I had an emergency C-section with Vivi because "I was in labor over 14 hours and she got stuck. So, from then on I had to have C-sections because I had very, very, very big babies."
The 30-year-old has been open about her postpartum weight loss and is even a South Beach Diet ambassador.
She told E! News in October, "I gained 47 lbs. with my third pregnancy, so I am almost there. I still have a little weight to go, but I'm almost at my goal weight." Jessie gave birth to her third child Forrest Bradley Decker on March 31. She and Eric are also parents to Vivianne Rose Decker and Eric Decker II.
The "Lights Down Low" singer sings South Beach Diet's highest praises. She discussed the diet and food plan in January with E! News and shared that she loves to make gumbo as one of the recipes. The diet even helped her reach her goal weight faster than it did with her two other kids.
Check out some of the best photos from Jessie and Eric's hot Cabo getaway below!
The singer remains motivated by her fans on social media but also wants to remind people that she's "just like everyone else just trying to get it together."