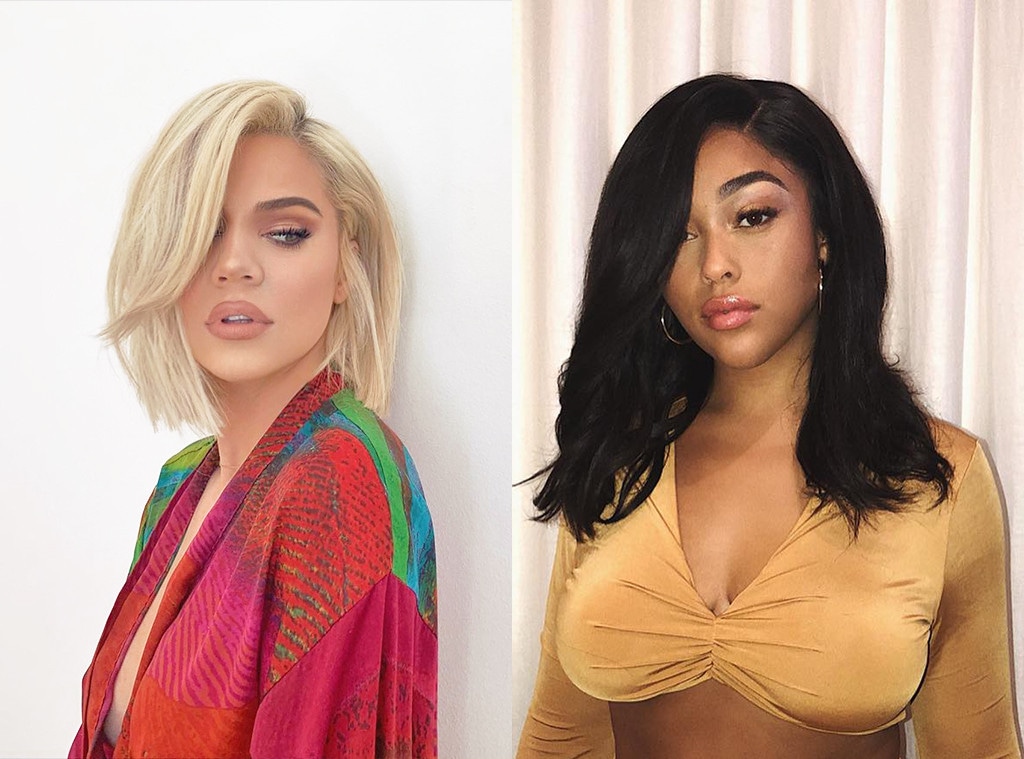 Instagram
A lot can change in 24 hours.
On Tuesday, E! News confirmed that Khloe Kardashian and Tristan Thompson split up 10 months after welcoming their daughter True Thompson. Before that, however, there were reports that Tristan allegedly cheated on Khloe with Kylie Jenner's best friend, Jordyn Woods. The Cleveland Cavaliers player made a brief statement on Twitter, but deleted it just minutes later. "FAKE NEWS," he wrote of the allegations.
Not long after, Khloe reacted to the cheating news by commenting on Hollywood Unlock's Instagram post about the story with yelling emojis.
It seems like Khloe and Jordyn's relationship made quite the 180 because on Monday, Khloe left a sweet comment for the 21-year-old model on her Instagram photo. Jordyn posted a series of two selfies and wears a more serious expression in one and looks off to the side. In another, she sticks her tongue out playfully.
Khloe wrote, "Baby girl" in her comments section.
So far, neither Khloe nor Jordyn has commented publicly about the cheating allegations or the split. However, on Sunday, Jordyn tweeted, "I could love you and still cut you tf off." That tweet quickly picked up traction because the replies to it were filled with gifs, memes and other comments about their supposed tryst.
Khloe has a tendency to post cryptic social media posts that people believe are hints at her relationship status or otherwise. On Jan. 23, she posted some quote cards that revolved around learning from mistakes and adapting.
"There will be some things you won't get over. Some things that will sting you so hard they will set you back to where you started," one said. "And you will hurt and hurt and hurt, but you will also rise from it. You will learn from the past.  You will adapt and survive no matter how hard it gets. You will shape your own reality and accept how you should never settle for anything less than you deserve."
If that wasn't enough, she said in another Instagram Story slide, "Sending love to everyone who's trying their best to heal from things that they don't discuss."
Monday night and Tuesday morning's messages were no different.
"i apologize if i was ever the toxic person in anyone's life. whether i did you wrong, led you on, acted on impulse, let my emotions get the best of me, or walked away with no explanation," the first Instagram Story message said. "i'm maturing everyday and righting my wrongs, slowly becoming a better version of me."
A second note focused on internal feelings. "How someone makes me 'feel' emotionally and mentally is way more important than what they can 'do' for me materialistically and physically. I'll always choose love, affection, and emotional support over being showered with gifts. All I want is my energy reciprocated," she typed.
Many of Khloe's uploads focus on self-love, too. She posted, "Work on being in love with the person in the mirror who has been through so much but is still standing."
Another one had just a bit of a different tone. Rather than focusing on the self, it focused on friends and family. The quote card said, "If your friendship has lasted longer than 7 years, you are no longer friends. You are family."
That one feels especially timely given how close Kylie and Jordyn are. The friends have a makeup collaboration together and often travel together, like the time they had a weekend getaway for Stormi Webster's birthday. She's often featured on the Kylie Cosmetics owner's Instagram stories, too, where she's referred to as "wifey."
Charles Sykes/Bravo/NBCU Photo Bank via Getty Images, George Pimentel/Getty Images
This isn't the first time the 34-year-old fashion designer has dealt with a cheating scandal involving her now-ex. On April 10, Daily Mail posted photos of Tristan kissing another woman at a club in New York City. Khloe gave birth to True just two days later in Cleveland.
When news of his cheating broke last year, Khloe received lots of love and support from fellow celebrities—including Jordyn.
Tristan arrived back in Cleveland in time for True's birth, and Khloe later defended her decision to partake in the process despite the cheating. "I chose to put my feelings aside for the birth and to try and have as much positive energy that I could. My only thought was about the birth of my daughter," she tweeted in November after an episode of Keeping Up with the Kardashians. "I wasn't going to let ANYONE disrupt anything less than what she deserved. Joyous love. I chose to be mature & strong for True."
She later let her fans know that she didn't let him down easy, either. "Oh well thank God a camera was NOT with me in Cleveland!!!" she tweeted. "I won't put in writing what I did but let's just say he's LUCKY I was 9 months pregnant."