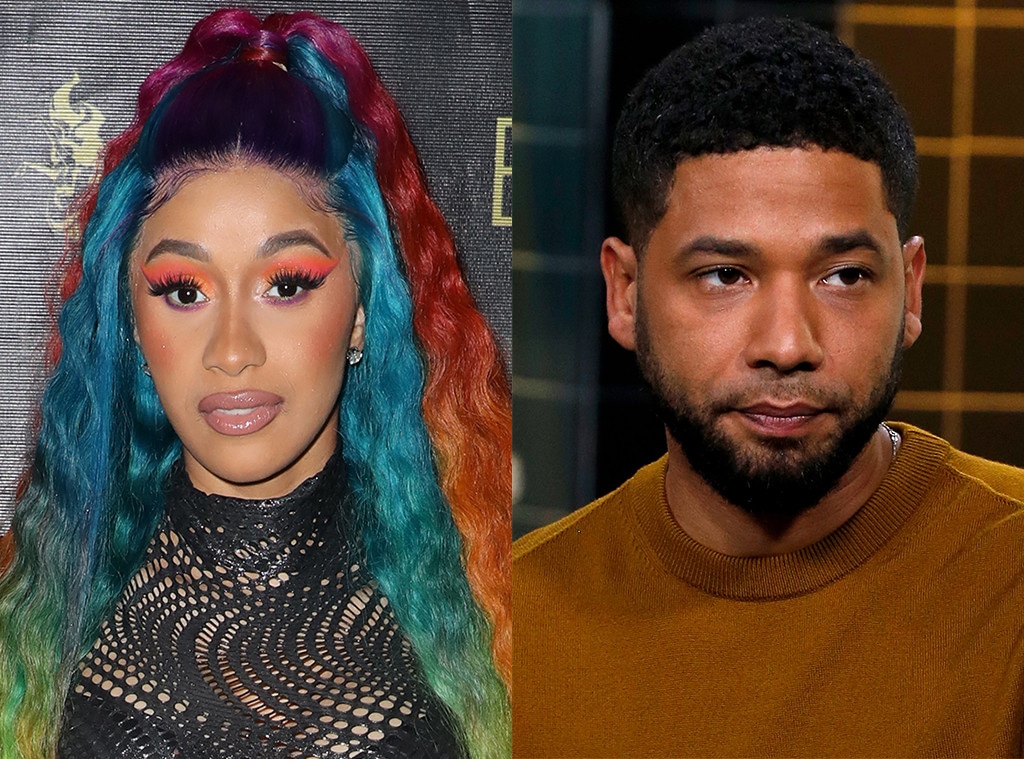 Alexander Tamargo/Getty Images for E11EVEN, Dominik Bindl/Getty Images
Cardi B had something to say about Jussie Smollett. 
The rapper did not mince words when she went live on Instagram to address her fans over the weekend and speak her mind. During the social media chat, the star brought up the Empire star, who has been the subject of headlines for the past month since he reported to Chicago police that he had been allegedly attacked by two men in late January. Weeks later, the Chicago police department's Chief Communications Officer Anthony Guglielmi told E! News in a statement on Saturday, "We can confirm that the information received from the individuals questioned by police earlier in the Empire case has in fact shifted the trajectory of the investigation. We've reached out to the Empire cast member's attorney to request a follow-up interview."
He also tweeted, "While we are not in a position to confirm, deny or comment on the validity of what's been unofficially released, there are some developments in this investigation and detectives have some follow-ups to complete which include speaking to the individual who reported the incident."
Meanwhile, citing a source familiar with the investigation, NBC News reported the investigation had shifted into whether Smollett paid two men to stage the alleged assault. The actor's attorneys rebuffed claims that he was involved, stating, "As a victim of a hate crime who has cooperated with the police investigation, Jussie Smollett is angered and devastated by recent reports that the perpetrators are individuals he is familiar with. He has now been further victimized by claims attributed to these alleged perpetrators that Jussie played a role in his own attack. Nothing is further from the truth and anyone claiming otherwise is lying."
As the statement continued, "One of these purported suspects was Jussie's personal trainer who he hired to ready him physically for a music video. It is impossible to believe that this person could have played a role in the crime against Jussie or would falsely claim Jussie's complicity. Jussie and his attorneys anticipate being further updated by the Chicago Police Department on the status of the investigation and will continue to cooperate. At the present time, Jussie and his attorneys have no inclination to respond to 'unnamed' sources inside of the investigation, but will continue discussions through official channels."
Cardi did not hold back as she addressed the headlines. "I'm really disappointed in Jussie Smollett—whatever the f—k his name is. I'm really disappointed in him," she said into the camera. "I feel like he f--ked up Black History Month, bro. God d--n."
The rapper continued, "I'm not gonna say yet until he say it out his mouth that it was fake and this s--t was staged—I don't want to completely blame him." The star speculated that Smollett could have been framed to look like a liar. "But, if he's not, then bro you f--ked up for real, like why would you do that? You ain't had to do that."
After recalling her own alleged encounter with police, in which she claimed she was made to look like a liar, Cardi added, "I want to see what else. I want to see. I want to know because if he did that, he really f--ked up, bro, because it's February. You have so many people standing for you. Why would you do that, bro? Is attention that necessary for y'all nowadays?"
(E! and NBC are both part of the NBCUniversal family.)