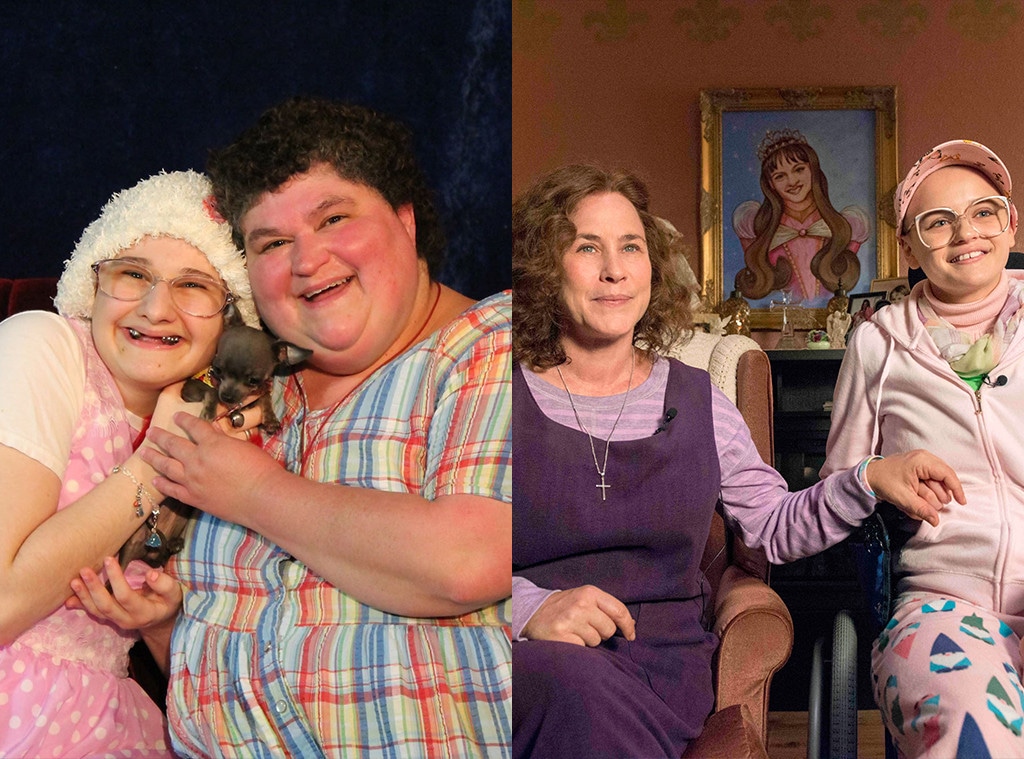 Greene County Sheriff's Office; Brownie Harris / Hulu
One of true crime's wildest stories is now on Hulu, and it stars two actresses who you might not even recognize if you didn't know it was them. 
Joey King and Patricia Arquette completely transformed to play Gypsy Rose Blanchard and her mother, Dee Dee Blanchard, the mother-daughter duo at the center of a story that shocked everyone in 2017. For years, Dee Dee had been telling everyone that her daughter had, among other ailments, leukemia, asthma, muscular dystrophy, and the mental capacity of a 7 year-old, and it turned out none of that was true. Dee Dee was found murdered in 2015, and Gypsy and a boyfriend she had met online were convicted of the crime. 
HBO aired a documentary in 2017 called Mommy Dead and Dearest about the case, and now Hulu has turned it into a miniseries called The Act, starring King and Arquette. 
At a TV Critics Association panel in February, King said she was initially hesitant to shave her head to take on the look Gypsy's mother forced her to wear. 
"There was a bit of me being like, well, do I have to? Is there a way we can make it not?" she told reporters. "But at the end of the day, I realized this role and this show, I connected with it a lot. It just meant so much to me and I would've done anything to be able to portray Gypsy's story and to play her, so I have zero regret. I'm so happy that I did, and now I'm spiking it, like what's up?" 
King says she prepared as much as she could by talking to journalist and EP Michelle Dean and reading about the case, but it was a role she couldn't really prepare for.
"It's crazy though because with a role like Gypsy, no matter how much prep you do, no matter how much research you do, no matter how much script work you do, nothing will prepare you," she said. "Nothing will make it fall into place more than when you actually step on set. I truly believe that. Along with shaving my head, putting in the fake teeth, I wear several stages of fake teeth throughout the entire series, and being in the wheelchair. Being in Gypsy's clothing, all of it. The minute you get on set, everything that you've prepared for truly all falls into place right then and there." 
Arquette had recently finished filming Showtime's Escape at Dannemora, which she won the Golden Globe, Critics' Choice Award, and SAG Award for. That role already required some physical transformation like weight gain, and this role required even more. 
"I started losing weight after Dannemora then I stopped for this, but this real lady was like a hundred pounds more and I thought, I will die, I'll just be a dead person, so I'm gonna stop here," Arquette said. "Now I'm going to start taking a little more care of my own self. But to work with these actresses—this is such exciting material and it's also about this relationship, this intense love affair that this mother's so jealous and protective of. The normal material thing's distorted beyond, and then they have this very important relationship..." 
Take a look at King and Arquette in character, as well as some other famous True Crime transformations below!
The Act is now streaming on Hulu. New episodes premiere on Wednesdays. 
This story was first published on February 12, 2019.