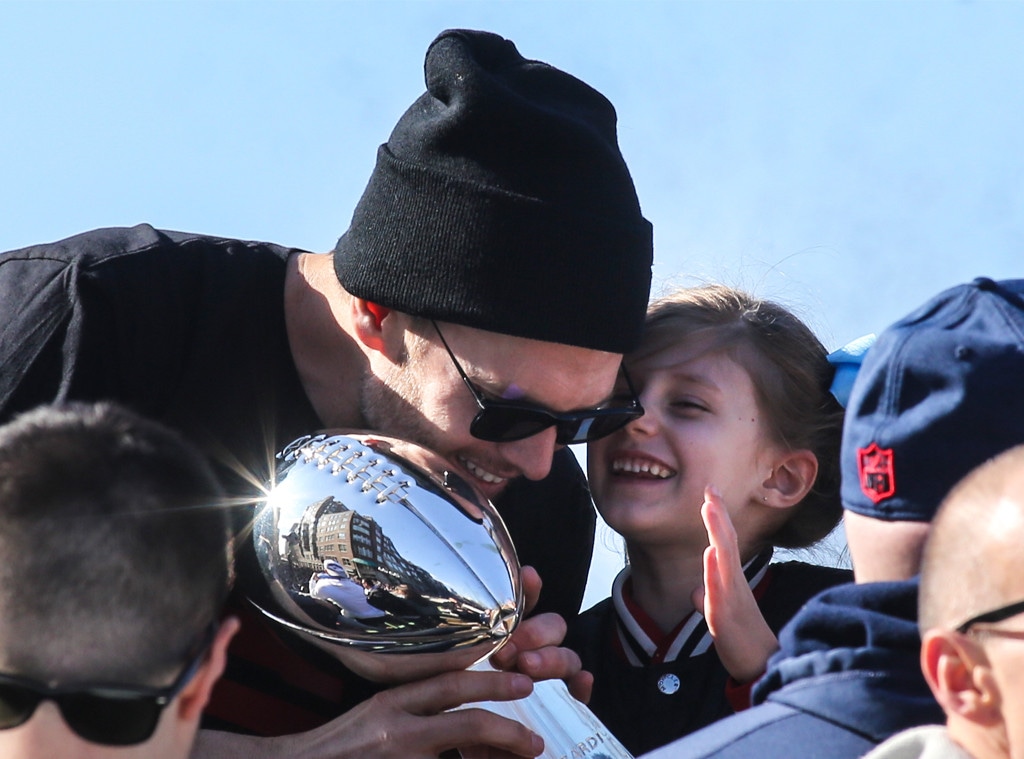 Nathan Klima for the Boston Globe via Getty Images
Talk about a Super Bowl pairing we never knew we needed.
Close to two days after beating the Los Angeles Rams, the New England Patriots celebrated their big win with a victory parade Tuesday morning in Boston.
Sure there were thousands of die-hard fans cheering on their favorite players. And yes, there were some clever signs that deserve to be framed. But there was one moment that has football and pop culture fans alike smiling from ear to ear.
A special someone managed to capture a candid moment between Tom Brady's daughter Vivian and Rob Gronkowski that you have to see to truly appreciate.
"Can I call you Gronky too??? @gronk," Tom captioned the video that features Vivian so excited to see the football tight end. As for Gronk's reaction, let's just say he's pretty excited too.
"That little girl just melts mommy's heart," Gisele Bundchen wrote in the comments section after admiring the video. Gronk's girlfriend Camille Kostek added, "I've easily watched this 50 times. I love their love."
And even if you don't have a direct connection to the pair, you have to give credit where credit is due.
"Vivi crushing the Super Bowl," Dancing With the Stars host Erin Andrews wrote. Well said, girl!
This week has been full of celebrations for the Patriots. After winning big in Atlanta, several players traveled to Walt Disney World in Florida to participate in a parade and experience some of the attractions.
"So happy to see you celebrating my love. You deserve it," Gisele wrote on one of Tom's celebratory posts. "You worked so hard for this. Te amo."
Could the man known to fans as the G.O.A.T. be back for another season? The odds are looking good. Stay tuned football fans.