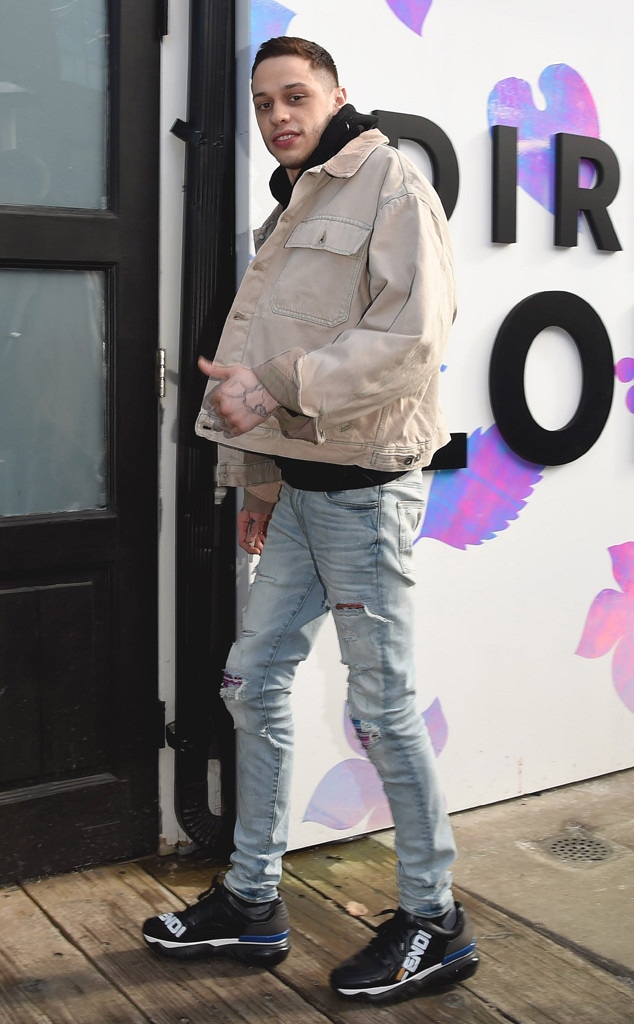 Jason Merritt/Radarpics/REX/Shutterstock
Live from the Sundance Film Festival, it's Pete Davidson.
The Saturday Night Live comedian sat down alongside close friend Machine Gun Kelly as well as Jon Cryer, Griffin Gluck and other co-stars of his upcoming film Big Time Adolescence as a part of Variety's Studio at the film festival. The movie is making its big-screen debut at Sundance on Monday.
Davidson took center stage during the interview with Variety (he was quite literally in the center of the seating arrangement) and discussed all things related to rehab, filming in Syracuse and his high school reputation. The 25-year-old sipped a bottle of beer during the chat and reminisced on some past experiences he's had in Sundance's hometown. 
"I love Park City, Utah because the last time I was here I was in rehab, so it's nice to be on the other side," he said. "It also speaks wonders to your rehab facility."
With perfect timing, he picked up his bottle of beer, took a swig and raised his glass as if making a toast.
Davidson said he did his recovery at Cirque Lodge four years ago. "It worked out great," he quipped.
The Big Time Adolescence cast also talked about what it was like to film in Syracuse. They seemed to have pretty differing opinions on the Upstate New York city. "The whole town of Syracuse blows," Davidson shared.
He added, "There's nothing going on there, so [the cops] were hunting me down the entire time and trying to arrest me." The stand-up comedian joked, "Trying to arrest me for bringing business to your town. Never again, Syracuse," and topped it off with a middle finger.
John Salangsang/Variety/REX/Shutterstock
Their time in Syracuse, however, didn't leave them empty-handed. According to Kelly, he and Davidson both bought cars. Davidson acquired an old Cadillac while Kelly opted for a drag racing car that made an appearance in Kelly's "Loco" music video, which also starred Davidson. It, too, was filmed in Syracuse.
It might be safe to say that they won't be returning to the city any time soon even though Davidson left his car there.
Davidson later talked about social media and his online presence. On Dec. 15, he posted what seemed like a suicidal note on Instagram and immediately deleted his profile afterwards. Fellow celebrities and fans were all alarmed and offered their support to the New York native, including Kelly.
"I'm in the plane now on the way to see Pete," he tweeted that night. "Gonna make sure he's good, I promise. Can't have my boy in the darkness like that." 
The "Bad Things" rapper has been a huge support system for Davidson and they've been seen hanging out together all over New York and the country. Not long after his alarming note, Davidson attended Kelly's concert in Cleveland and sat on a platform onstage. A few weeks ago the friends attended a Denver Nuggets basketball game together and sat courtside.
Davidson made a subtle nod to his Instagram note in his response during the Variety interview. "I can't go on [social media] for obvious reasons," he said with a chuckle. 
He has one sweeping piece of advice for anyone facing cyber bullying: "Just don't go online."
Big Time Adolescence delves into high school life and is a coming of age story about a young teenager. Some people may see high school as their glory days, but not for Davidson and Kelly. When asked what they were like in high school, both men replied "lame" at the same time.
"I was so lame in high school. I didn't have any friends," Davidson revealed.