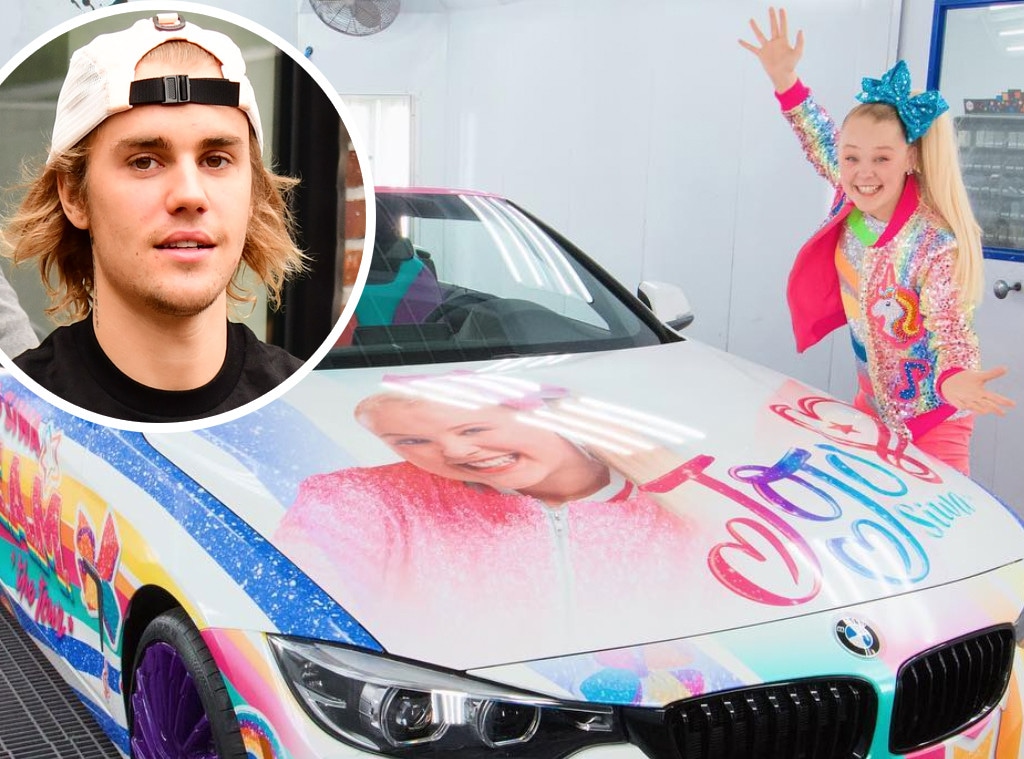 Instagram; James Devaney/GC Images
No feud here! 
Justin Bieber has reached out to JoJo Siwa, a 15-year-old YouTube and Nickelodeon star, Dance Moms alum and singer, via Twitter to clarify his negative remarks about her new car, which many fans perceived as shade towards her.
She had recently posted a photo of one of her Christmas presents, a rainbow-colored BMW convertible adorned with a photo of herself and the words "Nickelodeon's JoJo Siwa D.R.E.A.M. The Tour," custom-made by West Coast Customs. The company reposted her pic and Bieber, 24, commented on it, writing three times, "Burn it."
JoJo's mom responded, "@justinbieber [crying laughing emoji] burn your own things."
On Sunday, Bieber, who was discovered via his own YouTube videos of him performing music when he was slightly younger than JoJo, tweeted, "@itsjojosiwa I have nothing against you it was the car and the colors I didn't like I really hope you didn't think it was malicious or mean spirited."
On Sunday evening, JoJo replied to Bieber's apology tweet and was totally fine with clearing the air. She extended an olive branch and offered her own solution. "it's all good bro! you can perform at my 16th birthday party and we'll call it good!" JoJo tweeted.
Bieber has himself had his own vehicles custom-designed with eyebrow-raising looks; In 2013, he showcased a leopard-print sports car, while in 2017, he had his Mercedes-Benz G-Wagon decked out with a Christmas design.
Anyway, JoJo seemed to take his criticism in stride. After he commented "burn it," she posted on Twitter, "@justinbieber commented on a picture of my car! he said 'burn it'!"
"BURN IT," she repeated.
...and turned it into her new catchphrase.
"Wow people are actually really mad at me for singing a Queen song at karaoke..... like really mad. Burn it," she tweeted.
And...it looks like someone was down for a ride.