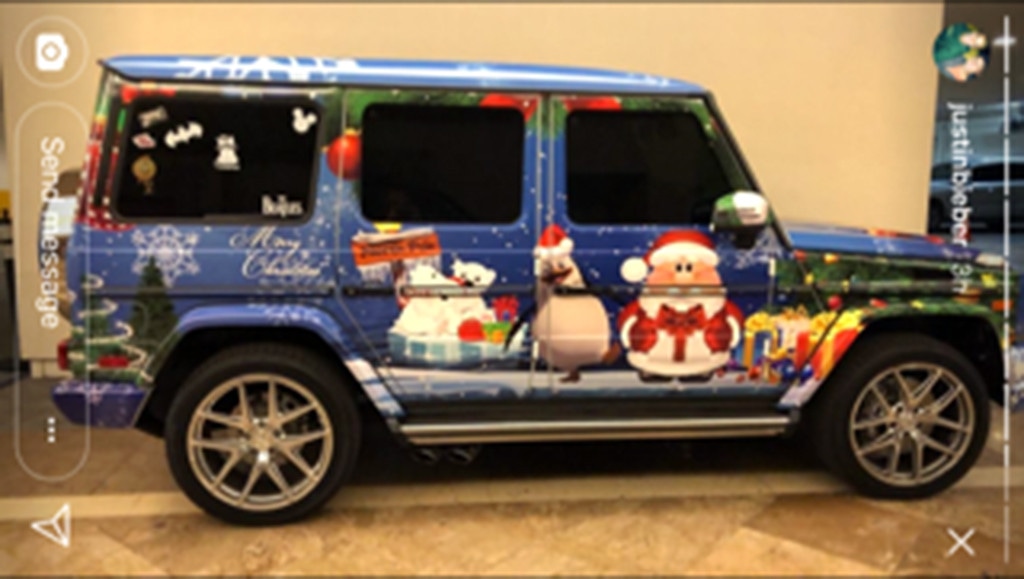 Justin Bieber/Instagram
You better not test Justin Bieber's love of Christmas—because he may go a little crazy just to prove you wrong!
The Canadian hitmaker took to Instagram Stories on Saturday to show off his pimped-out, Christmas-inspired Mercedes-Benz G-Class, known by the elite who drive them (and those who wish they could) as the G-Wagon. 
In the social media video, the trickster informs fans, "People came to me and they were trippin' like, 'JB you ain't in the Christmas spirit, dog.' I was like, 'Oh really? Oh really, boy? Oh really, dog?."
Well he was clearly not about to let sleeping dogs lie.
The 23-year-old gave his peeps a peep at his pricey ride, which is wrapped in a Santa Claus North Pole scene, complete with polar bears and penguins.
If this doesn't get you into the holidays, we don't know what will!
Over the years, the Biebs has been spotted behind the wheel of a slew of cars including a Audi R8, 997 Porsche Turbo, a matte black Range Rover, Mercedes-Benz Sprinter Van, Fisker Karma, a blacked out Smart Car, a Lamborghini Aventador and so many more.
The only thing he may love more than his car collection is Selena Gomez!
What do you think of JB's festive whip?