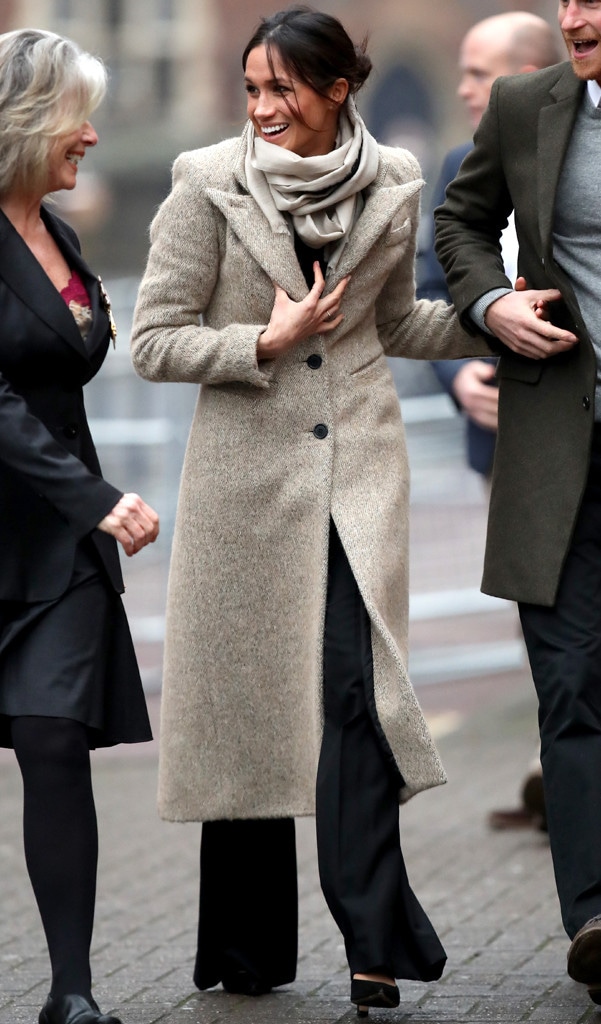 Chris Jackson/Getty Images
If Meghan Markle's outfits set the yearly trends, 2018 is shaping up to be quite cozy. 
For her first official outing of 2018, the bride-to-be stepped out alongside her royal fiancé Prince Harry for a visit to Reprezent 107.3 FM, a youth-led radio station that supports broadcast training for young adults. 
The American actress set the laid-back tone for their friendly visit wrapped up in a Smythe camel collared midi coat ($795) nipped at the waist and coordinating scarf from London-based brand, Jigsaw. Her future husband followed suit in a Club Monaco olive topcoat, gray sweater and slacks. 
With all of her public appearances scheduled in the winter months, Markle has expertly sported an array of outerwear, including the white Line the Label wrap coat she wore for her and Harry's first photo op after confirming their engagement, the Sentaler tan coat she picked for Christmas day with the royal family and the navy Mackage double-breasted military coat she wore for her first official visit. 
As for the Smythe topper this time around, Meghan's Mirror editor Christine Ross told E! News, "It was nice to see a touch of her Canadian home in the look. Meghan actually owns this coat in two colors. She wore the same style in 'Salt and Pepper' in 2016. It is clear that Meghan loves the Smythe brand, and I expect she will continue to wear their styles in the future." 
Dominic Lipinski/AP/REX/Shutterstock
Once warmer inside, Markle shed her jacket to reveal a casual cool look featuring a black round neck bell sleeve wool sweater by Autograph ($75) from Marks & Spencer tucked into belted black Burberry flared trousers—a great blend of designer and street fashion. 
"Her sweater was the best surprise of the day," Ross told E! News. "It comes from the U.K.'s high street shop Marks & Spencer, which is probably the equivalent of a Lord & Taylor or Dillard's in the United States. It is very accessible, and there's an M&S in almost every city and town in the U.K. It definitely brought a down-to-earth vibe to Meghan's look. Any woman, pretty much anywhere in the country, could snag her jumper at a reasonable price." 
She finished the look with a pair of Sarah Flint black pumps ($395) with unique tortoiseshell heels. For her hair and makeup, the TV star kept her beauty look fuss-free with a messy bun and radiant rosy makeup. 
As has become routine for the star, she sported a mix of brands from two significant places in her life—Canada and England. While the coat is from one of her favorite Canadian brands, the top, pants and scarf come from British labels—a mix she previously donned to Queen Elizabeth II's Christmas luncheon. 
"She's already learning the art of 'sartorial diplomacy'—where her clothes will speak for themselves," Ross previously told E! News. "Combining a designer from her former home with one from her new home is a great nod to her past and her future!"
However, while she's clearly taking notes on the methods of royal dressing, there are some traditional fashion protocols she seems willing to bend. 
"Meghan is already showing us that she is carving her own path as a royal. She is pushing the royal envelope with her style choices. Royalty almost never wears black, except for somber occasions, so today's look was a surprise for royal watchers. The no-black rule is followed by every major royal woman around the world. Meghan looked very chic and professional, but I don't imagine we will see much more black after the wedding," Ross noted. 
Judging by the newest look, Markle is also willing to try looks outside of the royal box. 
"Her choice to wear trousers was a pleasant surprise to many as well. Bootcut black trousers are such a professional, timeless style, especially for more formal events. We almost never see the Duchess of Cambridge wearing them and this really shows that Meghan is not taking style notes from anyone," Ross observed. "She's doing it her own way, and staying true to herself as her role in the royal family grows."