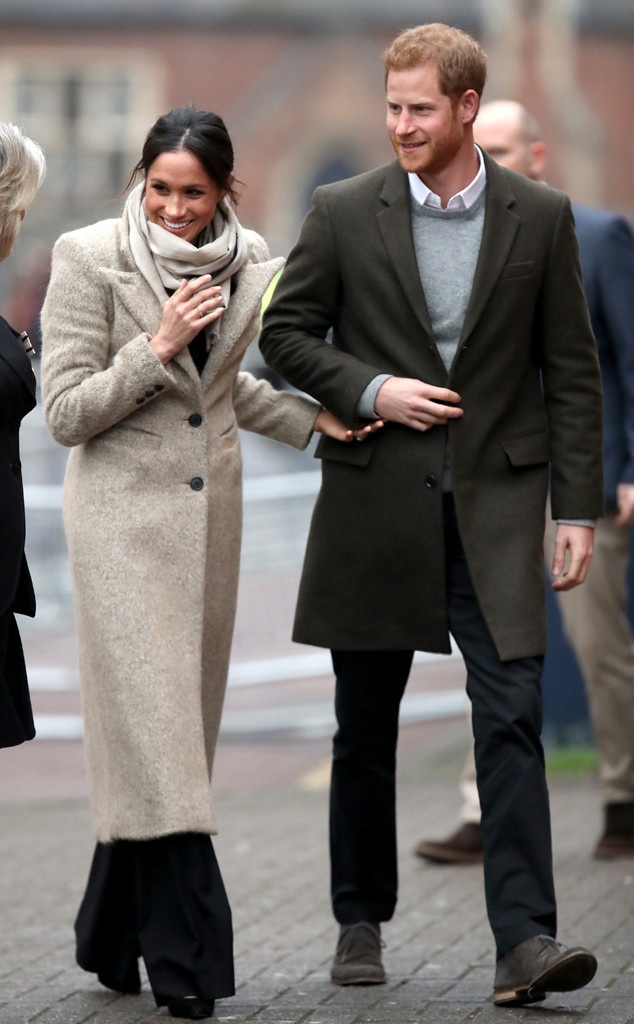 Chris Jackson/Getty Images
Prince Harry and Meghan Markle attended their first joint royal engagement of 2018 and visited the studios of Reprezent 107.3 FM—a youth-led radio station that supports young adults through radio and broadcast training.   
The 33-year-old royal and 36-year-old actress arrived hand-in-hand. Markle bundled up in Smythe's $800 Brando camel-colored coat and a sand gray scarf by Sentaler to keep warm while Harry wore an olive green wool topcoat by Club Monaco, as well as a gray sweater. The bride-to-be also wore her hair in a stylish bun.
Upon arriving at the studios, located in Brixton in South London, the couple was greeted by a crowd of well-wishers, many of whom were shouting out the bride-to-be's name. Harry and Markle smiled and waved. They then shook hands with representatives from the organization, including founder and CEO Shane Carey, before beginning their visit.
Once inside, the couple visited an on-air studio and met a presenter named Glory, who was recording her show. Markle also showed her black Mark & Spencer AUTOGRAPH jumper and Burberry trousers. Harry made his fiancée giggle by gesturing towards the CD mixer like he was about to play a song.
As their time with the young DJ ended, Markle told her, "I can see why your show is so popular. You're so thoughtful and your approach is so engaging." She then added, "I must tune in."
Markle and Harry met with other presenters and staff members, too. While talking to presenter YV Shells, for instance, Markle asked him about his work promoting women in the industry.
"Is it you that does a lot of support of the women DJs, right?" she asked him. She then added, "Empowering the women to make sure they're in a space where it's not as much [male] driven, to be the man there supporting, I think that's incredible."
In addition, the couple learned how the organization uses its model to drive social change. The training program was founded 10 years ago in response to a rise in knife crime and has supported more than 4,000 youth.
Before leaving the studios, Harry learned a handshake from one of the DJs. Markle and Harry also met with a few royal admirers upon exiting the building.
Even though this was Harry and Markle's first joint appearance of the new year, this isn't the first time they've attended an engagement together. On Dec. 1, the couple visited Nottingham for their first official event together since announcing their engagement. The bride-to-be and her fiancé attended the Terrence Higgins Trust World AIDS Day charity fair, where they met with representatives from local organizations that support people living with HIV/AIDS. Before heading inside, the couple visited with the crowd of well-wishers. The former Suits star wore a navy coat by Canadian brand Mackage for the occasion and royal admirers could spot her diamond engagement ring.
Markle seems to be getting used to the royal life as she continues to spend more time with the royal family. She recently celebrated Christmas with the family and attended church with Queen Elizabeth II, Prince Philip, Prince William and Kate Middleton.
ADRIAN DENNIS/AFP/Getty Images
Today marked a big day for other members of the royal family, too. Jan. 9 is Kate's birthday. The Duchess of Cambridge turned 36.