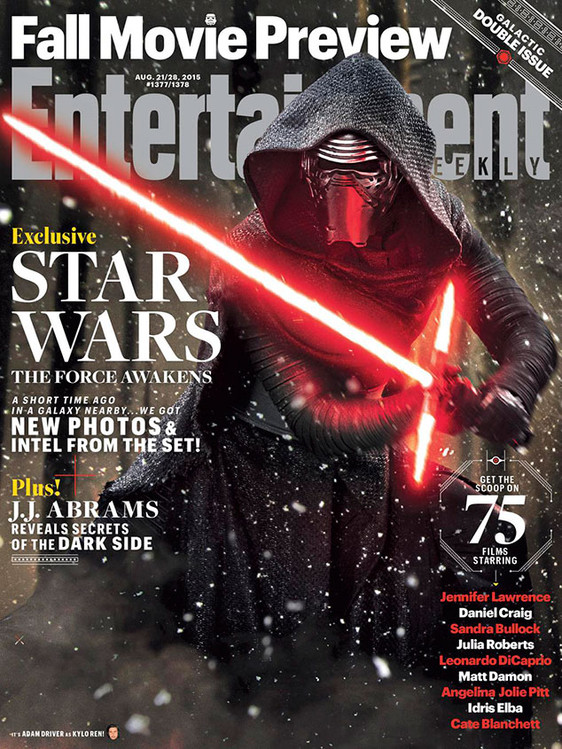 Entertainment Weekly
It's no surprise that Adam Driver is on the dark side.
Driver plays Kylo Ren in Star Wars Episode VII: The Force Awakens, and on Wednesday, Entertainment Weekly gave fans a better look at the actor's character on the cover of its Fall Movie Preview issue (out Friday). "He is not your prototypical mustache-twirling bad guy," director J.J. Abrams tells the magazine. "He is a little bit more complex than that, and it was a great joy to work with Adam Driver on this role, because he threw himself into it in a deep and remarkable way."
"The movie explains the origins of the mask and where it's from, but the design was meant to be a nod to the Vader mask," Abrams says of Driver's character. "[Ren] is well aware of what's come before, and that's very much a part of the story of the film." The director also confirms rumors that Ren's lightsaber "is something that he built himself, and is as dangerous and as fierce and as ragged as the character."
So, just how bad is Ren?
"As you see in the best of storytelling, and no doubt the best of Star Wars, these are tales in which an everyperson has to step up. And I think that what makes Ren so unique is that he isn't as fully formed as when we meet a character such as Darth Vader. And I think that there are two sides to the Force. Both sides, arguably, would see themselves as the hero of their story, and I think that applies here," he says.
Abrams also gifts Entertainment Weekly with another spoiler regarding the mysterious villain's origins: "He is a character who came to the name Kylo Ren when he joined a group called the Knights of Ren."