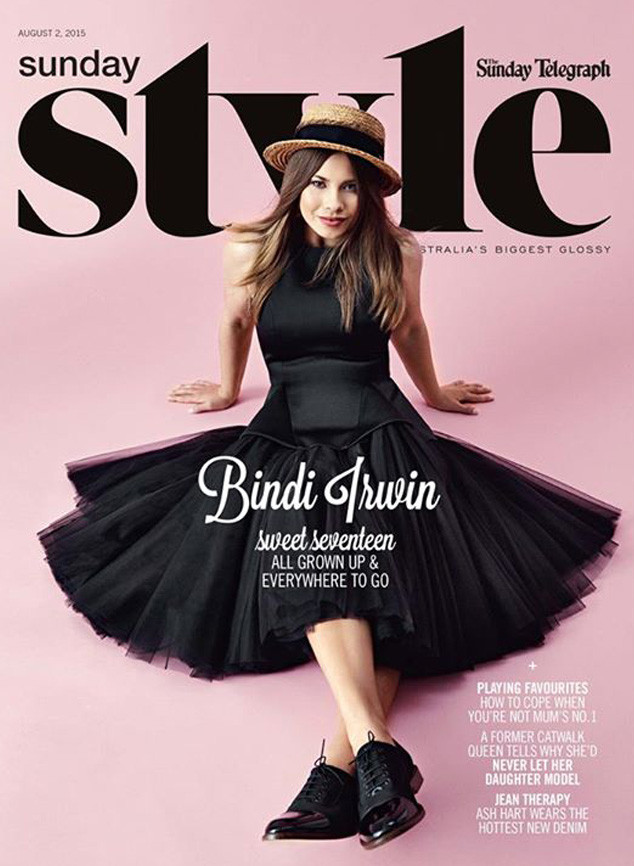 Sunday Style
She just keeps getting more and more beautiful!
Bindi Irwin, the 17-year-old daughter of the late Steve Irwin, aka The Crocodile Hunter, showcases a sunny smile and looks gorgeous on the cover of Sunday Style, the weekend fashion magazine of Australia's The Telegraph newspaper. The teenager appears sitting while wearing a black halter dress with a high neckline, drop waist and ballerina-like tulle skirt, paired with matching laced patent oxford shoes and a straw hat with a black band.
The Australian beauty and eldest of Steve and Terri Irwin's two children has captured media attention since she starred with them on The Crocodile Hunter in the '90s and early '00s. Bindi was 8 years old when her father was stabbed to death by a stingray in 2006 while shooting a wildlife documentary. He was 44.
"After losing Dad, there was the idea that none of us have forever," she told Sunday Style. "It really affects you. It makes you want to live each day as if it's your last."