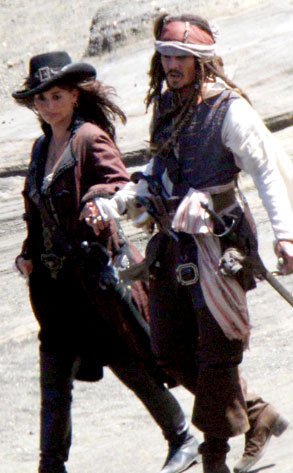 RAMEY PHOTO
Well look what just rolled in with the tide!
We were actually starting to think that we were going to have to wait until Pirates of the Caribbean: On Stranger Tides opened next May to catch a glimpse of Penélope Cruz doing her thing with costar Johnny Depp.
While the Twitpic of Captain Jack and his awesome taped message at Comic-Con last week were great, we couldn't help but long for his leading lady as well.
So imagine our delight when this new photo popped up from the film's set in Hawaii showing Cruz walking—hand-in-hand, no less—with Depp.
Now if we can just get a shot of Ian McShane as Blackbeard, we'd truly feel complete.