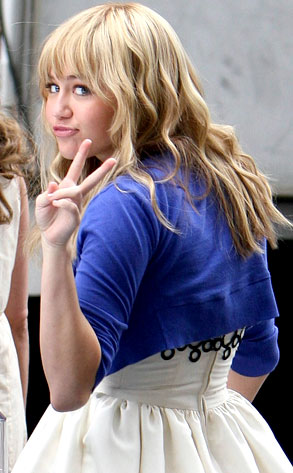 Thornton/Mauceri/INFphoto.com
In case Miley Cyrus has been missing her Disneyfied alter ego while recording her first all-Miley album, she's in luck.
Production has kicked off on Hannah Montana: The Movie, which will be filming in and around Nashville, the Walt Disney Co. announced Thursday.
Cyrus had previously told E! News she would be forgoing the average 15-year-old's summer pursuits—boys, mall, beach, boys—in favor of completing her feature-length film. (She probably won't be giving up iced mochas anytime soon, though.)
The movie, which is slated for release in spring 2009, also features Hannah Montana regulars Emily Osment, Jason Earles, Mitchel Musso, Moises Arias and, of course, ubiquitous papa Billy Ray Cyrus.
While it will be her scripted big-screen debut, Cyrus already has a decent, albeit short, track record.
This year's 3-D release Hannah Montana/Miley Cyrus: Best of Both Worlds Concert Tour took in $65.3 million at the box office—and would have made more if theaters had charged movigegoers by the word.