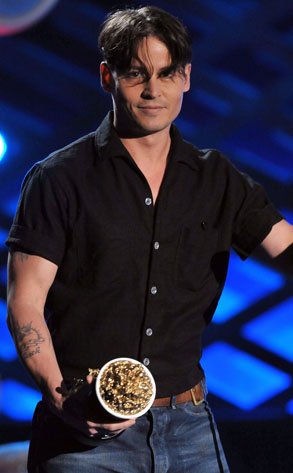 Lester Cohen/WireImage.com
The only thing hotter than the predawn blaze that closed down the area surrounding the Gibson Amphitheatre before the 2008 MTV Movie Awards was double-threat Johnny Depp.
The masses-approved heartthrob had to wait out a thundering standing ovation before being able to give thanks for his Best Comedic Performance win, his third Golden Popcorn to date for playing Captain Jack Sparrow. And with Juno scribe Diablo Cody having already clutched her hand to her heart the first time, the reception was only a bit milder when Depp took the stage again, when he was named Best Villain for his turn as the murderous Sweeney Todd.
"I'm not really sure how this happened because you can ask anybody—I'm not a very funny person," a clean-shaven Depp said in accepting his first award of the night.