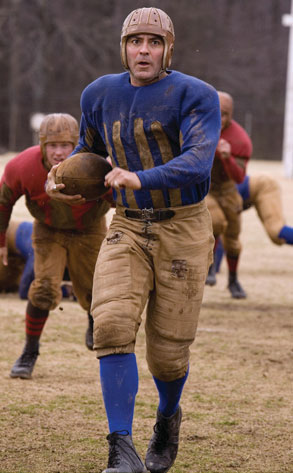 Universal
Ask and ye shall receive. Ask from George Clooney and ye get even more.
The Oscar winner is donating his football uniform from the recent box office flop Leatherheads to a museum in Kentucky dedicated to his late aunt, songstress Rosemary Clooney.
Curators of the Rosemary Clooney House Museum in Augusta had originally requested just the actor's helmet but, to their surprise, the Lexington native offered to donate his entire getup—cleats and all.
The new display opens June 7. Curator Steve Henry told the local Ledger Independent he would ideally like to add at least one costume from all of Clooney's new films to join the new Duluth Bulldogs uniform and the set of ER scrubs that are already there.
Now that would be a wardrobe you could really walk right into.