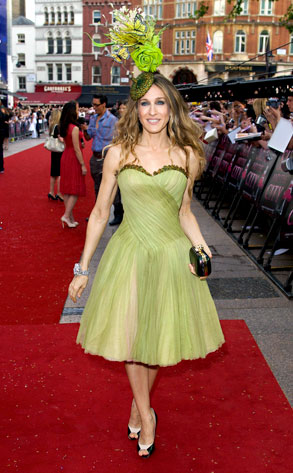 Mike Marsland/WireImage.com
Sex and the City: The Movie premiered today...but not in New York. Instead, New Line chose to hold the first premiere across the pond in London. (Where Sarah Jessica Parker attempted to blend with the shrubbery in an Alexander McQueen dress, Fred Leighton diamonds and Phillip Treacy hat.)
You'd think they'd unveil the film in the city where it all takes place, the one that's often referred to as the "fifth character," but no...the Big Apple viewing actually doesn't happen until May 27.
And if you're a New Yorker feeling annoyed that the Brits are seeing the movie more than two weeks before you, take heart: They're not premiering the flick in Los Angeles at all.
There is, however, a Skyy-sponsored screening here in L.A. the day before it opens in theaters, along with a postpremiere Q&A with Kristin Davis. You better believe I RSVP'd for that one months ago, so check back for all the details!