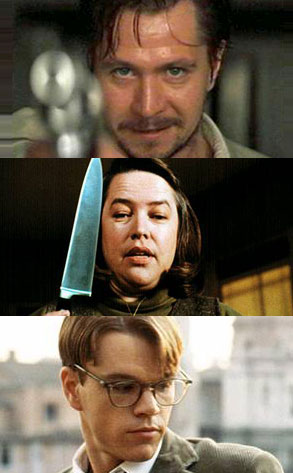 Columbia Pictures, Paramount Pictures
Inspired by Heath Ledger's way-twisted Joker in The Dark Knight, we assembled a posse of nine movie villains who'd make anyone's skin crawl—and asked E! Online readers to pick No. 10. And boy, what a freak show!
Miriss says, "Christopher Walken is creepy even when he doesn't play a creepy guy." And Gary Oldman from The Professional got plenty of love. "When he hums Beethoven while blasting the whole family away," says Liala, "it's just too good to watch."
Shout-outs for Malcolm McDowell in A Clockwork Orange, Kathy Bates in Misery, the ghost-kid from The Grudge, Macaulay Culkin in The Good Son, Matt Damon in The Talented Mr. Ripley and Jigsaw from Saw. Plus, Mack brings up a good point: "The Childcatcher from Chitty Chitty Bang Bang is hella scary!"
But your most popular choice for cinema creep is...