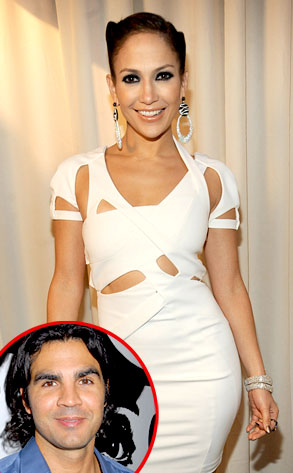 Kevin Mazur/AMA 2009/Getty Images; Barry King/Getty Images
Bad news for the pervs of the world, good news for what's left of Jennifer Lopez's modesty: A judge has officially blocked ex-hubby Ojani Noa from releasing the private home videos he took of Lopez during their honeymoon.
Sharpie-loving Judge James Chalfant today granted a temporary injunction against Noa and his agent, Ed Meyer, barring them from distributing the rumored nudity-containing footage in any forum.
"They may not publish it for any reason," Chalfant said. "Anywhere, anytime, anyhow…without further court order. If they do they go to jail."
Because the injunction is, for the time being, temporary, Lopez's lawyer, Jay Lavely, is expected to return to court to make it permanent. He told E! News he will be doing so immediately, but not before making clear that, keen to block the tape as they were, there is nothing untoward about the footage.
In fact, Lavely stressed that "there wasn't anything even close" to a sex tape in Noa's possession. As for what dirt he did have on Lopez...